John Mills was born in 1786 and was baptised  on 19 February 1786 at St Marys, Oldham, Lancashire to parents Joseph Mills (1761-1839) and Sarah Lees.
It seems the family moved down to Macclesfield from Oldham sometime between 1786 when John was born there, and the birth of his sister Sarah in 1793 at Macclesfield, Cheshire. Macclesfield is now in the county of Cheshire.
John appears in the 1822 Pigots Directory of Macclesfield – John Mills, Waters, Macclesfield, hatmaker and dealer. (Cheshire Archives).
His father Joseph appears in the same directory – Joseph Mills, Commongate Macclesfield, hatmaker and dealer.
I have many DNA connections to the Mills families of Oldham.
John Mills, of Oldham, married Charlotte Sharpley on 13 February 1810 in Prestbury, Macclesfield, Cheshire. Charlotte was baptised on 23 October 1785 in Christchurch, Macclesfield to parents James and Jane Sharpley.
John and Charlotte had ten children –
Ann born 1810 Macclesfield, died 1812 Macclesfield
Joseph born 1812 Macclesfield, died 1884 Wentworth, Ontario, Canada (marr Anna Hutchinson, 5 children)
James Henry born 1814 Macclesfield, died 1844 Oldham, Lancashire (marr Susannah Smith, 1 child James Henry in 1839)
John born 1816 Macclesfield, died 1888 Manchester UK (marr 1853 Macclesfield to Eliz. Oldfield, 5 children)
Sarah born 1819 Macclesfield, died 1839 Macclesfield
Mary Ann born 1821 Macclesfield, died 1821 Macclesfield
William Lawton born 1821 Macclesfield, died 1880 Adrian, Michigan, USA (marr Anna, 3 children)
Jane born 1824 Macclesfield, died 1824 Macclesfield
Abraham born 1825 Macclesfield, died 1864 Macclesfield (shoemakers apprentice in Prestbury, Cheshire 1841)
Charlotte born 1828 Macclesfield, died 1886 Adrian, Michigan, USA (marr Robert Stephenson, 6 children)
Around 1829 John, Charlotte and two of his surviving children (Joseph, William) immigrated to Toronto, Canada. Then after taking part in the 1837 rebellion there, according to the records below, he fled to Adrian, Michigan, USA.
He appears in a few documents –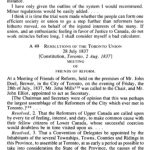 1837 'Rebellion of 1837 in Upper Canada' by Colin Read – Resolutions of the Toronto Union 28 July 1837 – Meeting of the Friends of Reform, Mr John Mills called to the chair. A reference states – "John Mills, native of Scotland, was a hatter at 191 King St, Toronto. He was active in the reform movement and in the rebellion. After the failure of the rising he fled to Adrian, Michigan".
.
1840 Census Adrian, Lenawee, Michigan, USA – with 1 unnamed female aged 50-59 (his wife Charlotte) and 1 female aged 10-14 (daughter Jane) and 2 sons 10-19 (William and Joseph?).
.
1845 Census Adrian, Lenawee, Michigan, USA – John, and son William
.
1850 Census Adrian, Lenawee, Michigan, USA- now aged 64, as is wife Charlotte, and their only child Charlotte aged 22.
.
1886 death certificate of his daughter Charlotte Stephenson on 13 Nov 1886 from the Michigan Death Records, she lists her parents as John and Charlotte Mills of Adrian, Michigan.
I haven't yet been able to discover where and when John and Charlotte died.