Katie Victoria Miles was born in Tulip Street, Violet Town (in the house beside the current Uniting Church) in June 1883, to parents William Miles and Harriet White.
William was born in Dulwich, London in 1849 and arrived in Melbourne in May 1853 aboard the immigrant passenger ship the "Lady McNaghten" with his parent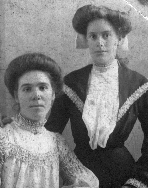 s James, a bootmaker & Sarah, at the age of 4.
William married Harriett in 1878 in Dandenong,  and moved from Cranbourne to Violet Town in 1882.
William and Harriett had 11 children, with Kate, the first to be born in Violet Town. William died in 1938 and Harriett in 1947. They are both buried at Violet Town.
Kate was sent out to work as an 18 year old as a housekeeper firstly in Beechworth in 1901 for Mrs J S Turner of Alpine Lodge, Loch Street, where she served as a housekeeper, cook, launderess and looked after the families children.
In 1904 she was working as a 21 year old housekeeper at the home of Emily Ferguson in Wangaratta.  She received good written references from both families.
By 1905 she was back living in Violet Town with her parents in Tulip Street (electoral roll). Father William is also listed in Violet Town as a labourer.
In March 1907 at the age of 24, Kate married her childhood playmate and cousin (not biological) Albert John Jackson at St Dunstan's, Violet Town.
Albert and Kate had three children – Horace in 1908, Ella in 1909 and Rex quite a bit later in 1921.
Kate helped her husband milk house cows, and deliver milk and cream to the local Boho Creamery.
In June 1910, Kate appears in the local Benalla paper after her two year old child Horace had a miraculous escape from danger.
In 1917 Horace and Ella Jackson were awarded prizes at 'Bourke's Hill' school which joined in with the Boho School to celebrate Anzac Day. (Violet Town Sentinel 1917).
After the death of her husband Albert in 1964, Kate remained at Boho on the family farm until she was no longer able to look after herself, and then she went into the Violet Town nursing home, where she passed away in 1975 at the age of 91 years. She and husband Albert are buried in the Violet Town cemetery.
In her will dated 1964, Kate bequeathed her jewellery, china and glassware to daughter Ella, and her property one half to Ella, and one quarter each to sons Horace and Rex.
On a 1969 Shire Valuation notice, Kate owns property over six titles (CAs 54A, 53F, 42E, 42F in Warrenbayne and 1D & 16B in Boho).