Thomas Rawbone junior was born in 1750 in Hinton in the Hedges, Buckinghamshire, England. He was the son of Thomas Rawbone senior (b 1721-1784) and Mary d 1781.
Thomas was baptised at the church of the Holy Trinity, Hinton in the Hedges on 18 November 1750. Thomas was one of ten children born to the couple.
Sometimes before or after receiving his education, (by himself it appears) Thomas moved 15 miles south east to the village of Winslow, where his uncle resided, probably looking for work.
Thomas was a schoolmaster in the village of Winslow, and appears as a beneficiary in the will of his uncle, the Rev John Rawbone (1717-1775).
Winslow is a market town and parish in north Buckinghamshire. In 1841 the population  was 1,333. The Anglican parish church in High Street, dating from about 1320 is dedicated to St. Laurence.
Thomas was appointed master of the Rogers Free School, a charity school, in 1775 by the charity trustees on the death of his uncle the Rev. John Rawbone (1717-1775).
The Charity school was set up after a bequest of £600 set aside in the will of Mr Joseph Rogers of Winslow in 1722 "for the purpose of educating the poor peoples children belonging to the parish of Winslow." The will of Joseph Rogers of Winslow can be found here.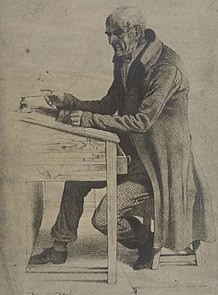 The charity school was then educating about 20 boys through the foundation, and had two paying scholars at 8d. a week. The schoolmaster's position was a live-in affair, and the children were taught in his own dwelling-house, there being no school-room belonging to the charity.
The students were the sons of poor labourers of the parish receiving parish relief. They had to provide their own books and stationery, but were taught free. When Thomas Rawbone was first appointed, there were only 12 boys taught for free, and the number was subsequently increased to 20. The boys were taught reading, writing and accounts.
At the age of 28 years Thomas Rawbone married Hannah Taylor on 15 October 1779 at St Laurence, Winslow.
Thomas and Hannah had at least two children in Winslow  –
Thomas b 1781 Winslow, d 1856 Brill, marr Mary Reeves & Anne Welford, 8 kids
John b 1783 also a schoolmaster of Winslow with his father
On 12 June 1781 Thomas is listed on a Sun Fire Insurance Policy which he took out to cover his dwelling house and two tenements adjoining his property in the tenure of himself, Mr Goodman and others being brick panelled and tiled, value 100 pounds.
These plaques were affixed to the front of properties as a guide to the insurance companies own fire brigade before municipal fire services were formed.
Thomas appears in the 1795 directory for Winslow as a schoolmaster.
He also appears in the 1798 UK Land Tax Redemption records for Winslow, stating he is both the owner and tenant of a property.
In 1798 a survey of men aged between 15 and 60 who weren't already serving in a military capacity was taken called the "Posse Comitatus". Numbers were also taken of draught horses, waggons and carts – in preparation for a French invasion. Thomas & John Rawbone, Schoolmasters of Winslow, are listed.  Buckinghamshire's Posse Comitatus is available online from the Buckinghamshire Record Society.
The same year in 1798, Thomas appeared in the local newspaper the Northampton Mercury dated 12 May 1798, giving a voluntary contribution "for the defence of the country". Not sure how voluntary it was given that all your neighbours could see your donations in the newspaper!
On 22 August 1808 Thomas was appointed Chief Constable, and swore to protect the realm. The three page document with a wax seal is held at the Buckinghamshire Record Office in Aylesbury.
In 1809 Thomas was witness to the will of Charles King, clock and watchmaker of Winslow.
In 1812 he appeared on a local list as being exempt from military service – Militia Ballot List 1812, Names of persons exempt, Thomas Rawbone, yeomanry.
In 1818 he appeared as a witness in a case (National Archives UK) –
R. v Thomas Carter John Carter, Winslow, Uttering counterfeit money.
Witnesses: Joseph Robinson, shopkeeper in Winslow,
Mary Hazzard, Winslow, father keeps a public house.
Thomas Rawbone, schoolmaster, Winslow.
In 1831 and again in 1832, Thomas Rawbone, schoolmaster  is listed in Winslow, in the parish of Great Kimble in the Buckinghamshire Pollbook for a Parliamentary Election.

In 1833 in a Register of Electors for Winslow he is stated as living in Great Horn Street, having two copyhold houses and premises.
Thomas Rawbone died on 16 February 1836 in Winslow, aged 85 years. He was buried on 19 April 1836 at St Laurence, in Winslow. I have been unable to find the death of his wife Hannah Rawbone, or brother John.
Following his death, the Rogers Charity School was advertised for let in the Northampton Mercury Newspaper in 1836, mentioning Thomas.
The Winslow History website has some wonderful information about the school and the village, including this final note regarding Thomas Rawbone –
He died in 1836, aged 84, having been Master of the free School (in Cowley's Walk) for 60 years.