George Jeffery Prideaux was born in 1823 in the town of Brea (Bray), Cornwall, England to parents Stephen Prideaux (1792-1846) and Jane Dunkin Jeffery (1794-1875).
Stephen was a miner. George was one of five children born to the couple.
Brea, or Bray as it is sometimes recorded is a village in Cornwall, England, UK, between the towns of Camborne and Redruth. It is in the civil parish of Carn Brea and consists of Brea, Lower Brea, and Higher Brea. It is one and half miles from Camborne.
George was baptised at the local parish church of St Martin and St Meriadoc, Camborne on 3 May 1823.  It is composed entirely of granite, of 15th century date and is a listed Grade I historic building.
From a young age George, like his father and brothers worked in the local copper mine which existed at Brea from the early 18th century.
The mine changed to tin in 1865 and finally ceased work in 1913.
In 1896, it was amalgamated with the Carn Brea mine to form the Carn Brea and Tincroft United mine.
The mine site is now largely built over, but there are remains of the main engine and compressor house.
At the age of 24, on 28 August 1847, George married local girl Phillipa Simmons, aged 20, at the parish church of Tuckingmill, less than a mile from his residence at Brea. George 's occupation was given as a carpenter (most likely in the mines).
Phillipa was born in 1827 in the nearby tiny mining village of Pengegon, to parents Robert Simmons (1799-1865), a miner and Maria Bellman (b1798). She was baptised at Camborne on 4 August 1827. She was one of 13 children born to the couple.
George and Phillipa had ten children –
Stephen born June 1849 at sea, died 1923 Bendigo married Mary Ann Collier
Jane born 1851 Burra, SA, died 1911 Long Gully, Vic married John Pennington
Henry born 1854 Sandhurst, Vic, died 1923 Korumburra, Vic.
Robert born 1856 White Hills, died 1938 Wollongong married Jessie Jackson
Emily born 1860 White Hills, died 1943 Wallsend, NSW married Patrick Mitchell
George born 1863 Epsom, died 1916 Melbourne East, married Ellen Filbin, Annie Finn and Margaret Down. Was manager of the Bena Butter factory from 1901.
Maria born 1866 Epsom, died 1940 married John Martin of Korumburra.
Phillipa born 1868 White Hills, died 1918 Newtown, NSW married Henry Hill
stillborn baby born 1872 died 3 July 1872 Bendigo (White Hills cemetery register)
Elizabeth born 1874 Sandhurst, died 1947 Canterbury married John Gallagher
Two years after their marriage in 1849 George, and a very pregnant Phillipa left England aboard the barque "Childe Harold".
It must have been a difficult voyage for Phillipa, given that their firstborn child Stephen was born at sea with the birth later registered in South Australia, when they landed on 2 June 1849 in Port Adelaide.
Their arrival was recorded along with other immigrants in the Shipping Intelligence part of the "South Australian" newspaper on 5 June 1849 – Mr G Prideaux, wife and infant. This is the only record we have of them arriving in Australia. Stephen was baptised in Burra on 22 August 1849.
The family stayed in the town of Burra for a few years, with George working at the Burra mines as a carpenter and their daughter Jane was born there in 1851.
Burra is situated about 160 km north of Adelaide, and copper was discovered by shepherds  there in 1845. By 1850 it had its own mine, smelters and a population of 5000 people. The mine produced high grade copper until 1877 when falling world copper prices, and the high cost of running the mine, resulted in it being closed.
Most of the miners lived in little villages that had sprung up around the mine, and George and his family lived in "Kooringa". The majority of miners at Burra came from Cornwall, and until 1860 the mine was one of the largest metals mine in Australia.
When gold was discovered in Victoria in July 1851, many of the Burra miners, including George, lured by the prospect of making a better living, left Burra and walked the 750 kms overland to the Bendigo goldfields. There was already a well established community of Cornish miners settled in Long Gully.
A diary of the trip made by a cornish miner leaving Burra in Feb 1852 (probably the same party as George Prideaux) has been preserved and excerpts are available here.
We do know that George made the trip to Bendigo sometime after his daughter Jane's birth in Burra in 1851, and his next child's birth (Henry) in 1854 in Bendigo.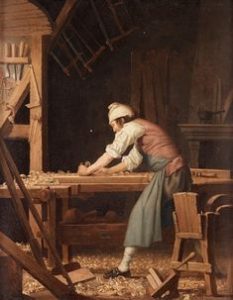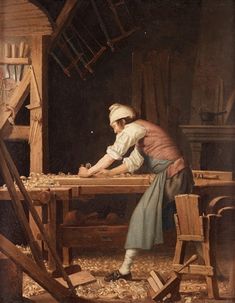 In 1868 George Prideaux appeared before the Huntly Police Court, in a civil case in which the Huntly Shire Council brought against him for non payment of rates. (Bendigo Advertiser 1 Oct 1868).
George continued to work as a carpenter on the mine fields until his death in Bendigo on 16 September 1878 at the age of 55 years. He is buried in the White Hills Cemetery at Bendigo in plot MON L2 Grave 8494.
Four of their children can later be found residing in Korumburra, Victoria –
Henry, engine driver of Bena and later Victoria St, Korumburra 1914-1922 (electoral rolls)
George (junior), manager of Bena Butter Factory in 1901 (factory fire, newspaper notice).
Maria, married name Maria Martin, 1909 (electoral rolls).
Elizabeth married John Gallagher there in 1906.
His wife Phillipa continued to live for many more years and died on 27 August 1906 at the age of 79 years in Arnold Street, Bendigo.
In her will made in 1898, she left her estate to only one child – her son Henry. She is also buried in the White Hills cemetery with her husband and son Stephen.