Alan Edward Davis was born at home at his parent's farm at Boho, near Violet Town in March 1905 to Samson Davis and Maud Augusta Stow. Alan was the first of five children born to the couple.
When Alan was ten in 1915, he signed a pledge abstaining from alcohol, and by twelve in 1917, he was admitted to the Independent Order of Rechabites – Junior Section, a local temperance (abstaining from alcohol) society and kids club, which was organised by his local School.  Twenty two children joined the new society, enjoying musical items and singing. (Violet Town Sentinel 1 May 1917).
This was also encouraged by his parents, after they witnessed Maud's father Edward Stow, dying at the age of 49, after imbibing of too much drink in Violet Town, and then coming home inebriated, unable to get out of his horse and cart, catching pneumonia outside his house in the winter of 1897, and dying six days later.
This had a profound affect on the family, and Alan was always a strict teetotaller and encouraged his family to follow suit. He attended Warrenbayne West primary school, leaving in 1919.
Alan helped his parents on the family farm at Boho, learning the building trade from his father Samson. Samson built many homes in the local area, including that of his wife's brother Hercules Stow and wife Rachel Coish. (Warrenbayne – the Place and its People, page 329, by Patricia Nottle).
Around 1924 Alan moved to Wodonga, in with his mother's brother and family (Frederick Alan Stow) working for Fred in the building trade doing the books for his growing business. His pay was 21 shillings.
By 1927 he came home to "Woodvale", Boho (Australian Electoral Roll), and bought his own land (CA 65C Warrenbayne) and built houses as a sideline to his farming.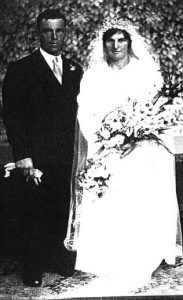 Alan married Ella Jackson in April 1934 at St Dunstans, Violet Town. They had four children together – Brian, Reg, Gwyn and Kerry.
By 1936 they were living at "Woodvale", Boho (Australia Electoral Roll).
Always campaigning for better roads in his home district, in 1936 Alan was writing to the Violet Town Shire to improve the roads between Whites and Ludlows in Boho. (Goulburn Valley Stock and Property Journal Oct 1936).
In 1939 during the Second World War he enlisted at Violet Town in the Army Citizen Military Forces, involving one months continuous training, and days of manning guard posts at selected points around the local area.
In 1941 after the attack on Pearl Harbour and on the British forces in Malaya, war was brought to Australia's doorstep, and it was feared that Japan may attack Australia's mainland.  As farming was declared an essential service, Alan was not called up to fight overseas. He remained in the local Army Citizen force until 1948, serving as a private in the Benalla Division of the Volunteer Defence Corps.
In 1949 Alan moved from "Thirlmere" on Boho Church Rd to "Woodvale" on Davis Rd, after his father's retirement to Euroa.
Alan enjoyed many family fishing holidays at Bright with his family. Alan and Ella farmed merino sheep, sending their wool to the Melbourne Markets for export.
In 1957, Alan was instrumental in helping construct the Violet Town Swimming Pool between May and September.
The Shire Secretary officially thanked him for his efforts in making the tables, seats and stand. It opened in December 1957.