By 1874 Edward was living at Sorrento and owned a furniture store there (marriage certificate) and met Geelong girl Emily Matilda Pike. Emily was the daughter of Alfred Pike and Augusta Shambler.
Family story has it that Edward courted Emily via means of the Queenscliff ferry that traded between Sorrento and Queenscliff (close to Wallington where Emily lived). They were married at the Wesleyan Church, Yarra Street, Geelong on 19 October 1874.
Edward and Emily had eight children – Edward 1875, Walter 1877, Maud 1880, Hercules 1883, Newman 1886, Albert 1890, Lily 1893 and Frederick 1896.
Edward and Emily lived and worked at 144 Chapel Street, Prahran from 1877 to 1892. The shop was at the corner of Green and Chapel Street in the Conway Building.
Edward over those early years developed into a compulsive drinker and by today's standards would have been classed as an alcoholic.  On weekends, when alcohol was not in ready supply family story has it that it was common for him to resort to drinking vinegar.

In an attempt to solve his drinking problems, he sold his shop in Prahran, and bought a 98 acre property at Boho near Violet Town in 1892 (CA 7B parish of Boho). He named the property "Hilly Park".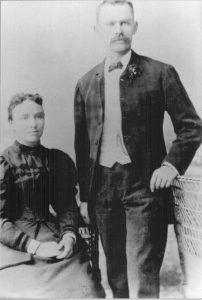 Two more children were born, with Emily returning to Melbourne to her sister's for the births. (Lily 1893 and Frederick 1896). The move to Boho to help Edward beat the drinking problem was doomed to failure, as his drinking continued and was to be the indirect reason for his death.
After a drinking session in the township of Violet Town in July 1897, he left for Hilly Park in his horse and cart. 
During this trip home he ran into wet weather from which he became saturated. 
On arriving home he was too drunk to go into the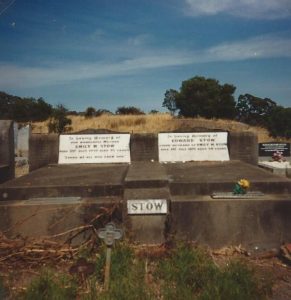 house and change his clothing, so slept in the cart overnight. 
He contracted pneumonia, and died shortly after on 18 Jul y 1897, aged 49 years, at Boho.
He was buried in the Violet Town cemetery with his wife Emily who died in 1950.
His wife Emily was left to raise eight children ranging in ages from 21 to 1.