Family life in the East End of London during the 19th century (1800s) was far from good. The East End was in most parts a slum, with the poorest living conditions, especially related to water supply and waste disposal. Housing was poorly constructed, and overcrowding was common. Diseases such as cholera and tuberculosis (consumption) were also widespread (cholera because of the contaminated water supply). A related factor was criminal activity, because of the poverty and poor living conditions. Yet in the case of our Davis ancestors, they seem to have engaged in respectable occupations, and without involvement in crime.
The Davis and Holbrook family lived in Whitechapel, in the Parish of St Mary, and in Stepney in the parish of St Dunstan. St Dunstan remains a major landmark in the area.
It is located in Stepney High Street, in Stepney, London Borough of Tower Hamlets.
George Davis was baptised here in 1849 along with his brother Edward in 1851.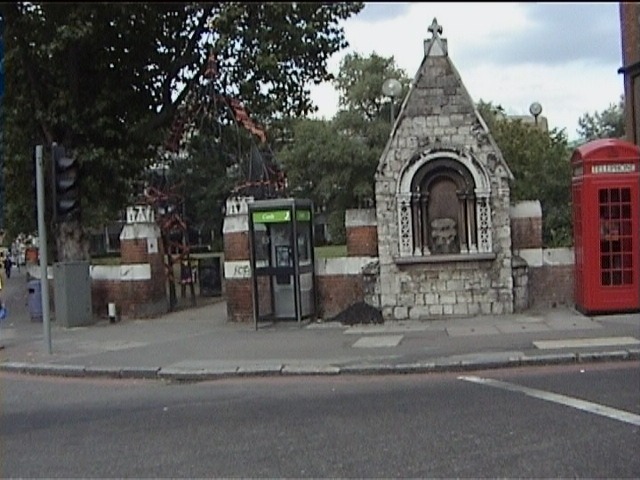 Unfortunately, St Mary Matfelon, White chapel was destroyed by bombing in World War II.
Whitewash made of lime and chalk was used as a paint on the outside of the original church in the Middle Ages, and gave it a bright white finish, prompting locals to call it the 'white chapel'.
The church's prominent position on the westerly junction of Whitechapel Road made it a landmark of the area and eventually it became the name of the area.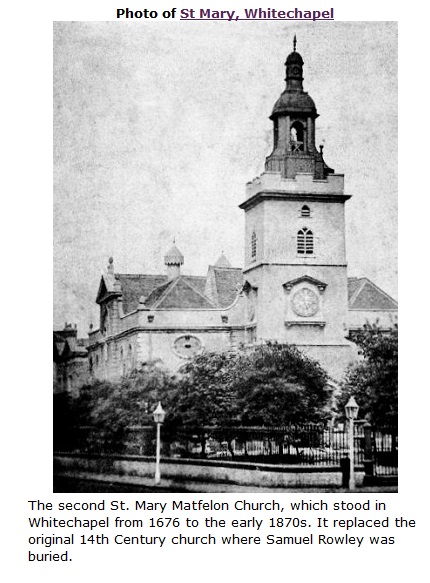 Betty Holbrook, my 4 times great grandmother was baptised at St Mary in 1784.
Her mother Dorothy Holbrook lived in the parish of St Mary Whitechapel all her life, and died there at Roadside, Mile End Road in 1798 aged 46.
She was buried in the parish church grounds.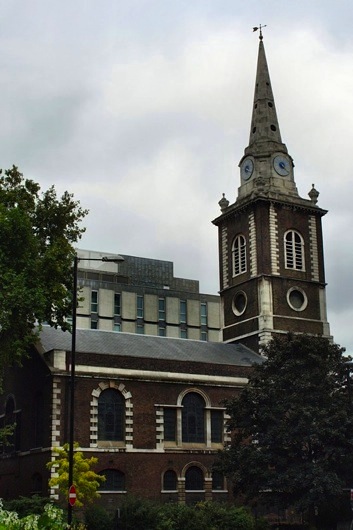 They also lived in the parish of St Botolph Aldgate, a Church of England parish church in the City of London and also, as it lies outside the line of the city's former eastern walls, a part of the East End of London. The church stands at the junction of Houndsditch and Aldgate High Street.
St Botolph's was often referred to as the "Church of Prostitutes" in the late Victorian period. The church is sited on an island surrounded by roadways and it was usual in these times to be suspicious of women standing on street corners. They were easy targets for the police, and to escape arrest the prostitutes would parade around the island, now occupied by the church
In 1998 Brendan and I were able to visit all the churches and the places where many of our London ancestors lived, worked and were baptised, married and were buried.