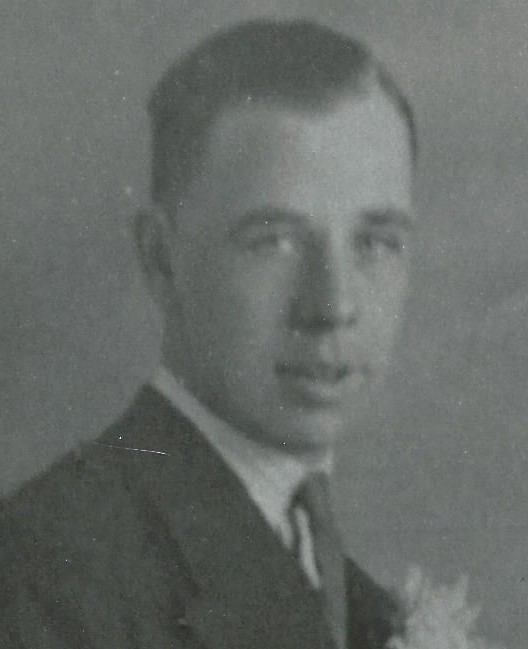 Robert Banks Dennis was born on 5 October 1905 at home at 48 Upper Milbank Street, Eston, South Bank, Middlesborough, North Yorkshire, England.
Robert was born to parents James Dennis (1876-1950), an engine fitter and Edith Mary Skelton (1880-1972).
Robert was one of nine children born to the couple.
The family home was directly across the road from the local St Peters Roman Catholic Church.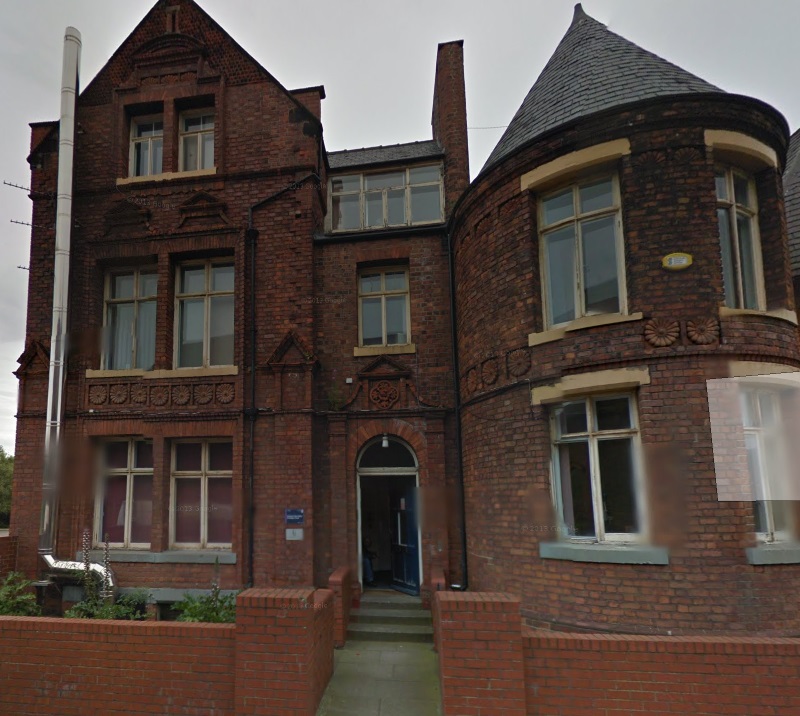 At the age of five he appeared on the 1911 Eston census with his parents James and Edith, and his siblings Doris, James, Robert and Edna. His father's occupation was given as a fitter and turner in the engineering section of a steel manufacturer. The home was said to consist of four rooms, not including the bathroom and toilet.
Robert attended school in Eston and obtained his 3rd Class certificate.
For some years Robert did odd jobs labouring around the area, then at the age of 18 years he joined the 1st Green Howards Yorkshire regiment in Middlesborough. On joining on 16 November 1925, he was described as 5 foot 7 1/2 inches tall, weight 116 pounds, blue eyes, brown hair and a fresh complexion. His religion was given as Church of England and he was posted to the first battalion. His service number was 4385028. He was stated to be a bandsman, playing the saxophone.
In January 1927 at the age of 21 he was made sergeant, and posted for service in China. He served there until 14 February 1928.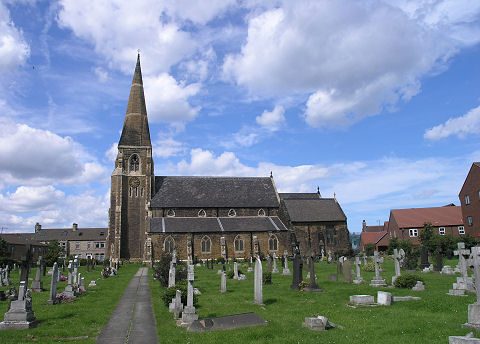 Two years after his return to England he married local girl Barbara Jemson on 6 December 1930 in Coatham, Redcar, Yorkshire.
Barbara was the daughter of Andrew Jemson 1883-1956) and Annie Wallace 1884-1942).
Robert and Barbara lived at 75 James Terrace, Warrenby, Redcar in 1930 for a few years until Robert was posted to Aldershot, Hampshire. Aldershot Command was the headquarters of Home Command for the British Army and where troops were sent for new training. Unlike the other Home Commands, Aldershot had no Coast Divisions or other defence forces under its command, and was solely responsible for providing drafts and reserve formations.
While Robert was stationed at Aldershot, their first daughter was born – Barbara Anne on 31 January 1933. She was known as Anne all her life, and was baptised on 5 March 1933 at St George Garrison Church, Stanhope Lines while the family was living at 3 High Street Cottage, Aldershot, right next to The Queen Hotel.
Anne Dennis went to school in Warrenby from the age of 5, lived in Halifax from the age of 7, and immigrated to Australia with her sister at the age of 23 from Southampton. She worked as a telephonist in Halifax. Upon immigration in 1956 aboard the "New Australia" she worked for P and O. In 1963 in Prahran she married William Peterson 1920-1988 and they lived in Burwood Rd, Hawthorn until her death in 2016. They had no children.
Meanwhile Robert was attending stretcher bearer classes in November 1933 in Aldershot, and the following year he was sent 80 miles away to Wareham in Dorset, where their second daughter Elizabeth Belton Dennis was born in December 1934.
Betty as she was known as, was born in Wareham, Dorset. Wareham became a garrison town with up to 7,000 soldiers living and training locally during WW1.
The second name Belton was the surname of the midwife that delivered her. Betty immigrated to Australia with her sister Anne, and at the age of 25 married Ronald Nelson on 9 Jan 1960 at St Johns Anglican Church in Cairns, Queensland, Australia. She lived in Brisbane for most of her life and had three children, Terrie-Anne, Robyn and Robert. Betty died in 2003 in Brisbane.
In 1936 the family spent a holiday together at the seaside Isle of Portland, down off the coast of Dorset.
Leaving Barbara at home with two young children, Robert was posted overseas again this time Malta where he served from 22 Dec 1937 to 9 October 1938. 433 men of the 1st Green Howards were sent to Malta on their way to Palestine.
Palestine was becoming increasingly violent, with isolated rioting and murders and a full scale Arab uprising aimed at halting and reversing Jewish immigration. Faced with the impossible task of finding a compromise between the Jews and Arab factions, all the British could do was to try to keep the two races apart. For this 23 battalions and an armoured car regiment was gathered to hold down the arabs.
By the time the Green Howards arrived in Palestine large areas of the countryside were under rebel control, road movement was dangerous and policeman were being murdered. The 1st Battalion was severely under strength and desperate for more men.
Click here to listen to the music of the Bonnie England Rose and Maria Theresa played by the Green Howards from the record above.
Robert spent 8 months there from October 1938 to May 1939, fracturing his left foot while on duty. A court of inquiry found him not to blame.
With the formal outbreak of World War 2, from 1939-1940 he served in France, preparing for the invasion and then in 1940 was sent to Norway.
On the 9th April 1940 Norway was invaded by the German Army. The King of Norway, the government and the nations gold reserves fled north from Oslo to escape the blitzkreig. The small, under equipped Norwegian armed forces began a brave resistance to try and slow the occupation. They were sooned joined by a counter invasion  force sent from Scotland. Amongst them was the 1st battalion Green Howards. It was the first military ground battle between Germany and Britain since the guns fell silent in 1918. The Germans were unstoppable and the Allies were overwhelmed by dive bombing Stukas and heavy artillery.  
Despite an overall failure to stop the invaders there was many individual acts of bravery. For example, the Green Howards met the Germans in the Gudbrandsdalen valley at the Battle of Otta. They only had light ammunition and faced an onslaught of scores of Stuka dive bombing planes, tanks etc. They waited until the Germans were only 400 metres away before opening up on them from their slit trenches. They managed to hold 7 divisions off for 24 hours. A rearguard was formed and the Allies began to evacuate.  Nearly 1,000 British & Commonwealth servicemen lost their lives in the Norwegian campaign.
Meanwhile, Barbara and her two children had returned to Warrenby, Redcar to live with her parents. Robert returned home on leave in 1941 and the family moved to Halifax. They lived at 23 Queens Road, opposite St Pauls church, and their son Robert Dennis was born in the Halifax Infirmary in November 1943.
Robert was educated at the Holy Trinity School in Saville Park Road, Halifax. The school uniform had a distinctive Star of David emblem, and still does today.
At the age of 13 he immigrated to Australia in 1957 with his mother Barbara, on the Orsova from London to Melbourne via Perth and Adelaide. Robert married in 1968 and had five children. Barbara described herself as a waitress aged 48.
In 1945 Robert attended Senior Morse Code and Military Hygiene Courses, and on 24 November 1946 at the age of 41 years, he filed a Notification of Impending Release from military life. His military conduct was described as Exemplary – has proved himself diligent and capable worker, responsible, good knowledge of office routine, reliable and trustworthy. As a bandsman, good musician. Recommended with confidence.
He was living with his family at 80 Pym Street in South Bank, Middlesborough in 1946 at the time of his release from the military, and on 29 January 1947 was relegated to Army Reserve. Sometime during these couple of years he and his wife Barbara were divorced, and Robert left the family home.
On his discharge from the army Robert was issued service awards. They were issued on 17 January 1949 to him –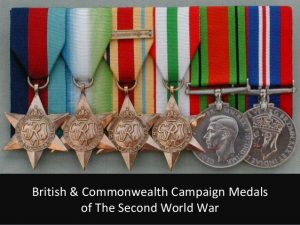 1939-45 Star
Defence Medal
War Medal 1939/5
General Service Medal with clasp 'Palestine'
Long Service and Good Conduct Medal 
ARMY RANKS
1925 – Private
1929 – Bandsman
1933 – Lance Corporal
1936 – Corporal
1937 – Lance Sergeant
1939 – Sergeant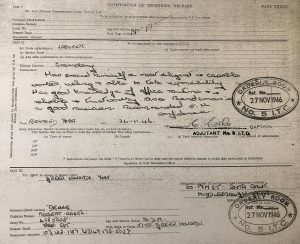 British Army WW2 Notification of Impending Release Form – 1946
In November 1947, at the Registry Office at Barrow Upon Soar in Leicester, Robert married again. This time to Isobel Mary McAllister-Hewlings, the daughter of renowned medical surgeon William McAllister- Hewlings 1868-1933 and Blanch McKinnon 1871-1965.
Isabel was herself divorced with a daughter Mary aged 8. She had previously married Leonard Smith in December 1932, and had travelled with him to New York in 1934, Tangier Morocco in 1939, Billesdon Leicester, then returned again to Morocco in 1944. Leonard's family were the owners of a famous huge dairy enterprise Kirby and West in Leicester, and still operate today.
On his marriage certificate Robert states he was working as a male nurse and living at the Royal National Orthopaedic Hospital in Stanmore, London. Robert was 42 and Isobel 38 years old.
Sometime later Robert and Isobel immigrated to Salisbury, Rhodesia, South Africa, now known as Harare, Zimbabwe. They were living at 16 Landsdown Court, Baines Avenue, 2nd Street, Salisbury at Christmas 1959. Rhodesia at the time was a self governing British Crown Colony in Southern Africa.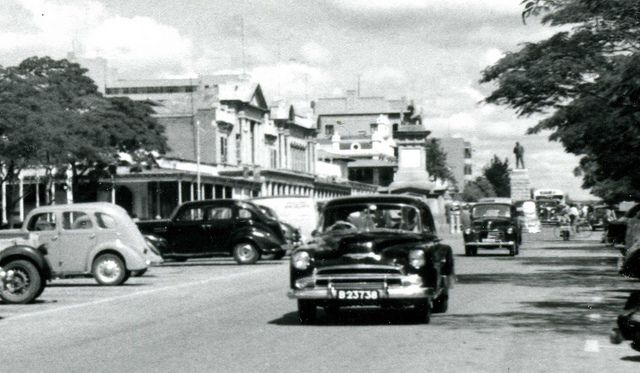 In 1965, Rhodesia unilaterally declared itself independent under a white-dominated government. After a long civil war between the white (until 1979) government and two African majority, Soviet Bloc-aligned 'liberation movements' (Zimbabwe People's Revolutionary Army and Zimbabwe African National Liberation Army), Britain resumed control for a brief period before granting independence to the country in 1980, whereupon it became Zimbabwe.
Roberts wife Isobel died of breast cancer on 23 October 1959. Her death certificate states she was 50 years old, a civil servant and that she died in the Salisbury General hospital, leaving no will and no property.
Robert worked as a bank clerk, and for the Ministry of Education in Salisbury, and died in the Wilkins Hospital there aged 62 on 12 June 1967. He was suffering from brain cancer for five months before succumbing. His address was given as 2 Pandora Flats, 101 Baines Avenue in Salisbury, and his occupation as a civil servant. The information was given by his surviving spouse Ruby Dennis. In her letters to daughter Betty she always signed herself as 'Mickey'. Perhaps both the names Ruby and Mickey were nicknames, as I've been unable to find either a marriage or death certificate under this name.
Robert was buried in the Warren Hills Cemetery in Salisbury with Isobel. This was one of the premier, elegant and dignified resting places of Zimbabwe in its day. The cemetery is now closed, having run out of burial space in 1960s.
A History of the Green Howards – 300 years of service by Geoffrey and Jeffrey Powell is available to read online.