William Parrott / Parrat was born in 1658 in Bletchingdon, Oxfordshire, England to parents Richard Parrott (1625-1722) and Prudence Silverside (1632-1705).
William was baptised on 19 April 1658 at Bletchingdon, one of eight children born to the couple.
The village of Bletchingdon, or Blechingdon, is a parish in the district of Bicester, Oxford. The population in 1871 was 659 in 142 houses. Bletchington Park is the seat of Viscount Valentia; was partly rebuilt near the end of last century; and occupies the site of a house which was held for the king, and surrendered to the parliament, in the civil war.
William's father Richard was a gardener in Bletchingdon, probably of some standing, as he is named in several documents held at the Oxfordshire Archives.
The marriage settlement document dated 1677 for William's sister Elizabeth, provides a house and garden in Bletchingdon given to her, mentions the following parties –
1. Elizabeth, daughter of Richard (gardener) and Prudence of Bletchingdon
2. William Townsend, St Giles, Oxford, husband of Elizabeth
3. Elizabeth's brother Richard, the younger and heir apparrent, and
4. Elizabeth's brother William, husbandman of Elsfield.
So it appears William was living at Elsfield, seven miles from Bletchingdon when he was aged 19 years old in 1677.
A few years later, around 1683, William married Elizabeth Battye / Battey most likely in nearby Wotton Underwood. I've been unable to find their marriage register entry.
Elizabeth Battye was born in Wotton Underwood in 1666 to parents Peter Battye junior (1626-1696) and Elizabeth.
Her father Peter was also baptised at Wotton Underwood on 4 Feb 1626, and died there in 1697. His father was also Peter Batty senior (1600-1642).
Peter Battye junior wrote a will on 18 January 1693 which was probated on 20 February 1697. He was described as a husbandman of Wotton Underwood.
Elizabeth was baptised on 1 Nov 1666 at All Saints, Wotton Underwood.
William and Elizabeth settled at Wotton Underwood, 14 miles from Williams birthplace of Bletchingdon and had nine children, all of whom were baptised at All Saints –
Elizabeth b 1684 & d 1692 Wotton
Peter b 1685 & d 1763 Wotton, married Elizabeth Betts, 6 children
William b 1687 & d 1766 Wotton, married Sarah Egelton, 11 children
Richard b 1689, married Elizabeth, 1 child
John b 1692 Wotton, d 1754 Castlethorpe, married Joanna, 6 children
Thomas b 1694 Wotton, d 1754 Dorton
Joseph b 1697 Wotton & d 1754 Dorton, marr Hannah Slade, 10 children
James b 1699, married Martha Hood in 1725
Elizabeth b 1707
William was described as a husbandman (farmer) in Wotton Underwood on his son James baptism record in 1699.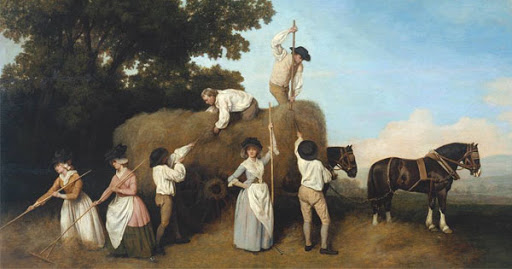 In 1701, 43 year old William was named as a petty constable and tithingman, sworn in at the Easter Session, and listed in the Quarter Sessions Book, Vol 6 for Wotton Underwood.  A constable was unpaid, but did get expenses reimbursed, and had to be an able-bodied male resident aged 25-55 who was required to serve when called unless he could pay for a substitute. (Buckinghamshire Archives).
William received just five pounds from his mother's will, when she died in 1705. His older brother Richard inherited the majority after his father's death in 1722.
William and Elizabeth moved from Wotton, 25 miles away near their son John who had married and was living at Castlethorpe. William's father was born in Castlethorpe.
Elizabeth died in Castlethorpe in December 1743 and was buried there on 29 December 1743.
William died in June 1755 in Castlethorpe,  and was buried there on 24 June 1755, the burial register stating he was the son of Richard Parrott.
No wills have been found for William and Elizabeth.