James Toft was born on 29 August 1768 in Norwich, Norfolk, England to parents Peter Toft (1738-1813) and Mary Bowman (1738-1812).
James' parents were dissenters, breakaways from the established church of England, and had James and his siblings baptised at the Independent Old Meeting House in Norwich, Norfolk on 2 October 1768.
James was married by license to Elizabeth Mobbs on 4 April 1792 at St James, Westminster, London, England. He gave his residence as the parish of St Marylebone on his marriage allegation bond.
Elizabeth was born on 25 October 1771 in the parish of St James, Westminster, to parents Thomas Mobbs (d 1793) and Elizabeth Dorsett (1752-1789). She was one of eleven children born to the couple.
She was baptised on 24 November 1771 at St James, Westminster, London, England.
Elizabeth's father Thomas Mobbs died in January 1793 at Covent Garden, so it was obviously her home parish that her first son was born in.
Some researchers state James Toft married Elizabeth Mitchell, but I believe this is incorrect.
Four pieces of evidence for Mobbs not Mitchell –
Their daughter Sarah Toft Pullen's death cert states mothers maiden name as Mobbs.
Their daughter Elizabeth Toft's marriage certificate to Richard Hyde, gives her mothers maiden name as Mobbs.
I have a copy of a letter written by Zilla Atkin (1868-1948) written in July 1933, who was the granddaughter of Elizabeth Toft (1801-1879), by her daughter Margaret Mitchell (1836-1922). In the letter she talks about her mother's grandfather (James Toft)  dying on the way out to Australia and her great grandmother Elizabeth Mobbs working with Governor Macquarie's wife (as a servant), and then moving down to Minto to marry William Mannix, etc.
Perhaps most convincingly, I have DNA connections to the Mobbs (not Mitchell) family.
In 1792 James appears on a lease document with his brother (National Archives UK) –
Lease, St Clement, Norwich – James Toft of King St, Covent Garden, linen draper and Elizabeth his wife & Timothy Toft, shopkeeper, Peter Toft of Norwich, tailor, and Mary his wife & others.
In 1793 James appears in the Westminster Rate books for King Street North, St Paul, Covent Garden, and in 1794 is listed in the Wakefield's Merchant and Tradesman's General Directory  as a Linen Draper at 19 King Street, Covent Garden.
James and Elizabeth had seven children  (confirmed by his 1813 convict petition for mercy) –
James Toft – baptised 17 Feb 1793 St Pauls Covent Garden, Westminster. Served in the 21st Dragoon Guards, and appears in the Canada, British Regimental Registers of Service 1756-1900. (unknown death). More info on James junior below…
.
Timothy Toft – baptised 1 July 1796 St Mary Lewisham, buried 11 June 1808 Walworth Independent York Street, Locks Fields (aged 10 years).
Mary Ann Toft – baptised 21 Oct 1798 St Mary Lewisham, arrived Australia 1814 'Broxonbury'. Appears on 1822 muster, 1822 NSW population book, 1825 muster, 1828 census. Married convict Gawan Pickering  1 Jan 1821 St Johns, Parramatta. Land Grant 1837 St George Cumberland. Died 26 Jan 1844 Salt Pan Creek, Georges River, Sydney. Buried 29 Jan 1844 St Peters Cooks River, Sydney. 
Elizabeth Toft – baptism unknown, about 1800/1 per ages on marriage and death cert.  Arrived Australia 1814 'Broxonbury'. Appears on 1822 muster, 1822 NSW population book, 1825 muster, 1828 census. Married William Mitchell July 1824 St Peters Campbelltown, Sydney. Married Joseph Goodall 13 Aug 1848 St Saviours, Goulburn, NSW. Married Richard Hyde 10 June 1861. Died 13 Aug 1879 Burrawang, Sydney. Buried 15 August 1879 Sutton Forest.
Ann Bowman Toft – baptism unknown, arrived Australia 1814 'Broxonbury'. Appears on 1822 muster, 1822 NSW population book, 1825 muster, 1828 census. Married Thomas Westly and Thomas Hyland, two children with each husband. Buried as Ann Bowman Toft (on headstone), her maternal grandmothers maiden name, 26 May 1855 Morpeth, Maitland, NSW.
Sarah Toft – baptism unknown, about 1804 per age on burial. Arrived Australia 1814 'Broxonbury'. Appears on 1822 muster, 1822 NSW population book, 1825 muster, 1828 census. Married Henry Pullin 15 Mar 1825 St Johns, Parramatta. Died 30 April 1864 at Avisford, NSW.  Buried 2 May 1864 Hargreaves, NSW.
.
Catharine Toft – baptised 15 Oct 1805, Tooting Independent Chapel, parish of Merton, Surrey. Died aged 2 ½ years, July 1808, buried 4 Jul 1808 Walworth Independent, York St, Locks Fields.
Like his parents, James also appearing to belong to dissenting churches, rather than the established church of England. Two of their children (Timothy and Catherine) had their burials recorded at the Walworth Independent Chapel in York Street, Locks Fields, Surrey. This dissenting chapel was built in 1790 on the south side of York Street, now Browning Street, Walworth.
Catherine was baptised in 1805 at the Tooting Independent Chapel in High Street, in the parish of Merton, in Surrey. It was built in 1766, with Dr Samuel Wilton the first Presbyterian minister there.
James Toft and Elizabeth Mobbs four daughters all married Australian convicts –
Their son, James junior b 1793, was baptised at St Paul Covent Garden on 17 February 1793. He served in the 21st Dragoon Guards, and appears in the Canada, British Regimental Registers of Service 1756-1900.
The 21st Light Dragoons was a cavalry regiment of the British Army. It was raised on 5 April 1760, as the 21st Light Dragoons (Royal Forresters) but disbanded at Nottingham on 3 March 1763. It was raised again in 1779 and disbanded in Canterbury in 1783.
The regiment was raised a third time in 1794 in the north of England when it was also known as the Yorkshire Light Dragoons, served in Ireland during the Napoleonic Wars and was disbanded in Chatham in 1819.
The exercise of converting from "Horse" (heavy cavalry) to "Dragoon" (formerly mounted infantry) was intended to save money—Dragoons were paid less than Horse—and the change was very unpopular among the regiments affected. To compensate for the fall in salary and status, the impressive sounding title of "Dragoon Guards" was adopted.
James stated birthdate is 1795, and place was given as St James, Middlesex. He is 18 years old. The records state he is 5 ft 6 1/4 tall, and he enlisted on 12 Oct 1813. He had a fair complexion, fair hair, grey eyes, his trade was a clerk, and he was born in the parish of St James, Westminster. (James' parents James and Elizabeth Mobbs were married in the parish of St James).
On 6 November 1813, at the age of 21, James, of England, enlisted in the US Army, prior to the peace establishment of May 17, 1815. On 6 March 1814, James also appears as being enlisted in the US Army. (I am not sure if these two entries are for the right James Toft).
On 15 June 1819 James appears again in the 21st Dragoons List of Staff of Non Commissioned Officers. He now has a rank of P.M.S.  It is unknown if he returned to England.
Back to James Toft senior and his wife Elizabeth Mobbs –
After spending a few years in Lewisham, Kent (or at least 1796-1798 where their two children Timothy and Mary Ann were baptised), the family moved back up to London and James was in business with his brother Timothy Toft. In 1807 a Sun Fire Insurance policy recorded Timothy and James Toft at Goldsmith Street, Cheapside.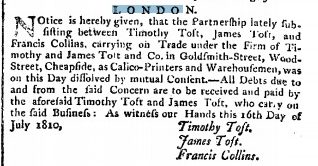 The brothers were in business together with Francis Collins, as Calico Printers and Warehouseman. Perhaps business was not going well, because a notice appeared in the London Gazette on 14 July 1810 dissolving their partnership.
In 1812 James Toft  appears in the London Tax Records for Walworth Common, Walworth, Surrey. (Later his friends from Walworth would provide character references for him in his plea for mercy against his sentence).
On 24 July 1813, James' brother Timothy Toft appears in the London Gazette where he was unfortunately awarded bankruptcy. At the time Timothy was trading at Great Portland Street in Middlesex as a linen draper, dealer and chapman.  It seems things hadn't been going well for some time.
Was it a coincidence that a few months earlier James Toft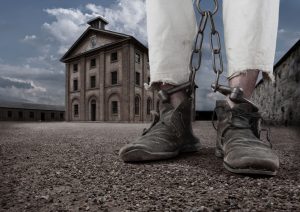 got himself into some financial trouble and decided to help himself to his employers money without permission? On 26 January 1813 he was indicted for embezzlement. Did he 'borrow' some money to help his brother Timothy out of financial ruin?
James was working as a clerk, one of many, to Thomas Hankin, being employed to sell flour, and handle money and valuable securities on his behalf. James worked in his accompting-house at 186 Bishopsgate, London. (petition for clemency)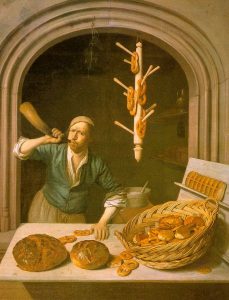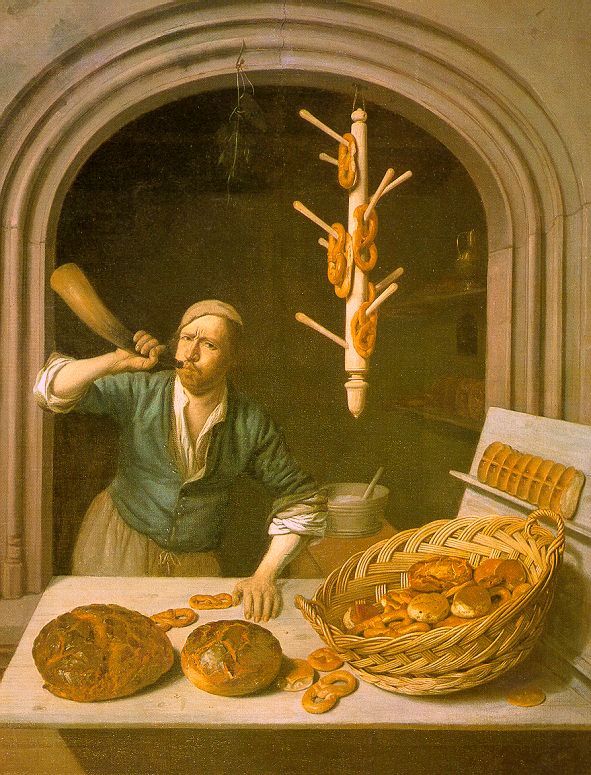 James was to sell and receive payment for flour from bakers but he had been failing to account to his employer for the payments of some customers and when his employer became suspicious of him on one Friday's accounting day over one particular customer, James admitted to having embezzled a large amount of money and having to settle his account to £320, begging the employer to let him stand it over till the Monday.  He would not.
In the trial it was stated that James firstly stole 21 pounds. A Mr Thomas Easton, baker of Bermondsey Street, came forward to state he paid James 21 pounds for some flour, part of the 50 pound debt that was owned to Mr Hankin. Apparently he was not the only customer James stole money from.
When confronted James admitted his embezzlement, and asked his employer to 'let it stand' until Monday and we settle the amount of 320 pounds, the sum of Mr Easton's being part of it.
Despite a witness being called in his defence to give a good character reference, the jury handed down the verdict of GUILTY, and sentenced James to be transported for fourteen years.
His trial was held at the Old Bailey London on 29 March 1813. You can read the trial online here.
James appears in the England and Wales Criminal Registers for 1813.
It states he is 45 years old, born in 1768, tried at Middlesex on 9 April 1813, crime embezzlement, sentenced to transportation 14 years.
He also appears in the Newgate Prison Calendar, Middlesex Committments (National Archives UK HO 77/20)
In June 1813 James Toft petitioned the Home Office for mercy on his sentence of transportation. Two petitions were received on his behalf from the prosecutor and trial jury, and also from 8 people of Cheapside and Walworth, Surrey. 
Some of the businessmen that signed the petition were from Cheapside including a lace manufacturer and auctioneer, and a linen draper from Walworth. A character witness that appeared on James Toft behalf was Mr Jeremiah Winkfield / Wingfield of Kent Road who said he had known the prisoner for 30 years. Jeremiah stated the prisoner had a wife and six children and had always borne an impeachable character.  Jeremiah Wingfield, born in 1766 in Norwich, was James Toft's cousin, son of his father's sister Mary Toft who married William Wingfield in 1759.
The grounds for clemency presented were that the prisoner was of previous good character, he had acknowledged his crime and reimbursed Thomas Hankin. He states that his wife and seven children are a burden on parochial relief and the Common Sergeant overruled the recommendation for leniency at the trial.
Unfortunately for James, the court responded that because of his multiple instances of committing embezzlement, there would be no pardon. (National Archives HO 47/52/4).
James was kept at Newgate Prison for a month, and then transferred to a Prison Hulk named the "Portland" in Portsmouth, Hampshire, England on 14 May 1813.
Prison hulks were decommissioned warships, stripped of their masts, rigging and sails. Hulks were moored up along the Thames and Medway estuaries, as well as at Portsmouth, Bermuda and Gibraltar.
In these locations, the work of convicts increased the efficiency of dockyards.  Convicts provided a cheap and efficient workforce, and rather than build new barracks to house men, prison hulks could be acquired at little cost and towed from site to site.
In May and in August 1813 James is recorded separately aboard the Prison Hulk Portland on the Prison Registers.
It states he was transferred there from Newgate Prison, and has been given clothing rations of  a jacket, waistcoat, breeches, shoes, shirt, stockings, hat, handkerchief, bedding, blanket and irons. (National Archives UK T38 / 327).
He also appears on another Prison Hulk register for the "Perseus", so may have been transferred. This register states he will be transferred to the Convict Transportation Ship the "General Hewett" to take him to Sydney, Australia for 14 years.
The "General Hewett" departed England in August 1813, arriving in Syd
ney on 7 February 1814. There were 300 convicts packed in to very tight, deplorable conditions.
Unfortunately James died onboard of dysentery at Rio Di Janiro on 17 October 1813, two months into the General Hewitt's voyage to Australia, one of 34 convicts dying en-route.
The convicts were poorly looked after, suffering from dysentery and typhoid, having their salt ration bought from them by the captain and having their wet bedding tossed over board, leaving them nothing in the cold weather.
His wife, Elizabeth, nee Mobbs, had set off to Australia as a free passenger on the "Broxbournebury" to join him, six months after his departure, with their four daughters – Mary Ann, Elizabeth, Ann and Sarah.
Elizabeth and her girls were placed on government charity and registered as such in the NSW 1814 population muster where they were living in Windsor, New South Wales. She is described as a widow living on charity with four children.
In 1816 she lived with her family, as a housekeeper to Mr William Mannix, in a hut near Cockle Bay, Sydney. Cockle Bay is one of the bays in Darling Harbour, which opens into the much larger Sydney Harbour.
The first settlers used the water and clay around Sydney to make a start on the colony's first buildings, until they could find a suitable site for brick-making. Brick-making required a plentiful supply of clay and a ready source of fresh water. Approximately a mile from the settlement, at the head of a long cove, a suitable site for brick-making was located. This site was later named Cockle Bay, and still later, Darling Harbour.
William Mannix had arrived on the "Elizabeth" on 6 August 1806 as a free settler.
On 1st January 1810 he was leased 21 acres of land at Cockle Bay, Sydney by Governor Macquarie for twenty shillings per year.
On 25 August 1812 William was leasing 400 acres of land per a land grant at Upper Minto for 8 shillings per year.
In November 1816 Mr William Mannix was selling by auction the property at Cockle Bay, including a coal wharf and dwelling house. (Sydney Gazette 2 Nov 1816).
William Mannix appears on the 1819 NSW Land and Stock, Census and Population books. He is farming wheat, maize, barley, oats, potatoes and other crops, and has 43 cattle and 35 sheep.
In the 1822 NSW Muster she was still living with William Mannix, and is raising their two daughters, Elizabeth aged 6 and Jane aged 8. She is described as "Mrs Elizabeth Mannix", but she did not officially marry him until 1835 when she was about 55 years old.
In the 1823 population books for NSW she is described as living in Molles Main, Minto, NSW. She is listed with her daughter Sarah, Elizabeth and Ann who are described as 'came free' on the Broxenbury. Even all four of them are listed under Toft, there is a notation saying they are daughters to Mrs Mannix.
"Molles Main" was a large estate of 1550 acres on the cow pasture road that William Howe leased from George Molle,as shown in the 1822 Land and Stock muster at Minto.
The early petty sessions was also held there prior to the court moving to Cawdor in 1825, which was then transferred to the township of Camden on 10 August 1841.
In October 1823 William Mannix appears in the Sydney Gazette giving evidence about three of his convict assigned servants, Gorman, Ward and Rowd that were accused of theft and the murder of Minto settler Mr William Wells. Mr Mannix's farm was mentioned as being as at Spring Hill farm, Minto.
In the 1825 NSW muster, Elizabeth Mannix is still living with William with their daughters Elizabeth aged 8 and Jane aged 10.
In the 1828 NSW census, Elizabeth is described as a 'settler' of Upper Minto, living with William and 13 year old daughter Jane who was born in the colony. William had 1151 acres, 500 acres cleared, 83 acres cultivated, 12, horses, 82 horned cattle (HO 10/24).
In 1834 William Mannix is mentioned in the Government Gazette, as occupying land, leased to him for 21 years by Governor Macquarie, at the east side of Darling Harbour, formerly called Cockle Bay.  There are many land transactions and mentions of William in the Sydney papers over the years. (Trove).
In December 1835 Mr William Mannix, of Campbelltown, purchased land in the town of Merrimba, NSW (section 3, allotment 4) from Sir Robert Bourke for one peppercorn.
Elizabeth finally legally married William Mannix at Scots Presbyterian Church in Sydney on 8 April 1835.
Elizabeth is named on a Land Grant Memorial on 22 June 1837 at Upper Minto, New South Wales.
Her husband William Mannix died in 1846 aged 68 years at Narellan. He is buried at St Thomas, Narellan.
Elizabeth then lived near or with her daughter Jane, and died around the same time as her on 24 May 1850 at Paddys River, New South Wales. She was buried at All Saints, Camden, Narellan on 26 May 1850.  Jane died in February 1850 at Paddys River. Jane was described on the burial records as the wife of Willoughby, Beadman.