Richard Croxford was born in 1708 in Aston Rowant to parents John Croxford (1677-1735) and Dorothy Weller (1679-1735).
Richard was baptised at St Peter and St Paul in Aston Rowant on 18 April 1708.
Richard was one of 8 children born to the couple.
Richard was a blacksmith in Aston Rowant, like his father John before him.
At the age of 33 on 20 August 1741, Richard married 27 year old Elizabeth House at Aston Rowant.
Elizabeth was born in 1714 in nearby Watlington, Oxfordshire, the daughter of Robert and Mary House.
She was baptised at Watlington on 18 February 1714.
Elizabeth was one of seven children born to the couple.
Richard and Elizabeth had the following children –
Richard b 1741 & d 1815 Aston Rowant, marr Sarah Nellum. 8 children.
Elizabeth b 1744 & d 1829 Aston Rowant, marr Robert Rixon. 4 children.
Robert b 1746 & d 1815 Aston Rowant, marr Sarah Cleydon, 2 children.
Mary b 1748 & d 1812 Asto Rowant, marr Mathew Badger
John b 1751 & d 1822 Aston Rowant, marr Hannah Green, 4 children. John's son Francis 1791-1845 married Mary Britnell, sister to my Maria Britnell. Francis and Mary's son James Croxford immigrated to Australia in 1844 and died in Violet Town, Victoria, Australia in 1893.
James b 1753 d 1822 Aston Rowant marr Martha Rixon, 3 children.
Mabel b 1756 & d 1834 Aston Rowant, unmarried.
Note – there are two James Croxfords born in Aston Rowant around the same time. One of them married Martha Rixon (daughter of my Harry Rixon & Mary Littlepage) on 17 Oct 1775 in Aston Rowant. I assume it is James, son of Richard above.
James, son of Richard & Elizabeth, baptised 29 Nov 1753 (child 6 above)
James, son of William & Elizabeth, baptised 14 Aug 1748
Richard worked as a blacksmith, as did his son Richard after him in Aston Rowant.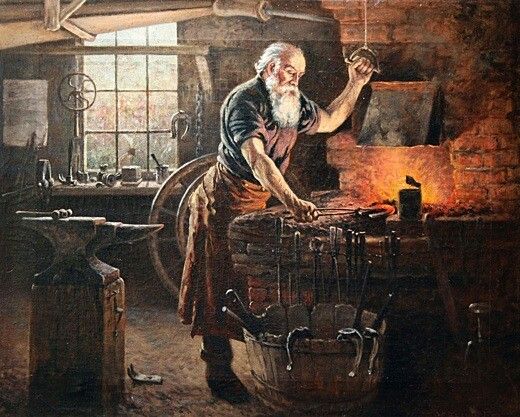 Richard wrote a will on 29th August 1772 in 'perfect mind and memory' and left the following bequests –
to his beloved wife Elizabeth, all his land, mortgages, tenements, goods, chattels and implements, blacksmithing tools and business
then to his son Richard, wages and then all the blacksmithing business
The witnesses to the will were John Hester, James Horney, and John East. His wife Elizabeth was made sole executrix.
Richard Croxford died in November 1772 aged 64 years, and was buried at St Peter and St Paul, Aston Rowant on 4 November 1772.
His will was proved on 4 October 1773.
His wife Elizabeth Croxford died in March 1778 at Aston Rowant, and was also buried on 2 March 1778 at St Peter and St Paul.