William Elrington was born in Healey, Northumberland, England to father Ralph Elrington, according to the baptism registers.
William was baptised on 28 May 1665 at St Peters, Bywell, Northumberland. Just his father's name appears on the register.
Healey is a small agricultural township in the parish of St Peters Bywell. It lies 7 miles from Hexham, and in 1848 the population was just 65 people.
It is believed that William was a yeoman farmer in the Healey district in the parish of Bywell. Two of his sons left wills and they were both yeoman.
At the age of about 29 William married Isabel, surname unknown near Bywell around 1694. There is a marriage transcribed as William Newton married Isabel Brown on 6 September 1700 which may be the correct one?
William and Isabel lived on the estate of Waltons Close House and Whinney House and had seven children –
Ralph b 1698 & d 1733 Bywell. (unable to find his baptism, but he appears on his father's headstone dying in 1731 aged 33).
*Robert b around 1701 d 1778 High Fotherley. Married Mary Surtis. 7 children.
*Jane b 1704 Waltons Close House, Bywell. Marr Joseph Calley. 5 children.
*John b 1706 Waltons Cl House, Bywell. d 1775 Blackburn. Marr Jane Proud. 5 kids
*Mary b 1707 Waltons Cl House, Bywell. Marr John Maudlin. 7 kids.
Thomas b 1701 Waltons Cl House, Bywell – twin of Mary, no burial record.
Isabel b 1710 Whinney House, Bywell d 1714  Healey Close House
William's first wife Isabel died, perhaps in childbirth with her last child, and then Robert married again, this time to Dorothy. William and Dorothy had –
William b 1713 & d 1713 Healey (Heley) Close House, Healey
George b 1714 & d 1714 Healey Close House, Healey
*William b 1715 Whinney House, Shotley d 1804 Fairley Farm, Shotley
George b 1717 & d 1719 Whinney House, Shotley
*Jacob b 1720 Whinney House, Shotley d 1755
*Mary b about 1722 (two Mary's were mentioned in their father's will)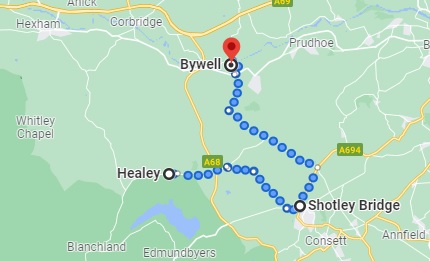 *children mentioned in their father's will.
Judging by the baptism and burial records for William's 13 children by two wives, William lived on the four different estates (possibly very close to each other).
New House, Healey
Heley House, Healey
Waltons Close House
Whinney House, Shotley Bridge
There is a 1691 Property Deed – Parties: George Delaval, John Shaftoe of Little Bavington esq., and John Errington of Healey esq to Robert Bewick of Close House. Bond in £400 for payment of £200. Ref 1DE/1/190 at Northumberland Archives.  Not sure if this is the same 'Close House' but worth noting.
There is a Chancery pleading Jenison v Atkinson, subject property in Whinney House, Durham. Dated 1676. (National Archives catalogue).
There is a will on the North East Inheritance Database for Thomas Atkinson, yeoman of Whinny House dated 1719, which mentioned his wife and daughters.
Whinney House freehold estate was sold in 1743 while in the occupation of tenant Mr Joseph Cabry, and the following advertisement appeared in the newspaper advertising its sale.
The same year, William wrote a will dated 12 August 1743 stating he was infirm in body, but perfect in mind and memory giving his address as Whinns, parish of St Peters, Bywell.  He left bequests to – his wife Dorothy, and to his three children William, Jacob and Mary Ellerington. He also mentions other children, Robert, John, Jane Calley, Mary Maudlin, and Mary Ellerington.
William, despite being infirm lived for another 5 years after writing his will and died on 12 January 1748 and was buried at St Peters, Bywell.
A much younger second wife Dorothy died on 1 April 1766 at nearby High Fotherley.
Their headstone at St Peters, Bywell reads the following –
Here lies the body of William Ellrington of Healey who departed Jan 12th 1751 aged 86 years.
Also the body of Dorothy his wife who died April 1766 aged 93 years.
Also the body of Ralph son of William and Dorothy Ellrington who departed his life November 17th 1733 aged 35 years.
Also the body of Jacob son of William and Dorothy Ellrington departed his life July.
Also …… unreadable.
A couple of their children and the girls spouses also left wills –
William Ellerington, yeoman of Fairlamay, Shotley dated 3 August 1778, probated 1806 – leaving estate to brother Robert (and his children Silas, William and Joseph) and brother John (children John, Robt, Willm, dau Betty Harte).
.
John Ellrington, yeoman of Blackburn, Slaley dated 9 Dec 1774, probated 1775 – Leaves property to wife Jane, sons John, William and Robert and daughter Elizabeth.
.
Joseph Calley's (Robert's brother-in-law) will 1746 with bequests to wife Jane, brother John, stepmum Mary, four children John, William, Jane and Mary.
.
John Mauden's (Robert's brother-in-law) will 1739 bequests to sons John, Joseph, Matthew, dau Elizabeth.