William Gordon Mills was born on 8 August 1914 in Fitzroy, Victoria, Australia to parents Ernest Gordon Mills (1884-1955) and Eliza Asenath Hutton (1888-1965).
He was one of four children born to the couple – Harold (1913-1978), William (1914-1991), Clara (1920-1920) and Marie (1928-1928). His baby sister Clara was buried in the Coburg Cemetery.
Gordon, as he was known all his life, lived in many different locations over his lifetime.
As a young child he lived in Upper Diamond Creek (aged 2), Woodleigh (aged 4), 29 Bendigo Street, Collingwood (aged 6), and then on to a dairy farm in Cardinia, Victoria.
He attended Cardinia Primary School from age 7 to 8.
The family then moved back to the city to Carlton for a couple of years, and then down to Wonthaggi where his father Ernest first worked as a miner in the Wonthaggi Coal mine, and then started delivering fruit in the town in 1929 when Gordon was 15.
Gordon's older brother Harry worked at the Wonthaggi Coal mine from February 1942 until March 1943.
The family attended the Wonthaggi Methodist Church and Gordon enjoyed playing football and cricket.
Gordon also played cornet in the town band. Gordon left school at the age of 15 and started employment on 3 March 1930 at the National Bank in Wonthaggi.
Gordon's father Ernest got the family's first car in 1932, an Oakland, and Gordon learned to drive, and then obtain his license when he was 18 in this car.
He worked in Wonthaggi for four years before being transferred to –
1934 Melbourne – tellers clerk

1935 Tocomwal – ledger keeper

1936 Seymour – ledger keeper

1937 Kerang – ledger keeper

1939 Wonthaggi – ledger keeper

1940 Kew – ledger keeper

1941 Prahran – ledger keeper

1941 Cranbourne – ledger keeper

1945 Bridgewater – teller

1947 Yallourn – accountant

1952 Benalla – accountant

1957 Apsley – manager

1959 Violet Town – manager

1960 Seymour – manager

1961 Learmonth – manager

1965 Natiumuk – manager

1968 Port Fairy – manager

1970 Winchelsea – manager 

1976 retired to Mornington
In 1932 Gordon was playing football for Wonthaggi when a visiting Melbourne VFL player, commented on Gordon's football abilities which were reported in the local Wonthaggi paper.
Gordon loved his sport, and when he shifted to Melbourne for work several VFL clubs wrote him letters asking him to play for their teams, and in February 1935 a man from the Hawthorn Club approached him personally with a formal invitation, and he started training with them.
But unfortunately when the Bank heard about this, they were not amused. The State Manager came and told Gordon if he didn't play for only the bank team, he would lose his job, so he transferred to Seymour, and played in the bank team as directed.
On 8 April 1939, the Rev Howard Kettle married 24 year old Gordon to 28 year old Olive May Gray at the Methodist church in High Street, Northcote.   Gordon's brother Harry and Olive's sister Lilian were the marriage witnesses.
Gordon had met Olive while she was working as Secretary and Treasurer at the Shire Offices in Wonthaggi.
She was often at the Wonthaggi National Bank doing the banking. They both attended the Wonthaggi Methodist Guild and church and had quite a few friends in common.
The couple honeymooned in Lorne and Apollo Bay and then lived with Gordon's parents in Wonthaggi for a year.
Then, with rumours of war on the horizon they moved in with Olive's parents at 117 St George's Road, Northcote in 1940. Later two children were born to the couple – Val and Darryl.
While living in St Georges Road Northcote, on 1 September 1939 England declared war on Germany. The government started rationalising the banks and foreclosed many to release more men for the war effort. At this time Gordon was working in Cranbourne and the bank was closed and shifted its business to Dandenong.
Gordon enlisted in the Royal Australian Air Force at the recruiting centre in Melbourne on 10 Sept 1942 as a trainee radio operator. He was assigned the Service No of 118495.
He was first sent to Shepparton (nicknamed The Bull Ring) for 4 weeks of drilling sessions and training, and then to Richmond NSW Radio School for a month. He was then posted to Birdum, Northern Territory for further military training in the use of radio signals.
Birdum is 493 kms south of Darwin on the Stuart Highway, near the  Daly Waters pub/roadhouse of today, and was the terminus of the North Australia Railway from 1929 until the outbreak of World War II.
After the bombing of Darwin on 19 February 1942, the Darwin civilian population was evacuated and the evacuees were transported by rail to Birdum siding where they were transferred to an army convoy to take them to Alice Springs.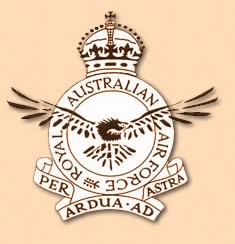 An evacuation hospital was constructed at Birdum by the U.S. Army 135th Medical Regiment in September 1942. Gordon arrived at the No 55 Operational Base in Birdum in December 1942.
The Royal Australian Air Force constructed a Base Personnel Staff Officer and Telecommunications Camp including No. 11 Signals Unit RAAF, which was part of No. 55 Operational Base Unit  based at Birdum.
The unit would be on aircraft listening watch and have to listen for a word which would indicate the air raid against enemy forces or bases had been successful or not.
The equipment used was Kingsley AR7 receivers.
Gordon was responsible for monitoring the radar equipment, and watching for the Japanese bombers. The radar covered about 150 miles and he witnessed about 30 attacks by the Japanese in his 20 month stay at Birdum, Adelaide River and Darwin.
He was promoted to Leading Aircraftman on 3rd September 1943 and assigned to the 44th Radar Wing of the RAAF. In May 1943 he was hospitalised with a bad dose of malaria.
He was finally allowed home on 8 July 1944 for 6 weeks leave after 19 months in northern Australia mostly in Darwin.
Finally he could meet his two year old daughter and spend some time together with his wife and child as a family.
Gordon was then sent to Wilson's Promontory in August 1944 for further warfare training.
Then after time in Townsville, he was sent to Aitope in New Guinea in March 1945 to the 340 Radar Station, Detection Unit, where he served until the end of the war. Gordon remembered that there were strong rumours that the war would finish before Christmas, but it was over in a week after the atom bombs were dropped.
Gordon considered himself very fortunate, as unlike others he was discharged only a fortnight after peace was declared. The main concern where he was, was getting out the wounded when the war ended. He caught a plane to Lae, then after a ten day delay he flew to Port Moresby. While he was staying in Port Moresby he caught up with his brother in law Harry Gray who was stationed there in the Medical section.
Gordon was given a powder compact by the RAAF to give to his wife.
From there he caught a flying boat to Cairns, Queensland and then a long train ride back down to Melbourne. He was the first man out of his unit to be discharged from New Guinea and sent home. After a brief hello to Olive and family he made his way to the MCG to get his discharge papers. He was discharged from the RAAF on 27 September 1945.
Gordon received the 1939-1945 Star, Defence Medal, War Medal 1939-45, Australian Service Medal 1939-45, Pacific Star,  and the Returned From Active Service Badge. 
On his discharge, like other soldiers and airmen serving in the Australian forces, he was given a voucher to buy a hat and suit, and sent on his way back into civilian life. He would carry with him the scars of war, including malaria which he suffered bouts of for many years after.
The bank had continued to part pay his salary to his wife while he served in the war, so he was able to save up and buy a small second hand car on his return to civilian life.
Because of the war there were no tyres available to buy, so he cut up old bicycle tyres and placed them around the old worn out car tyres.
Many items were still in short supply for some years after the war, so ration coupons continued for tea, sugar, meat and petrol. The banks were responsible for issuing the coupons, and it continued like this for five years after peace was declared.
Gordon and Olive lived with her parents for a while, until Gordon was transferred to Bridgewater in the bank as a teller.
It was while he was living in Bridgewater that Gordon was selected to play cricket with the Victorian Country Eleven against England.
The match was played in Bendigo on 30 December 1946 and was reported in the local newspapers.
The match was part of the 1946/47 English Tour and the English team was led by Wally Hammond.
Sadly, England lost only four wickets while passing Victoria's total of 156 with 4 for 200. The teams included Gordon (W Mills) who scored 20 before he was caught and bowled. Or as he fondly told me, "I was second top scorer that day!".
In 1947 the family moved to 29 Broadway West, Yallourn where they lived for a couple of years and their son Darryl was born in Regent (Preston) in 1946. 
By 1952 they were living in Thomas Street, Benalla, where the children attended school.
Then they moved briefly to Apsley in 1957 where Gordon was made Bank Manager, and then they moved again to Violet Town in 1959.
This was followed by another move to Seymour in 1960, then the small Victorian town of Learmonth in 1961.
While Gordon was manager of the Learmonth Branch, his daughter Val was working as a clerk and teller at the Ballarat branch of the National Bank, and they appeared together in the National bank newsletter.
After Learmonth, Gordon and the family were sent to work in Natiumuk in 1965.
In 1968 Gordon was transferred to the National Bank at Port Fairy, and then they moved to Winchelsea in 1970 until his retirement in August 1976.
I can still remember going to stay with them at the bank house in Winchelsea, and going into Geelong for a day trip, and the big excitement of the day was the opening of the new K- Mart store. The first K-Mart had opened previously in Burwood in 1969.
After 46 years service with the bank, Gordon and Olive retired to 57 Mitchell Street, Mornington.
Gordon was very active in the Uniting Church, spending many years as treasurer, and enjoyed fishing from the Mornington Pier, and playing lawn bowls.
He enjoyed pottering around his vegetable garden and spending time with his family.
I have lots of very happy memories of my grandfather driving my sister and I around the country on 'reconnaissance missions' as he like to call them, and many fishing trips to the Mornington Pier, Tooradin, and surrounding areas.
I was fortunate to spend a lot of school holidays in Mornington with my grandparents, and from a young age was always interested in how other people had lived their lives, so spent many hours listening to my grandfather Gordon telling me stories about the war years.
Like a lot of men of his time, he loved to tell a good story (especially if it involved fishing!), and how he used to spend many happy trips camping and fishing on Lake Eucumbene in the NSW Snowy Mountains over the years.
Perhaps unusually he was friendly with his future son-in-law's parents Alan and Ella Davis, before they even met, and used to go fishing with Alan and his brothers.
He continued to follow the cricket, and his beloved Collingwood Football Club right up to the end.
Gordon passed away on 29 March 1991 (Easter Good Friday) from colon cancer in the Mornington Hospital, aged 76 years.
He is remembered at the Mornington Uniting Church in the Remembrance Garden where he enjoying attending for many years, and with a plaque at the Violet Town Cemetery.
Some of this information was taken from an interview I did with my grandfather Gordon on 4th April 1988 at his home in Mornington. I also completed research in the National Bank archives and  National Archives of Australia (RAAF records).