Robert Littlepage 3 was born in 1676 in Aston Rowant, the son of Robert Littlepage (1650-1679) and Ann Gravet (d 1683).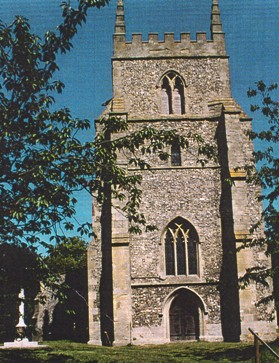 Robert was baptised at the parish church of St Peter and St Paul in Aston Rowant on 8 September 1676. The parish register is written in latin.
The family appear to be fairly well off, and his father Robert senior is always described as a gentleman in the records.
At the age of 27 Robert junior married Martha Smith on 8 April 1703 at the parish church in Emmington, Oxfordshire.
The couple married by license (Calendar of Marriage Licenses issued by the Faculty Offices 1632-1714), and on that document stated that Robert was of Kingston Under the Hills, a widower and Martha Smith was of Emmington, a spinster. Her mother gave her consent as her father had died.
Given that Robert describes himself as a widower, he must have been married before, but I've been unable to find another marriage for him yet in either the parish registers or the Marriage Licenses issued by the Faculty Office indexes.
Martha Smith was born in Chinnor and baptised there on 26 June 1697.
Martha was the daughter of William Smith (Guilielmi in latin).
Robert and Martha had eight children which were all baptised at Aston Rowant –
Martha b 1703
Robert b 1705
Anna b 1706
Elizabeth b 1708 & d 1708
Elizabeth b 1709
Catherine b 1718
Frances b 1719 & d 1719
Susannah b 1721 marr Michael House 1748 & William Dodsworth 1787
Mary b 1722 & d 1782 Aston Rowant, marr Henry Rixon 6 children.
Robert, a gentleman, died on 12 August 1725 in Aston Rowant and was buried in the churchyard of St Peter and St Paul, Aston Rowant on 14 August 1725.
Martha wrote a will on 1 March 1742, describing herself as a widow in Aston Rowant, weak in body, etc.
Her bequests were as follows –
a gold ring worth 10s to my daughter Mary, now wife of Harry Rixon
my estate in Ipsden to my daughter Catherine
my estate in Nettlebed to my daughter Susan
residue of my goods, chattels, real and personal estate to my two daughters Catherine and Susan
Catherine and Susan Littlepage were made joint executrices. Witnesses to the will were Anne Clerke, Samuel Wheeler and Matthew Harves.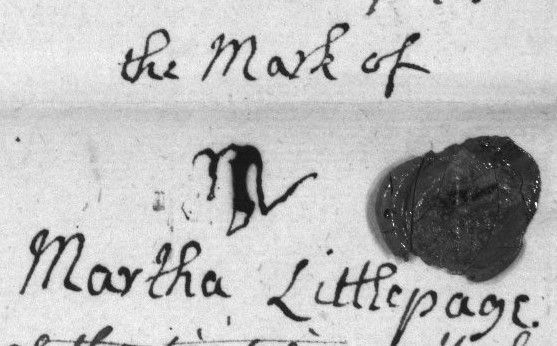 The will of Martha Littlepage was proved on 26 April 1745 and is available online at the Oxfordshire Family History Society. Martha made her mark and seal at the bottom of the will.
Martha died in 1745 in Aston Rowant and she was buried there in 1745.