John Britnell senior was born in 1732 in Crowell, Oxfordshire, England to parents Thomas Britnell (1700-1763) and Sarah Rance (1706-1763).
John was baptised on 22 October 1732 at St Mary's Crowell.
Crowell is a tiny village in Oxfordshire, located  between Chinnor and Kingston Blount near to Thame.
The main part of the village is at the foot of the Chiltern Hills with part of the parish extending up onto Crowell Hill.
In 1841 the population of Crowell was 169.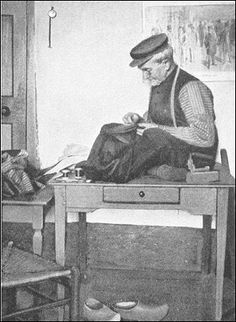 At the age of 16 years on 17 December 1748 John was apprenticed to Mr John Percivall of Aston Rowant, a master tailor. (UK Register of Duties Paid for Apprentices Indentures 1710-1811).
From 1710 to 1811 masters paid stamp duty for taking on apprentices. Details of the stamp duty paid were recorded in apprenticeship books. The payment could be made at the start of the apprenticeship or any time up to one year after the expiry of the indenture, so its unsure when the start of John's apprenticeship was.
Apprentices were not allowed to marry during the time of their apprenticeship, so that may explain why John married a little later than the usual age of 21.
At the age of 27, John married Mary Croxford, on 10 October 1759 at St Peter and St Paul in Aston Rowant.
Mary Croxford was born in 1737 at Aston Rowant, the daughter of John Croxford (1711-1792) and Ann King.
She was baptised at St Peter and St Paul in Aston Rowant on 10 July 1737.
Mary was one of five children born to the couple.
John and Mary had the following children –
John b 1760 Aston Rowant d 1848 Kingston, marr Sarah Whitford, 13 children.
Ann b 1762 & d 1809 Aston Rowant, marr John Quartermaine, 4 children
Jane b 1765 & d 1789 Aston Rowant, marr William Clark
Jonah b 1767 & d 1846 Aston Rowant, marr Elizabeth Dorvell, 6 children. The will of Jonah Britnell is available here.
Sarah b 1770 & d 1850 Aston Rowant, marr John Hatton, 12 children
Mary b 1772 & d 1792 Aston Rowant
Benjamin b 1775 & d 1777 Aston Rowant
Benjamin b 1777 Aston Rowant d 1845 Chinnor, marr Martha Shaw 10 children
John died in March 1807 aged 75 years, and was buried at Aston Rowant on 29 March 1807.
Mary died the following year in February 1808 at the age of 71 years and was buried at Aston Rowant on 16th February 1808.