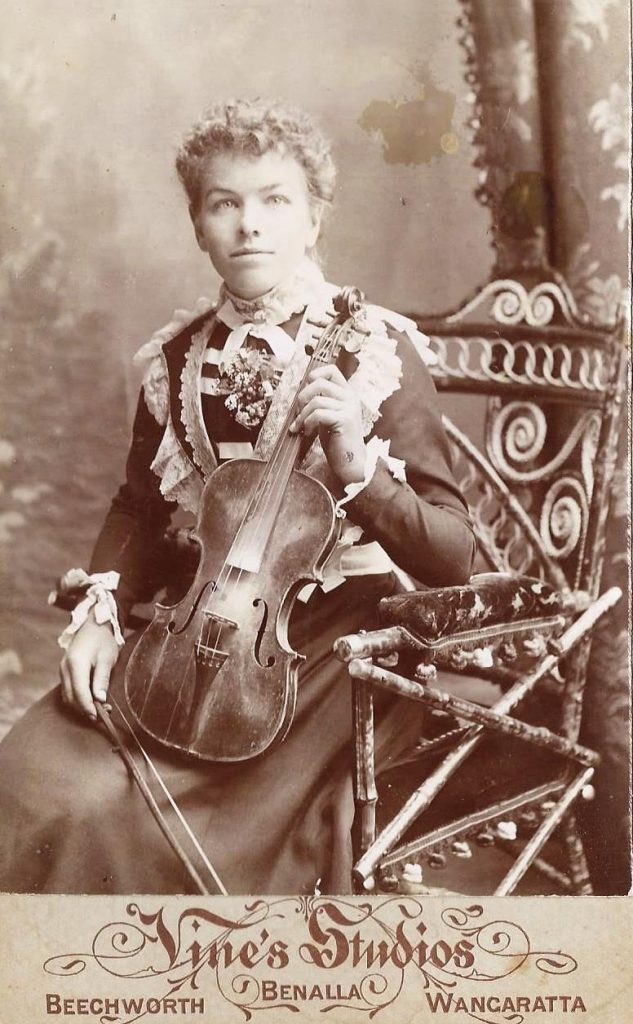 Maud Augusta Stow was born on 29 June 1880 in the rooms above her father's furniture shop at 144 Chapel Street Prahran. Her parents were English immigrants Edward Stow and Emily Pike.  Maud  was the third of eight children born to the couple.
Unfortunately Maud's father Edward, a bootmaker and cabinet maker, was a chronic alcoholic. In an attempt to solve his drinking problems, he sold his furniture warehouse  at 144 Chapel Street Prahran, and bought a 98 acre property in Boho called "Hilly Park" in 1892. (CA 7B Boho). He moved to Boho just after the birth of his last son Fredrick in 1896.
A few years later Maud married her nearby friend, Samson Davis on 4 May 1904 at her widowed mother's farm. They had five children,  Alan Edward in 1905, then Eileen in 1907, Laurence in 1908, Ronald in 1912 and Francis in 1914. The children all attended primary school at Warrenbayne West.
Maud played the violin, and often entertained at district concerts and dances.
Maud was very close to her mother Emily, and spent a lot of time with her, especially after her father's death in 1897.viol
Maud worked hard all her life, milking the house cows, and helping her husband Sam on the farm.
During World War 1 she was involved with the local Red Cross branch, sewing sandbags for the trenches, knitting socks,  making bandages out of calico, and raising money for the Red Cross fund.
She was also involved in the St Dunstan's Church of England fundraising committee, helping out at the bazaar held at the Mechanics Institute in 1917 to raise money for debt on the rectory. She was ably assisted by Mesdames Miles, Jackson, Aldridge and Croxford. (Violet Town Sentinel 2 Oct 1917).
Samson and Maud retired to Anderson Street, Euroa in 1949, and he died in 1953. Maud continued to live in Euroa until her death on 5 May 1964, aged 84 years.
She died at the home of her son Frank in Leonard Street, Sunshine. She is buried with her husband Sam in the Violet Town Cemetery.