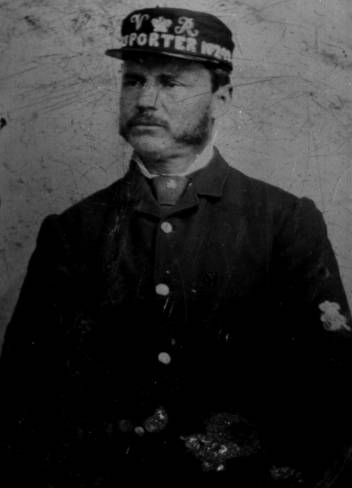 Edward Christopher Reeves Davis was born on 2 April 1851 at Palentine Place, Stepney, London to parents Dr Samson Davis and Ann Rawbone. He was baptised at St Dunstans, Stepney on 23 April 1851.
Only a year later Edward and older brother George, with their parents immigrated to Melbourne, Australia aboard the passenger sailing ship "Gloriana".
Edward spent the first few years of his life living with his family in Market Street, South Melbourne where his father practised medicine. His sister Mary Eliza was born there in 1855.
In 1856 the family moved to Castlemaine where another child was born in 1857, this time a brother named Hardwicke. Unfortunately Hardwicke died at only a month old.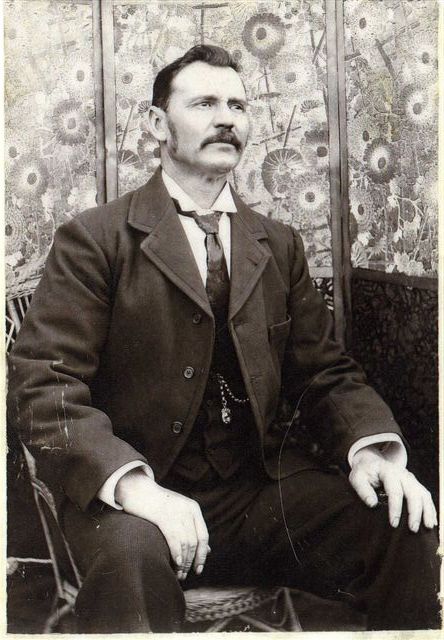 Soon after the family moved to Newstead, another goldfields town nearby, where sadly Edwards father Dr Samson drowned in the Lodden River while crossing it to see a patient. Edward was only 9 years old, and sometime later was sent to live with his uncle Joseph in Bendigo, where he could be found at the age of 19 in 1870.
At the age of 23, on 22 Oct 1874 Edward married an Irish lass named Hannah Minogue in Castlemaine. Hannah was born in Ireland to parents Patrick Minogue and Frances Sheehan.
Edward and Hannah had six children –
1876 Edward b Collingwood, d Parkville 1951
1878 Josiah b Amherst, d Bendigo 1957
1879 Frances b Amherst, d Ballarat 1944
1880 Elizabeth b Talbot, d South Melbourne 1904
1882 Ellen b Hotham, Kensington 1948
1885 Rose b Koorong Vale, d Heidleberg 1944
Sadly, two of Edward and Hannah's daughters Elizabeth and Frances were patients in Lunatic Mental Asylums. Elizabeth was admitted at the age of 16 in 1896 to Yarra Bend Asylum for melancholy and complaining of a pain in the back her head. She was discharged in 1897. Sadly she died at the age of 24 in 1904 where an inquest discovered the cause of death was disease of the brain and tuberculosis .
Her sister Frances was admitted to Ballarat Lunatic Asylum at the age of 27 in 1906, but records state she suffered from her first attack when she was just 17 after her sister died in Yarra Bend. She blames the death of her sister on herself as she was unable to visit her. The records state her parents (Edward and Hannah) were both alcoholics. She had been living with aunt and uncle (Jorgen and Mary Petersen) at 58 Hawthorn Grove in Hawthorn previously. She also states her maternal aunt a Mrs Becker died in Yarra Bend.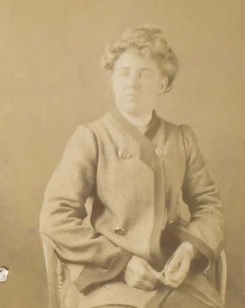 Amazingly there is a photograph of her at the time of discharge on her case book notes. Also included is a letter dated 21 June 1907 from her aunt Mary Eliza Petersen thanking the institution for their good care of her, and that she is doing very well at home when she was out on respite.
She returned to care and detailed notes were taken. She appears to have been in care until 1916 when she was discharged, but by 1921 she was back in care and was diagnosed with terminal dementia. She died at the age of 65 in Ballarat.
Edward's first wife Hannah Minogue died in 1891 at the age of only 44 in North Melbourne, and is buried in the St Kilda Cemetery with her sister Matilda.
Edward, worked for the Victorian Railways all his life, and moved around constantly, as can be ascertained by the births of all his children. He joined the railways on 22 Nov 1883 as a porter in Koorong Vale, 80kms north west of Bendigo. Victorian Government Gazette's Civil Servants list include him as a station guard in 1890, appointed as a shunter in Princes Bridge 1890, and a guard in Korong Vale 1890-1905.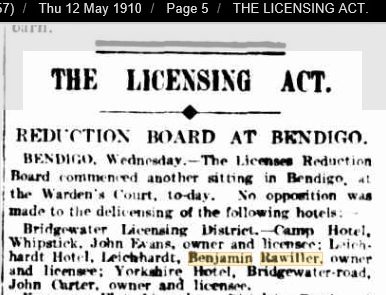 With six children to support, Edward married his second wife only 11 months after the death of his first. She was Barbara Rawiller, daughter of Benjamin Rawiller and Mary Rode.
Benjamin was born in Berne, Switzerland and publican of the Leichardt Hotel, and had immigrated to Australia in 1862 aboard the "Morning Light". Daughter Barbara was the first of ten children born to the couple.
Barbara and Edward went on to have seven children –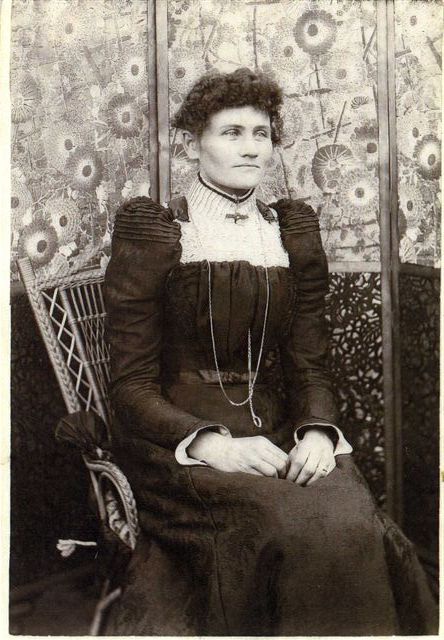 1893 Albert, b Eaglehawk, d South Melbourne 1949
1895 Laura, b Bendigo, d North Geelong 1986
1897 Reuban, b Mt Korong, d Caulfield 1940
1899 Dorothy, b Mt Korong, d 1992 North Geelong
1901 Christopher, b Mt Korong, d 1987 Bendigo
1904 Ernest, b Mt Korong, d 1933 Melbourne
1911 Victor, b Golden Square, Bendigo, d 1959 East Preston
In 1916 Edward was living at 42 Dundas Place, Albert Park according to his son Albert's World War 1 record which reported his Next of Kin – father Edward Davis, at this address.
In 1917 Edward was working as a watchman and liftman in the Transportation Branch and he retired from a long career in the railways that year on 31 December.
By 1921 he was living with his wife Barbara at 178 Bridgeport Street in South Melbourne according to the electoral roll. His children Albert and Dorothy were also living with them.
Edward died on 27 October 1921 in the Austin Hospital and is buried in the Heidelberg Old Cemetery. His wife Barbara died on 11 Oct 1963 in Preston at the age of 93 and is buried in the Fawkner Cemetery.