Henricus 'Harry' Rixon was born in Chinnor, Oxfordshire, England to parents Thomas Rixon (1691-1775) and Maria Veer (b 1691).
Harry was baptised on 2 March 1719 at St Andrews in Chinnor.
He was one of four children born to the couple.
Harry's father Thomas was a farmer in Aston Rowant.
Harry worked on his father's farm, and at the age of 20 years he married Mary Littlepage on 5 December 1739 by license.
Mary Littlepage was born in 1722 and was baptised on 22 December 1722 at Aston Rowant. She was the daughter of Robert Littlepage (1676-1725) and Martha Smith ( d 1745). Mary was the last of nine children born to the couple.
Harry was a farm and maltster in Aston Rowant. Harry and Mary had six children –
Martha b 1740 & d 1745 Aston Rowant
Anna b 1742 & d 1778 Aston Rowant, marr Richard Varnom, 6 children.
Thomas b 1743 & d 1743 Aston Rowant.
Thomas b 1744 Aston Rowant d 1814 Kingston Blount, married Sarah White
Martha b 1745 Aston Rowant, marr James Croxford
Robert b 1747 & d 1814 Aston Rowant, marr Elizabeth Croxford, 4 children.
Harry was a farmer and maltster of Aston Rowant. I wonder whether he ever worked or lived in the above beautiful Malthouse property?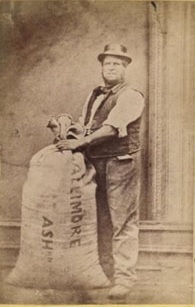 The maltster selected cereals, mainly barley, from the growing fields, most likely his own, for malting. The barley could also be grown on a brewers premises.
The maltster would then modify the barley, using nature as part of the process,to allow the brewmaster to be able to make beer from it.
According to the many records that are available concerning Harry, he appears to be both growing the barley, and processing it.
Harry Rixon appears in many documents held in the Oxfordshire Archives, such as –
1742 – Acknowledgement of Release of Legacies of £10 – It concerns the will of John Eldridge dated 27/Nov/1742 mentioning – Harry Rixon of Aston Rowant, maltster, Mary and Jane Rixon of Aston Rowant spinsters, children of Thomas Rixon (Oxfordshire History Archives).
1769 – Mortgage by demise for 1,000 years to secure £140 – Parties Joseph Worth of Kingston Blount yeoman and Harry Rixon of Aston Rowant, farmer. Property: Cottage or tenement and 17a. of arable in Kingston Blount, parish of Aston Rowant.
1772 – Lease and release for property called Calves Close, parties John Cailland, esquire and Harry Rixon. 1 May 1772.  Also a separate document – Bond of Indemnity for this property.
1772 – Lease and release and final concord dated 4 Sept 1772. Harry Rixon of Aston Rowant, farmer, Joseph Worth, William Watkins carrier and John Sadler, draper. Cottage or tenement and 21.5a. of arable in Kingston Blount, parish of Aston Rowant.
Consideration: £480
1788 – Lease and Release and Assignment of Term in Trust to attend the inheritance. The parties include six people, Edward Harris, butcher, John Hayward, brewer, Pauncefort Cooke gentleman, John Quartermaine, farmer, Robert Charnsley, gentleman, and Harry Rixon of Aston Rowant, farmer.
In 1754 Harry Rixon was recorded as a landlord and a tenant at Aston Rowant, in the Lewknor Hundred, in the UK Poll Book and Electoral Registers 1538-1893.
Harry wrote a will on 20 October 1777  and described himself as a maltster of Aston Rowant. Harry left the following bequests –
to my loving wife Mary Rixon – household goods, £200, two messuages or cottages, malt-house, barns and stables in Aston Rowant now in the occupation of my son Robert Rixon and myself, with their outhouses, orchard, garden etc. Meadow ground which was part of the Rush Moors, two messuages or cottages in Aston Rowant now in the occupation of Edward Smith and William Abbott, with their garden.
£200 to my son Thomas Rixon and £50 to my daughter Martha Croxford,
£10 each to my grandchildren Richard, Mary, Thomas and Ann Varnom, children of my late daughter Ann Varnom
residue of estates to wife, then to son Robert Rixon and his heirs forever
residue of my money, securities for money, stock of corn, cattle, goods, chattels and personal estate to my son Robert Rixon and appoint him sole Executor.
The witnesses to the will were Richard and Robert Croxford, and Edward Smith.
Harry lived for another 18 years after writing his will.
He lived until the age of 76 years.
His wife Mary died in December 1782 aged 60 years, and was buried at Aston Rowant on the unusual date of Christmas Day 1782. She was the only burial on that day.
On 17 June 1791 Harry Rixon, farmer, took out a fire insurance policy with Sun Fire Insurance, for his property in "Austin Rowant". Other property or occupiers: Tetsworth, Peddington and Son. (London Metropolitan Archives).
Harry died in November 1795 at Aston Rowant and was buried on 27 November 1795 with his wife Mary at the parish church of St Peter and St Paul, Aston Rowant. His lengthy will was probated on 4 Dec 1795.