George Cranston Robson was born in 1843 in Bonhill, Dunbartonshire, Scotland to parents Robert Cranston Robson (1812-1859) and Jean Main (1819-1888).
George was baptised on 18 January 1843 at the Scottish kirk (church) in Bonhill.
George was one of six children born to the couple. His father Robert was born in Edinburgh, and was a land factor (property manager for a landowner) in Kilmaroncok, Dunbartonshire in the 1841 census.
By 1851 the family had moved to the village of Renton, Dunbartonshire and were living in Dalquhurn Cottage. This was a cottage on the large estate of Dalquhurn House in Bonhill.
In October 1852 the Robson family consisting of father Robert, mother Jean, and children Agnes aged 11, George 9, Robert 7, David, 4, and baby William aged 1 arrived in Australia aboard the passenger ship "Montgomery".

The family settled on a small farm in Greenhill, Upper Plenty, Victoria.
In 1854 Mr Robson placed and ad in the Argus newspaper for his stolen mare, and in August 1855 he is selling dairy cows from his farm.
In 1856 he is involved in elections in the division of Whittlesea, and by an ad in the newspaper in 1856 we can see he has for sale wheat, hay, oats, barley, potatoes, pigs and cows.
The following year the family move 19 kms south to nearby Yan Yean and George's youngest sister is born in 1857 – Jean Main Robson.
In 1859 George's father Robert was involved in a shocking accident on the Yan Yean Tramway after being thrown from a horse. He was killed, an inquest was held into his death. He was buried at Whittlesea/Yan Yean in the Presbyterian section.

The same year their mother Jean placed an ad in the Argus for a governess to school the children at home at their farm at Greenhill, Yan Yean. She also sells their team of working bullocks.
His mother Jean is now left with six children left to raise, the youngest Jean just two years old. George is now 16 years old.
Tragedy struck the family again, three years after the death of father Robert, when in on the 24th November 1862 there was a fire at the farm at the well respected widow Mrs Robson's property.
It seems someone walked her milking cows into the stockyard, bailed them in their stalls, and took an axe to their heads in a violent manner. Several also had their throats cut.
The townsfolk held a meeting in early December and offered up a reward of 50 pounds for the apprehension of the culprit.
And then while Mrs Robson and her son William had just returned home from the public meeting and were eating their tea, someone set their dairy alight.
It seems someone really had it in for the family.
Unfortunately no-one appears to have ever been found and charged for the offence.
In late 1862 it seems George Robson met 25 year old Cornish lass Asenath Hall Jennings, and on 28 August 1863 she gave birth to an illegitimate daughter Asenath Clara Jennings at the Melbourne Lying In Hospital in North Melbourne.
It seems George wasn't keen on sticking around, as he appears in the Police Gazette as a missing person, wanted by the police. He does turn up again a couple of years later.
Asenath named George Robson, labourer of Upper Plenty as the father of her child on her baptism in Yea on 10 August 1868. DNA research (matching George's ancestors to mine) have since proven that George is indeed the father.
The midwifery book for the Melbourne Lying In Hospital in 1863 records the following details –
Mother – Jennings, Asenath, born England 1863, not married, third child.
It seems George didn't take responsibility for his daughter, and in 1868 is still working as a labourer in Upper Plenty, living with his mother Jean.
The following year he possibly fathered another child with Asenath – daughter Mary Jane Jennings born in 1870 in Alexandra. But this paternity remains to be proven.
George's mother Jean died on 1st May 1888 at home in Yan Yean of heart disease aged 68.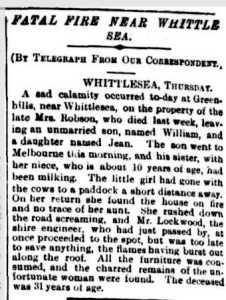 Only a week later George's 31 year old sister Jean died on 9 May 1888 in Yan Yean like his father,  in tragic circumstances.
There was another fire at their Greenhill's property, in which she perished.
A coroners inquest was held into the tragic death of the 31 year old. Her brother William Robson gave a deposition in which he said on returning from a day out in Melbourne at 8.30pm he found the house burned down.
It seems no one saw anything suspicious and the fire started on the north side of the building, and the body of Jean, was found in bed, next to the storehouse where the fire seemed to have been started. The coroner ruled there was no evidence to show how the house caught fire. What a devastating time for the family. Jean was also buried in the Whittlesea / Yan Yean cemetery.
Perhaps all the sad memories in Yan Yea were too much for George, as he then moved to Pelluelbla, 12 kms south east of Yarrawonga. George never married, and as far as we know never saw Asenath, or his daughter again.
He died aged only 51 at Pelluelbla on 14 August 1894 and was buried at Wilby (formerly known as the Old Pelluelbla cemetery. His death certificate states he died of stomach cancer.
He died without making a will, but his estate was divided between his two brothers Robert Cranston Robson and David Main Robson, and his sister Agnes Anderson's children (Jane, John, William and George Anderson).
George had purchased 377 acres of land in the parish of Pellulbla, and was growing wheat, barley and raising wool sheep.
His probate papers state he was a farmer of Boomahnoomoonah in Victoria.
Boomahnoomoonah is the longest single word place name in Victoria, and used to have its own school, church and post office which closed in 1939. St Oswald's church of England closed there in 2012.