Samuel Samson Davis was born on 9 May 1778 at Newin Yard, St Leonards, and baptised on 17 May 1778 at St Leonards, Shoreditch, London. His parents were John Davis (1750-1828) and Sarah Biddle (1736-1816). Sometimes in official records he was known as Samuel, sometimes as Samson.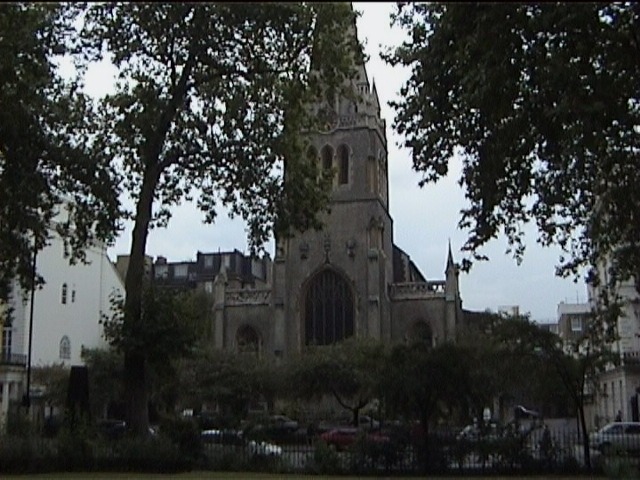 On the 29th August 1803, at the age of 25, he married Betty Holbrook at St James Church of England, in Paddington, Sussex Gardens, London.
Betty was baptised on 23 Jan 1784 at nearby St Mary Whitechapel. She was one of four children born to Thomas and Dorothy Holbrook of Roadside, Whitechapel.
In 1804 at the time of his first born son Samuel's baptism, the family resided at Prescot Street, Tower Hamlets, in the East of London. Samuel had the interesting occupation of being a gunlock and pistol maker.
Between 1805 and 1818 he worked at the Small Gun Office, in the Tower of London Royal Armouries and is listed as a Board of Ordnance employee.
TOWER OF LONDON
The Royal Armouries is one of the ancient institutions of the Tower of London and was originally engaged in the manufacture of armour for the Kings of England. The Tower was home to the Board of Ordnance who were responsible for providing weapons to both the Army and Navy. The Tower was engaged in the development, manufacture and storage of a wide variety of weaponry.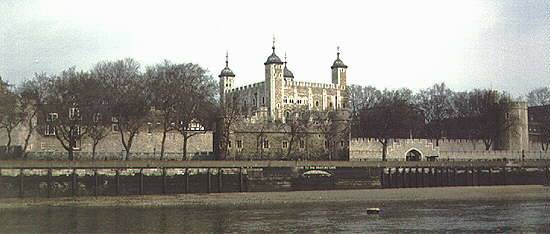 In 1819 he was promoted to Foreman, of the Coldharbour Armoury, Tower of London with a  salary of 4 shillings per day. In 1817 Samuel took out an insurance policy on the property he lived and worked in at 4 North side Great Gardens, East Smithfield (also called 4 Upper East Smithfield, East London).  
He appears in numerous London Post Office directories at this address as a Gun and Pistol Lock Maker until his death in 1832.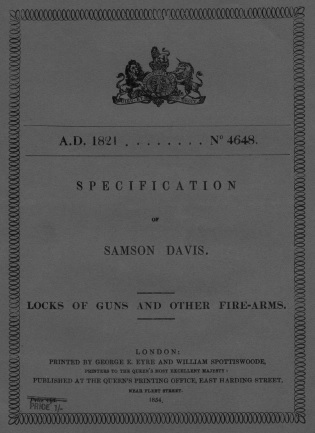 In 1820 Samuel Samson Davis started to invent locks for various firearms, and is credited with inventing the first flint and percussion gunlock. The Devolving Pan Lock provided the means to use both flintlock and a percussion cap on the same gun.  
He filed three patents –
*  Patent No 4648 – 12 Feb 1822 – Combined Flint & Percussion Lock
*  Patent No 5055 – 18 Dec 1824 – Safety Gun
*Patent No 6046 – 6 Dec 1830 – Two Improved Locks.
Samuel's gunmaking premises and his residence were at Butlers Buildings, 4 Upper East Smithfield, East London, described in an 1807 post office directory as being north out of Upper East Smithfield at no 40, leading into Crown Court.
Like most business professionals of his day, he took out an insurance policy on the property with Sun Fire Insurance.
He was also contracted to the Board of Ordnance to supply guns and gunlocks to the British army and navy. The Board of Ordnance was responsible, throughout its existence, for supplying the Army and Navy with weapons and ammunition.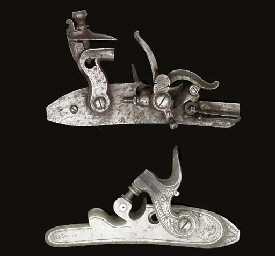 Samuel's gun locks have also come up for auction at "Christies of London" such as this recent sale of –
"a rare DAVIS devolving pan gun mechanism, and a pair of percussion gun mechanisms made to transpose with flintlocks", for $3000 AUS.
One of Samson's gunlocks were sold at auction in Munich, Germany (via Christies London) 26 May 2020. It has the description – "lockage powder pan or piston base stamped patent. On the inside stamp "SD" under crown for Samdon Davis. Surfaces slightly scarred. length of the lock plate 12 cm."
The pistol below was found on the Bonhams Auction website –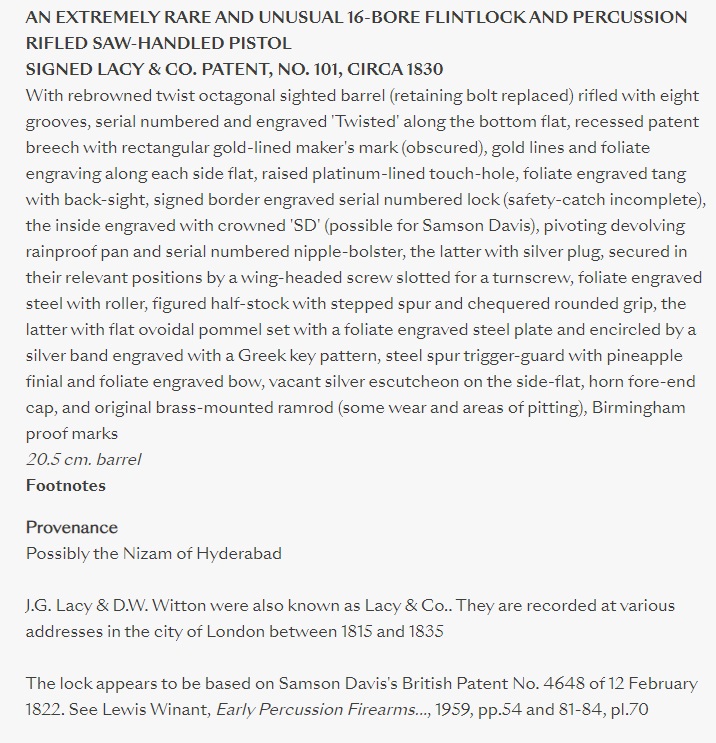 John Slough of London, Master Gunmaker had this on his website in Jan 2020 –
Samuel is listing in many trade directories as a gun and pistol lock maker, and over years stayed in the same place, and was renting his property at 4 Upper East Smithfield from Mr John Bruce, Mr John Bye, William Townley and finally Mr Robert Downe.
Samuel Samson Davis and Betty Holbrook had nine children, two of whom (Samson and Joseph) immigrated to Australia. John, the eldest child immigrated to New York, North America. The other remaining children appeared to stay in London, only three of them would survive into adulthood. The firstborn son Samuel died at the age of 25.
Sadly, as was often the case, many children didn't survive infancy. In the 19th century (1800s), high infant mortality rates, poor living conditions and harsh weather made young children especially vulnerable during winter.
Children of Samuel Samson and Betty Davis –
1. Samuel, the first born son was born while the family were living at Prescott St, in the East End of London.  He was christened on 19th August 1804 at the church of St Mary Matfelon, Whitechapel, Stepney, London. Sadly, his father's namesake, only lived until he was 25 years old. He was buried on 22nd February 1829 at the church of St Botolph Without Aldgate, London.
2. Joseph, the second son, and one of our Australian ancestors was born in 1807, and christened at the church of St Botolph Without Aldgate on 24 May 1807. Joseph, a gunmaker immigrated to Australia with his brother Dr Samson. He died there in 1884.
3. Sarah their first daughter, was born on 28th February 1809 at Butlers Buildings, 4 North side Great Gardens, East Smithfield (sometimes called 4 Upper East Smithfield) in London.  She was christened on 19th March 1809 at St Botolph Without Aldgate, London, and died in 1911.
4. Elizabeth was born exactly two years later to the day (28th February), in 1811 at East Smithfield.  She was also christened on 31st  March 1811 at St Botolph's, and was buried there in 1812.
5. Ann, the third daughter was born on 22nd January 1813 also at Butlers Buildings, London.  She was christened on 14th February 1813 and then sadly later buried at the age of 21 months at St Botolph's. 
6. Catherine, their fourth daughter was born on 6th December 1814 at Butlers Buildings and christened on 22nd  Jan 1815 at St Botolph's. She also died at the age of 3 and was buried on 20th December 1817 at St Botolph's.
7. Mary, the fifth daughter was born on 1st December 1816 at Butlers and was christened on 29th December 1816 at St Botolph's. She was buried there in 1818.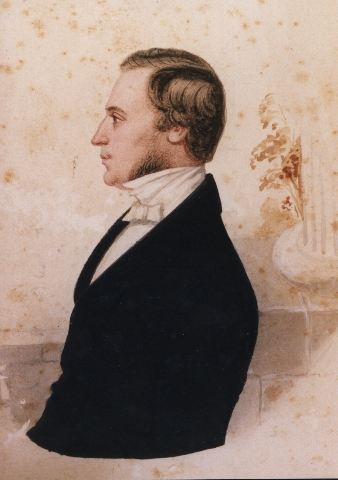 8. Samson, the third son, and my direct ancestor, was born in 1818, and christened at the church of St Botolph Without Aldgate in London as a baby. After a successful medical career in London, and two marriages, he immigrated to Melbourne, Australia in 1852 with his wife Annie and two children (George b 1849 and Edward b 1851). He spent some years in South Melbourne (where his daughter Mary was born in 1855), then Castlemaine and finally died at a young age in 1860 in Newstead, Victoria.
9. John, their fourth and final son, was born on 30th June 1821 at 4 Upper East Smithfield. He was christened on 5th August 1821 at St Botolph's. The next thing we hear about him is that his older brother Samson is visiting him at his residence at York House, Washington Street, New York USA (now Upper Manhattan, NY). Perhaps he stayed there?
Sadly in the July of 1832, Samuel Samson Davis died at 4 Upper East Smithfield, London, and his wife Betty followed just a week later. They were both buried at the church of St Botolph Aldgate, London on the day of their deaths, which suggests they perished in the Cholera Epidemic of 1832.  
LONDON'S CHOLERA EPIDEMIC OF 1832
Cholera arrived in London in the February of 1832 killing over 6500 victims. There were around 2500 cases in East London alone. Those living along the riverfront, especially in Whitechapel (the main culprit being contaminated water) were most susceptible. Burial of cholera victims was meant to take place within 12 hours of death, the body not entering the church itself.
Three months earlier, on the 13th April 1832, Samuel made a quite detailed will, favouring only two of his sons (Samson & John) and his wife Betty. Joseph was 11 years older and was working by this time.
Perhaps Betty was concerned about this, because in her will she left everything (600 pounds) only to her "natural and lawful son" Joseph. Samuel appointed his sister Anne Keech as the guardian of his children.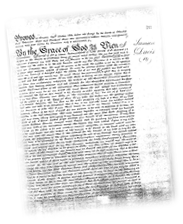 " By the Grace of God & Men, I Samson Davis of No 4 Upper East Smithfield in the parish of St Botolph Aldgate in the County of Middlesex being in sound mind declare this my last will and testament, I appoint my wife Betty and my son Samson to be joint Executors…… Everything belonging to my business all the guns, files, forging of sorts of all. I have lathes, forge, Bolleys gun barrels of all descriptions.  I may have anvils, rubber hammers, swayes, vices, brasses for grinding tumblers …. plates and tools of all descriptions, except the copper cap tools which I give to my wife.  I wish for the whole to be sold without reserve altogether or separate which may be to the most profit and the whole of the money to be placed in the bank with my other stock and used the same that is the interest for the benefit of my wife serving her life.  I wish the particulars of the above respecting the sale of my business and patents tools stock and …… . to be advertised in the London and Birmingham newspapers stating particulars.  Also for my wife exclusively the books  and Samuels watch and writing desk for my son Samson, exclusively my watch and the whole of the money for my clothes to be given to John my son when at proper age or say twenty one and I wish the whole of my clothes to be sold to the best advantage."
"On the 25th October 1832 … with the will annexes of the goods chattels and credits of Samson Davis late of no. 4 Upper East Smithfield, Aldgate in the County of Middlesex was granted to Ann ……, the aunt and curatrix or guardian lawfully assigned to Samson Davis a minor the son and sworn executor named in the said will for the use and benefit of the said minor and until he shall attain the age of twenty one years."

Samuel is an ancestor to be proud of. In his short lifetime (he only lived to the age of 54), he left us a legacy of hard work, and was determined to see that his family were well taken care of after his death.