William Skelton was born in January 1837 in the tiny village of Wath, Yorkshire , the son of William Skelton senior (1799-1854) and Susannah Craike (1808-1880).
His father was the town's corn miller.
Wath Mill was a water powered mill on the Nidd River near the village of Hovingham.
William was baptised on 8th January in nearby Hovingham.
When William was four years old, he appeared in the 1841 census for Wath with his father William, mother Susannah and five siblings. Also living and working at the Mill with his father was his mother's parent's John, also a miller and Susannah Craike, and three of their children William, Richard and Elizabeth.
10 years later in 1851 the Craike's had moved on but William senior was still the miller, but William like his brother Thomas was training to be a tailor in the village.
The neighbours the Stephenson family were also tailors, hat makers, dressmakers and milliners so perhaps he worked for them.
In 1861 William was 22 he was living with John and Mary Craike once again at Wath Mill, and it seems John was doing well as he is listed as a farmer of 50 acres and the miller employing four men. William and his brother were living with his uncle John and helping in the farm and the mill.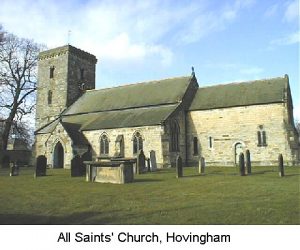 Five years later,  William married  Mary Ann Cooper at the parish church in Hovington on 28 November 1866.
Mary Ann was born in Bolton, Lancashire on 22 January 1846 and was baptised on 24 February 1846 at the nearby Bolton-le-Moors parish church. Mary Ann was the daughter
of Everett Cooper (1824-1866) and Catherine 'Kitty' Tatlock (1825-1890).
Bolton is some 83 miles away from Hovingham, and the Cooper family seemed to have moved to Hovingham after the death of Mary Ann's father Everett in 1866.
Everett was a green grocer (1846) and fruit dealer (1851) and Hay and Straw Dealer (1861) in Bolton.
William and Mary Ann had a large family of ten children  –
1867 Mary Emily b Hovingham d 1901/2 Sculcoates marr Henry Wray* 4 children
1868 John William b Hovingham d 1922 Eston (unmarried in 1911 census)
1870 George C b Hovingham d 1927 Linthorpe married Florence Gibson, 6 children
1872 Jane Annie b Hovingham d 1951 Buckrose, married John Glover, 6 children
1874 Margaret b Hovingham d 1949 Uxbridge married Henry Wray*
1877 Susannah b Hovingham d 1937 Eston married James Whyman, 4 children
1878 Clara b Hovingham d 1880 Hovingham
1880 Edith b Hovingham d 1972 Eston, married James Dennis, 9 children
1884 Florence b South Bank d 1975 South Bank  married Thomas Dalton, 11 children
1889 Hilda b South Bank, d 1944 Middlesbrough, married John Brown, 3 children
Looking at the above list you may notice that two of the daughters Mary and Margaret, both married the same man!  Mary Emily was married to Henry Wray, tobacconist & sugar merchant in 1888 and had four children with him – Violet, Lillian, Reginald and Frederick Stanley in 1894.
I cannot find a death for Mary (known as Emily), but she must have died between April 1901 (census) and Dec 1902 (widowed Henry remarries).  So it looks like her husband has then married sister Margaret the following year.
25 Dec 1902 St Paul, Sculcoates, Yorkshire – Margaret Skelton, single, residence 10 Fountain Rd, father William Skelton, mechanic, marr Henry Wray, widower, tobacconist, of 10 Fountain Rd, father William Wray Farmer.
Looks like they may have married illegally as it was not then legal to marry your dead wife's sister, they were a few years early for the legislation….

In the 1911 Census we find Henry and Margaret living in Malton, and he is a Clerk, Sugar Merchant. Two of his and Mary's boys (Reg and Stan) are with them, so that confirms it!
Back to the parents – William and Mary…
By 1871 William was still the miller in Wath, and had the two oldest boys John 2 and George aged 1 living with them.
In the 1870s the cheap import of grains from America and a series of poor harvests disrupted the cereal markets and expensive roller machines on an industrial scale began to take over from millstones.
Rural mills found it difficult to compete, especially now with the railways bring their competitors products to their local markets. By the end of the 1800s every small cereal mill in the Yorkshire Dales had closed.
This may have had a devastating affect on the Skelton family, who were trying to keep the Wath Mill going, and keep themselves fed and cared for.
By 1881 the family were still living in Hovingham, but it had grown considerably, and it seems William had left the mill, and had become an agricultural labourer. He now had children John, George, Jane, Margaret, Susanna and Edith at home – all attending school.
Looking at the children's places of birth we can ascertain that the family moved from Wath, Hovingham to South Bank, Eston between 1881 and 1884, probably to find work in a larger place.
In the 1891 census the family are living at 60 Napier Street in Normanby, an outer suburb of Middlesbrough and William is working as a general labourer, and his sons are working in the steelworks.
The Normanby steel and iron works were tucked into the space immediately north of the railway with the river on the northern side.  It is on the bend of the river below Port Clarence and immediately after the deep water wharf.  To the right, further down river, is Cargo Fleet Light and Smiths Docks.
Ten years later in 1901 62 year old William has joined his sons working at the steelworks and his daughters are out working as well to help the large family keep afloat. Margaret is a general domestic servant, and Susannah is a shirt seamstress working from home on her own account.
In 1911 William is aged 73 and is still a labourer at the steelworks with his single, 43 year old son John. The only other child still at home is 22 year old daughter Hilda. The family are still living in their four roomed house at 60 Napier Street in South Bank.
William had worked hard all his life, and finally succumbed at the age of 82 in May 1918. He was buried in Eston on 5 May 1918.
His wife Mary Ann died the following year in September 1919 aged 74 and is also buried at Eston Cemetery, Middlesbrough, Yorkshire.