Israel Skilton was born in 1577 in Reigate, Surrey, England – a twin – to parents Robert Skilton (b 1540) and Elynor Lashemor (1548–1605).
Israel's parents Robert and Eleanor/Elynor were married on 27 April 1568 at St Mary's Reigate. Israel was of eight children born to
the couple.
Israel and his brother Samuel were baptised together on 21 February 1577 at Reigate. The parish registers are written in latin. A translation says –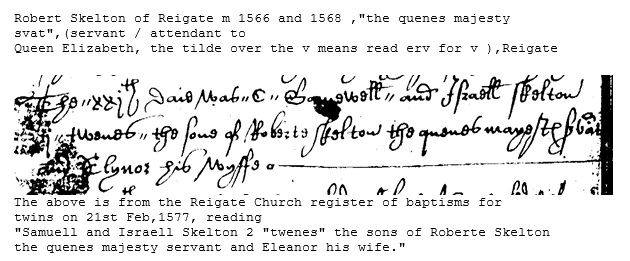 On the above baptism on 21 Feb 1577 – Reigate, Surry of Israel and Samuel Skilton (twins)  – the queen mentioned is Queen Elizabeth the 1st (1533-1603), the "virgin queen" who ruled for 44 years. The childless Elizabeth was the fifth and last monarch of the Tudor dynasty. She was the daughter of Henry VIII and Anne Boleyn.
Israel's mother Elynor / Eleanor died in March 1605 and was buried at Reigate on 8 March 1605. The parish register reads "Eleanor, widow of Robert".
Israel married twice, firstly to Elizabeth Harper on 28 November 1605 at Reigate, Surrey.
Israel and Elizabeth had a son John in 1606 in Reigate. John was baptised on 25 January 1606 at St Marys, Reigate.
Israel's first wife Elizabeth died in December 1615 in Betchworth, registered under "Mrs Skelton, wife of Israell Skelton". She was buried at St Michaels, Betchworth on 14 December 1615.
Israel didn't take long to marry again, this time to Jane Humphrey on 10 April 1616 at Betchworth, Surrey. (for some strange reason it was indexed under 'Maryell Skelton' on Ancestry).
Jane was born in 1580 and baptised at Betchworth on 2 April 1580. She was the daughter of John Humphrey (b1544) and Dorothy Mellish (b1548).
Jane's parents John and Dorothy were married at nearby Albury, Surrey on 6 November 1569. She was one of four children born to the couple.
Israel Skilton was a husbandman, or yeoman farmer firstly in Reigate, and then in Betchworth.
Israel and Jane had four children –
Robert b 1616 Betchworth, d 1679 Brockham. Married with four children.
Jasper b 1618 Betchworth, d 1665 Brockham. Will. Marr Jane Turner & Cicely. 7 kids.
Israel b 1620 Betchworth, d 1627 Betchworth.
Richard b 1622 Betchworth, d 1693 Dorking. Married with six children.
Jane died in Betchworth in April 1646, aged 66 years. She was buried at St Michaels, Betchworth on 19 April 1646.
Israel died the following year in 1647, but not before making a will leaving all his estate to his three surviving sons Robert, Richard and Jasper.

The will states he is a yeoman of Betchworth, and he leaves his money to his eldest son Robert, to his son Richard he leaves the household furniture, and to Jasper he leaves 40 shillings.
He also makes a bequest to the poor of Brockham, near where the family lived.
Israel died in September 1647 in Betchworth parish, and was buried "Izraell Skelton" on 25 September 1647.