Henry James Pickering was born on 2 October 1827 in Cooks River, Sydney, NSW, Australia.
He was baptised at St James, Cumberland, Sydney on 1 June 1828 to convict parent Gawan/Gowan Pickering (1769-1857) and his wife Mary Ann Toft (1799-1844) who arrived in Australia as a free woman.
Henry was one of five children born to Gawan and Mary Ann in Australia, after Gawan was sent to Sydney for 14 years for sheep stealing in Lockton, Yorkshire in 1814 aboard the "Somersetshire". He was a poor sheep farmer in North Yorkshire.
Gawan left behind in England a wife Jane Allanson and three children – Hannah, John and Thomas.
Henry's mother Mary Ann Toft's father James was also a convict from London who died of dysentery on the voyage out to Australia aboard the "General Hewitt" in 1813. He was convicted of embezzlement at the Old Bailey, London on 7 April 1813.
Cooks River, Henry's birthplace, was a tributary of Botany Bay, flowing for 23 kms out into the bay.
Captain Cook sailed into Botany Bay in 1770, and mentions the river in his diary as a source of water, but stated the land beside it was poor.
With settlement, early farmers began to set up along the river, damming it for fresh water.
Henry's family lived along the river, and in 1827 his father Gawan was granted his freedom via a Ticket of Leave at the age of 50. This allowed him to move his family around, and in the NSW 1828 census the family appear living in Botany Bay.
Henry's two sisters are born in nearby Punchbowl, 8kms away, in 1829 (Mary Ann) and 1832 (Jane).
In 1841  the family appear in the NSW census for Berrima, described as living at Green Cottage Farm, parish of St George, county of Cumberland, district of Sydney. The census states father Gawan is 55, and there are six people living in the cottage. Also living on the farm is Henry Collis and his family. Berrima is 120 kms south of Cooks River.
It appears the family moved back up to Sydney a couple of years later to farm on the banks of Salt Pan Creek.
Salt Pan Creek was named by early colonial settlers, who took salt from the swampland by evaporating the salt water.
Henry's mother Mary died on 26 January 1844 at Salt Pan Creek, Georges River when Henry was aged just 16.  His younger sisters Mary 14 and Jane 11. Her death certificate states her husband Gowan was a farmer.
Henry returned to Cooks River, and on 14 April 1850 he married Mary Jane Meredith at St Peters Anglican church,  Cooks River.
Mary Jane Meredith was born on 20 August 1833 in Liverpool, NSW.
She was baptised on 30 March 1834, the daughter of Australian born parents Frederick Meredith (1801-1861) and Sarah Morgan (1804-1884).
Her father Fred Meredith was Chief Constable of Liverpool at the time.
Henry and Mary had a large family of eleven children –
Sarah Jane b 1851 Irish Town NSW d 1921 Sydney married Horatio Walker
Frederick George b 1853 Bankstown died 1898 Coffs Harbour marr Phyllis Gawthorne
Charles Henry C b 1855 Bankstown d 1906 Leaderville WA marr Mary Milverton
Mary Jane b 1858 Paddington d 1859 Paddington
William Henry b 1860 Paddington d 1909 Glebe married Eliza Meredith
Ada Amey b 1862 Paddington d 1937 Marrickville married Montague Mead
Henry Meredith b 1864 Paddington d 1911 Burwood NSW married Edith Smith
James b 1866 Paddington d 1867 Paddington NSW
May Rowena b 1868 Paddington d 1930 Redfern married George Harrison
Horatio b 1871 West Maitland d 1899 Redfern married Amey Roberts
Lucy Alexandra b 1873 Gulgong d 1939 Manuka, ACT married Henry Johnson
Henry worked as a timber merchant and as can be seen by the birth locations of his children, he moved around the Sydney area quite a bit over the years.
In October 1857 he placed an advertisement in the Sydney Morning Herald Newspaper – "Wanted, an active boy to drive a horse and dray. Apply to Henry Picering, Timber Yard, Petersham".
He appears on the 1859 and 1861 Electoral Roll for Cumberland, living in Bankstown on freehold. He is mentioned in the Sydney Morning Herald in July 1859 leasing and occupying land at Bankstown on the Liverpool Road within 3 miles of Homebush Station.
On 3 March 1866 Henry is advertising his Timber and Coal Yard in Paddington.
In October 1869, Henry's eldest daughter Sarah married Horatio Walker by special license. She is stated to be the daughter of Henry Pickering, esquire of Liverpool Road in Bankstown.
In the 1891 census of Cumberland, he owns a property in Cooks River at 344 Riley Street.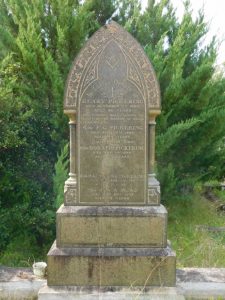 Henry died at his home in Wanaring Cottage, Francis Street, Marrickville, Sydney on 7 November 1893, of fibroid arteries, aged 66 years.
He was buried in the Rookwood Cemetery on 9 November 1893. His headstone displays the freemasonry masonic symbol.
He is buried in Section AAA, B7 with his wife Mary.
Mary died on 4 October 1911 at Glebe, and was buried at Rookwood on 6 October.