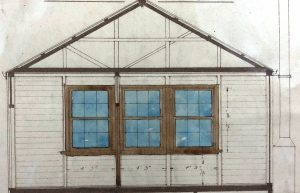 The Five Mile Creek School officially opened in 1885, in a building shifted from another site and then it operated half time with Warrenbayne West before its closure in 1894.
It reopened in 1896 and operated half time with Harry's Creek and Baddaginnie North and closed again in 1921.
It reopened in 1923 and finally closed in 1924. The one acre crown land site was located between the Hume Highway and North Eastern rail line, 4 miles east of Violet Town part of Crown Allotment 26A parish of Boho.
The school name was officially recorded as Five Mile Creek State School No 2709. To the locals it was known as "Bourkes Hill" (Burke's Hill), after the local storekeeper Mr T Bourke (resident there before 1869).
Anzac Day was celebrated every year usually with a local sports day and picnic. In May 1917 residents of Bourke's Hill joined in competing against the nearby Boho State School in games including the Tug of War with Bourke's Hill school beating Boho on this occasion. Pupils gaining a prize included Vic and Gordon White, Ella & Horace Jackson, Joe Ford, Olive and Jessie Jenkins, Miss Dorothy Wilson, and Eunice Croxford.
In July 1924 the School Inspector notes that all families with children would be leaving the district in a fortnight, and there would be no accommodation for a teacher, and his advice was to close the school permanently. The old building and wire fencing were removed, and the pine trees felled for their timber.
In 1976 the Country Roads Board advised that the school site was required by them to enable a reconstruction of the Hume Highway, and the school site disappeared forever.