Robert Dennis, a farmer, born around 1660,  lived in the tiny village area of Landmoth Catto, in the parish of Leake, Yorkshire, England before 1697 (per daughter Ann's baptism).
The parish of Leake, which has a total area of 5,337¼ acres, includes the townships of Leake, Landmoth-cum-Catto, Borrowby, Crosby, Nether Silton, and Knayton-cum-Brawith. It lies for the most part between the Cod Beck on the west and the Hambleton Hills on the east, and has a clay soil on a subsoil of Lower and Upper Lias and Inferior Oolite. The population is chiefly employed in agriculture, 2,052 acres being under cultivation. The chief crops are barley, wheat, oats, beans and turnips.
Landmoth-cum-Catto, the most northerly of the townships, consists only of a few farm-houses on a high ridge of land separated from the Cod Beck by Landmoth and Cotcliffe Woods.
Landmoth is connected with Leake, and Leake with the other townships to the south of it, by the 'Long Lane,' as well as by the great high road from Yarm to Thirsk, which also runs in a southerly direction through the parish. Leake, like Landmoth, is very sparsely populated and has no village.
Robert Dennis and his wife Ann had the following three children:
Robert Dennis was born in 1689 in Silton, Yorkshire. He married Isabell Douglas on 23 Apr 1720 in Hawnby, Yorkshire, England. He died on 30 Jan 1752 in Nether Silton, Yorkshire, England (Buried St Mary's Churchyard, Leake).
Brigit Dennis was born on 08 May 1695 in Leake, Yorkshire, England.
Ann Dennis was born on 18 Mar 1696 in Leake, Yorkshire, England (father of Landmoth Catto, parish of Leake).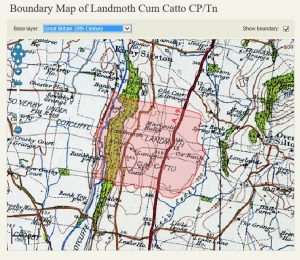 Robert Dennis died in Apr 1737 in Landmoth Catto, Yorkshire, England aged 63 (per burial). He is buried in St Mary the Virgin churchyard, Leake.
Robert's wife Anne died in January 1764 at Nether Silton and was buried on 6th January 1764 at Leake.