Joseph, the brother of Dr Samson Davis, was born on 3 May 1807 at Whitechapel, London, England to parents Samuel Samson Davis and Betty Holbrook.  Like his siblings, he was baptised at the church of St Botolph, Aldgate.
Joseph was a gunsmith in Aldgate in the East End of London. Like his father, he also worked at the Tower of London and was contracted to supply military muskets and gunlocks to the Board of Ordnance, a British Government body that was the supplier of munitions and equipment to both the Army and Navy.
The Board lasted until 1855, at which point (tarnished by poor performance in supplying the Army in Crimea) it was disbanded.
Joseph was 25 years of age when his father died in 1832, the oldest living child.
He married Eliza Hodges, daughter of John Hodges and Elizabeth Rachael Hadley, on 31 Jan 1831 at St Leonard Foster Lane, London, England (Christchurch Newgate).  Joseph and Eliza had six children.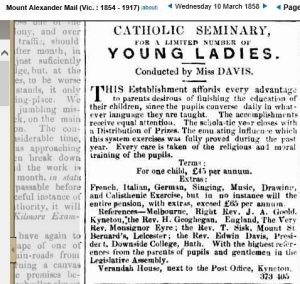 1.  Elizabeth born 1831 Prescott St, London, and baptised at St Mary Whitechapel. After immigrating to Australia in 1852 aboard the "Gloriana", she opened a Prepatory School for Young Boys in Kyneton in 1856. She then ran a Seminary for Young Ladies in 1858 there.
By 1867 she was in Castlemaine running a Ladies School in Doveton Street. She died in 1910 in Castlemaine aged 78, and is buried in the Bendigo Cemetery.
2. Emma Hallowell born 1833 & died 1834  in Chamber St, London, aged 15 months. She was buried at St Mary Whitechapel.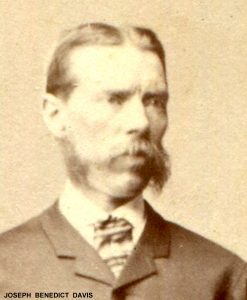 3. Joseph Benedict was born in 1835 in Whitechapel, London. Joseph was apprenticed as a surgeon to his uncle Dr Samson Davis at the age of 16, but after arriving in Australia in 1852, decided to go out on his own. 25 Jan 1861 appointed as a Turnkey at Castlemaine Gaol, salary 146-0-0 per annum. Promoted to Seneior Turnkey on 7 May 1862 and salary raised to 200-0-0. Governor of Gaol at time was John McEwan & Matron was Mary McEwan (his wife's parents).  In 1867 he was listed as Senior Turnkey, appointed to permanent staff of the Civil Service on 7 May 1862, appointed to Beechworth Gaol on 1 Jan 1864. He died in Beechworth in 1868 at the young age of 32. Joseph and Mary Ann had two children Amy Davis 1864-1946 and Louisa Davis 1867-1867.
4. Samson born 1837 Stepney, London – died in 1841 aged 4 Chamber St, Stepney.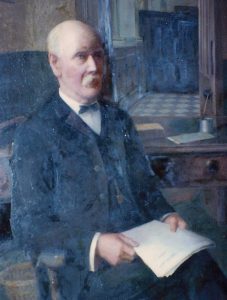 5. William born1840 Goodmans Fields, Whitechapel, London and baptised at the age of 10 at St Mary Whitechapel the same day as his brother Alfred. At the age of 12 William immigrated to Australia in 1852 with his family and lived in Castlemaine, where he joined the Colonial Bank as a clerk in 1860. In 1864 he was appointed bank manager at Kilmore, where he married his wife Ellen Hayes in 1867. William and Ellen had seven children – Mary 1869, George Albert 1870-1923, William 1871-1923, Charles 1872-1923, Ellen 1874-1876, Lilian 1878-1958 and Arthur 1884-1901. His father Joseph wrote letters to William while he was living in Kilmore, advising him that Edward (Samson's son) was living with Joseph in Castlemaine in 1870. William was honorary treasurer of the Bendigo Art Gallery 1888-1904 and President from 1904-1906. There is a portrait of him painted by Ms Shiress held in the Basement of the Bendigo Art Gallery today.  He died at his residence "Corona" in Graham Street, Quarry Hill, Bendigo in 1907 and is buried in the Bendigo Cemetery with his wife Ellen.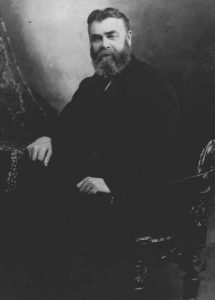 6. Alfred Rufus Gunner born 1850 Whitechapel London, and baptised the same day as his brother William above. Alfred was only 2 when his family left England for Melbourne, Australia in 1852. When he was only 16 he immigrated by himself to New Zealand aboard the "Rangitoto". He married Mary 'Polly' Hunter in Ross, New Zealand in 1874, listing his trade as a butcher. Alfred and Mary had nine children – Elizabeth in 1875, Edwin 1875-1958, William 1877-1915, Albert 1880-1955, Walter 1882-1882, Louisa 1882-1918, Alfred 1884-1914, Florence 1887- and Maude 1890-1966. Alfred owned several properties in  Winton, and was buried there in 1906.
Some London addresses for Joseph and his family –

1829 Gunlock Maker at Small gun office at Tower of London
1831 Resided at Great Prescott St, London.
1831 Resided at Crescent St, London (dau Elizabeth's birth)
1833-1840 Resided at 62 Chamber St, Goodman's Fields, Whitechapel, London
1835 Sun Fire Office Insurance Policy 1196191 MS 11936/540 – Joseph Davis of No 62 Chamber Street, Goodmans Fields Gunmaker. On household goods wearing apparel printed books & plate in his non dwelling house and workshops communicating estate as aforesaid brick two hundred pounds. Pictures prints frames and glass included therein only twenty pounds china and glass therein only thirty pounds. Stock and utensils and goods in trust therein only five hundred and fifty pounds. Total 800 pounds.
1840. Extract from book by D F Harding "Small arms of the East India Company 1600-1856", Appendix C, Suppliers of Musket Parts 1807-56.
Davis, Joseph. Appointed among the new or extra contractors, Jul 1840. First payment Sep 1840. last payment Jan 1851, included in EICo's last (cancelled) order, May 1851. Suddenly immigrated to Australia ca Aug 1852, it is said as a consequence of a minor scandal involving the well-intentioned falsifying of Ordnance accounts by Francis George Lovell, the Government's Assistant Inspector of Small Arms (who was the son of George Lovell, the Inspector of Small Arms). No replacement appointed, Davis's percentage of nipples and locks being shared out among existing contractors instead. One of the few London lockmakers. Initial share was about 22% of extra orders for locks. Col Bonner after his tour of inspection in 1842 reported that Davis was an 'Actual Manufacturer of Locks on a very efficient scale', was then granted a regular share consisting of 13% of locks, also supplied about 13$ of nipples from 1843. Later known to have been sub-contracting some of his work to Richard Turner of Wolverhampton. Address 1852 '9 Chamber Street Goodman's Fields' London.
1838 – 1850 –  Contractor to Ordnance, East India Co. London, England
1839 Pigots London Dir – Joseph Davis Gunmaker,62 Chamber St, Goodmans Fields
1841 London Census 9 Chamber St, Tower Hamlets, Whitechapel – Joseph, wife Eliza, daughter Elizabeth, and sons Joseph & William Davis
1841-1853 Davis, Joseph, 9 Chamber St, Goodman's Fields, Whitechapel
1845 Gunmakers Company Living list 1832-19 Freeman entitled to vote in election of members for the City of London.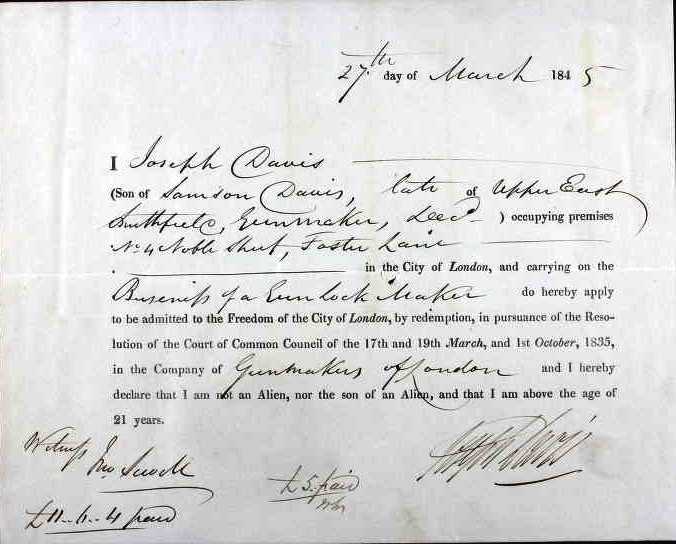 1845 Joseph Davis of London Gunmaker, granted Freedom of the City 15th May 1845 Mayor – Michael Gibbs Esq, Chamberlain – Anthony Brown Esq Ref Guildhall Library, Manuscripts Section 5223 Vol 2,
Register of persons admitted into the freedom of the Company of Gunmakers of London. Page 51, 1845 27 March – Joseph Davis  Admitted into the Freedom of this company by Redemption (payment)  – Records of the Gunmakers Company elected on the Livery, Guildhall Library, London
1851 30th March London Census, 9 Chamber Street, St Mary Whitechapel – People in house at time – Joseph, wife Eliza, sons William & Alfred, and Charles (Visitor)
Joseph and his family departed England on 14 August 1852 and arrived in Port Phillip Bay, Melbourne on 6 Nov 1852 on the sailing ship the "Marlborough" as an unassisted passenger.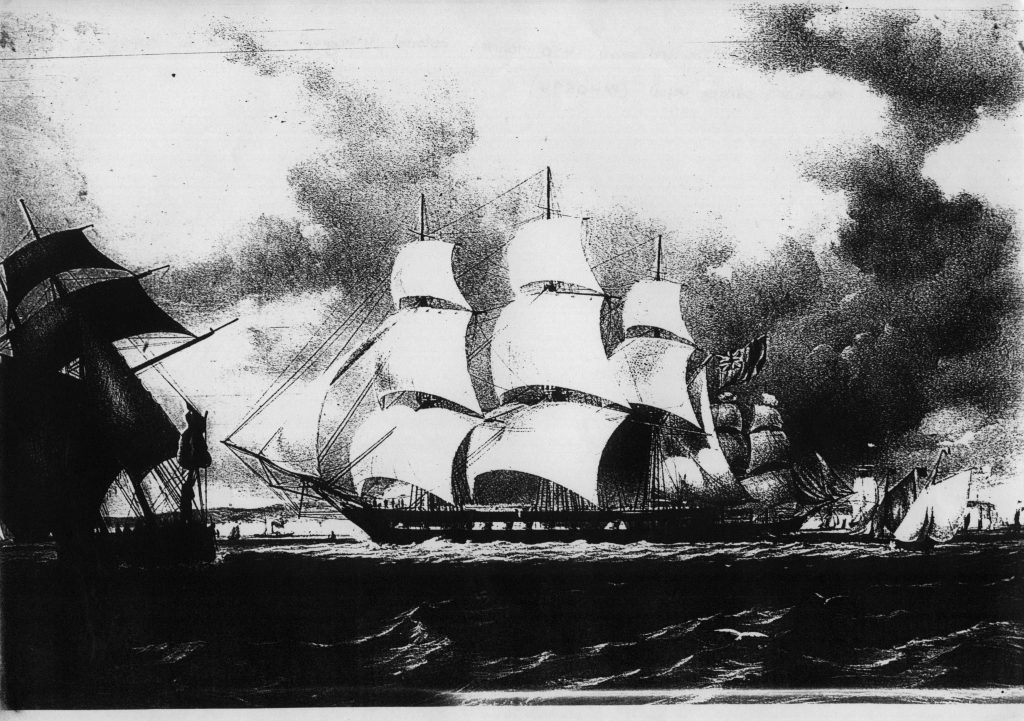 It appears he headed straight for the Bendigo goldfields, and purchased land soon after in Castlemaine.
1852 – Bendigo Goldfields Petition signed in 1852
1854 – Crown Grants Register – purchase of land by Joseph Davis – 1854 CA 16, Sec 2, Lot 39, No 30180 Castlemaine
1855 – CA 12, Sec 5, Lot 12, No 11312 Castlemaine
1856- Allot A, Lot 1, No 15907 Castlemaine
1858 – CA 3, Sec 10, Lot 30, No 21600 Beveridge
1859 – CA 3, Sec 5, No 2304 Newstead
1855 – 15 Oct, Joseph Davis moved at a local meeting that a "Municipal Government i s desirable for Castlemaine".
1855, Feb 23, Business Directory, Mt Alexander Mail Newspaper, No 43 – DAVIS & HODGES – gunmakers, Barker St, Castlemaine.  Skittles and balls turned to order.
1855, 26 October 1855, Business Directory – Joseph Davis (late of DAVIS & HODGES) Gunmaker, 281 Barker St, Castlemaine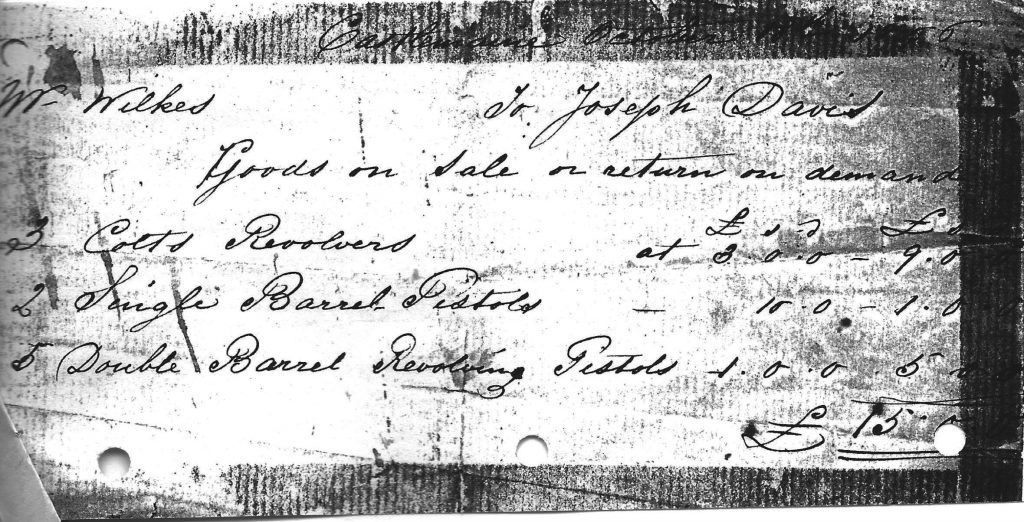 1855 Govt Land Sale. Joseph Davis purchased Allotment 12, Section 5, No 12 land, Upset 2 pound, total 37 pound in Castlemaine
1856  Gunmaker – Joseph Davis, Barker Street, Castlemaine
1857 Inspector Weights – Joseph Davis, Doveton St, Castlemaine
1862-3 Town Clerk, Joseph Davis, Doveton St, Castlemaine
1867 The Argus Newspaper Melbourne 18 Dec. – Visit by the Duke of Edinburgh to Castlemaine. Joseph Davis gives an address as Town Clerk in 1867.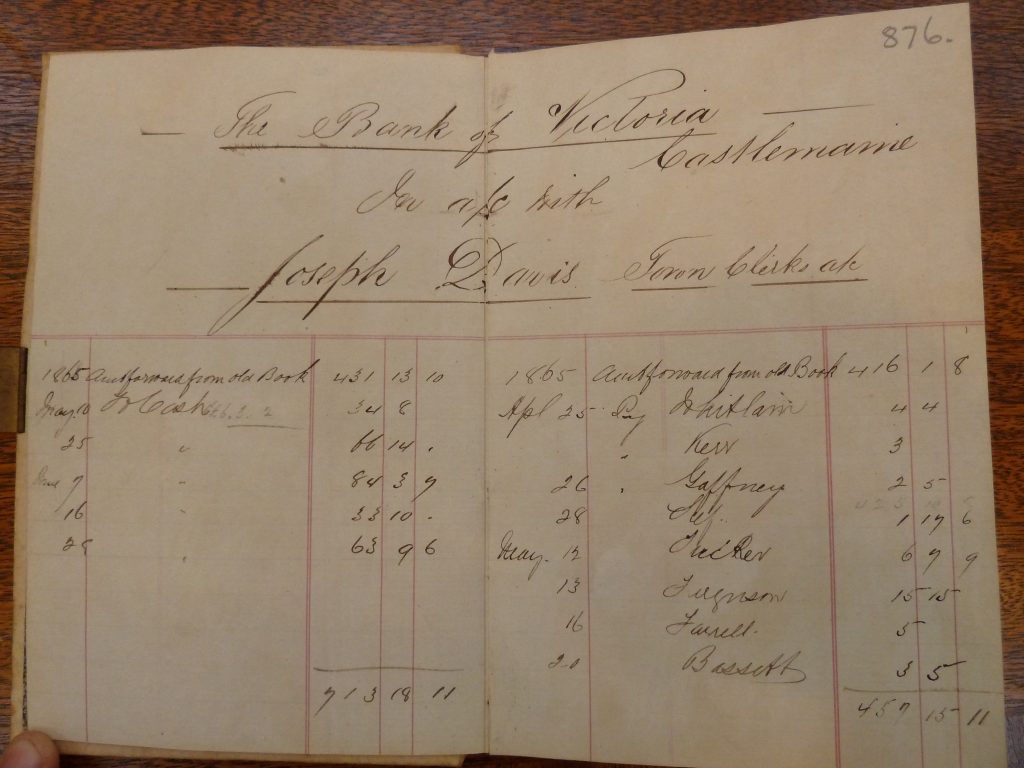 On 15 July 1856 the Castlemaine Council carried a motion that "the Office of Inspector of Weights and Measures and Inspector of Nuisances be filled by one Officer to receive the sum of £150 per annum."  On 29 July the 16 applications for this office were opened and considered by the Council, and a ballot of Councillors present resulted in the selection of Joseph Davis as Castlemaine's first Inspector of Nuisances.
Within three weeks of his appointment Mr Davis applied  "for the employment of a labourer in keeping certain Nuisances cleared away".  This was approved, following one Councillor's objections to public monies being spent this way, and to men being employed except under tender and contract.
Some of the issues which Inspector Davis brought to the Council's attention as "nuisances" were:
roaming animals such as goats, swine, dogs, cattle (fears for public health, especially potential for cholera, were expressed);
discharging of firearms in the street (referred to the police);
the throwing of earth from cuttings for drains onto the footpaths;
the practice of "depositing night soil, offal and other offensive refuse within the Town" and the deposit of manure and rubbish (covered by a Bylaw and establishment of a Manure Depot, and the licensing of Nightmen);
obstructions on footpaths, and selling of goods on footpaths;
the overflow of water from the unmade streets into properties;
conditions of premises used for slaughtering;
the state of drains at crossing places in the streets;
broken bottles lying in the streets (the owner promised to remove them);
trees and tree stumps remaining in the streets;
the throwing of cattle skins and bones onto a vacant lot.
I suppose today the Council would call Mr Davis and his successors "environmental services officers", and outsource the function to a firm of "environmental management consultants" where each employee, oops, "customer service officer" would be expected to achieve performance targets in Key Result Areas.  A far cry from Mr Davis and his labourer walking the streets and talking to the townspeople in those far off chaotic days.  But I'm sure that our air, water and earth are much less foul, smelly and unhealthy.
Mr Joseph Davis is an unsung hero of early Castlemaine.   Formerly a gunsmith, he was elected to the first Council (aged 48, the oldest of the 7 Councillors) but resigned 5 months later "on the ground that he could not attend to his duties as a Member without sacrificing his private obligations".  In his short term of office he drafted the first set of Bylaws, drafted a successful Petition for government funding for public works, proposed co-operation with municipalities of other goldfields towns, proposed that the District Surveyor draw up a plan for the drainage and levels of the streets, drafted a petition to ensure the proposed railway line to the Murray River passed through Castlemaine, drafted a petition for the completion of the main road (Forest Street), and made the first proposal for a Botanical Gardens for the town.  At various times he was Inspector, Rate Assessor and Rate Collector, and in January 1860 was appointed as Town Clerk, a position he held for 13 years until blindness forced his resignation.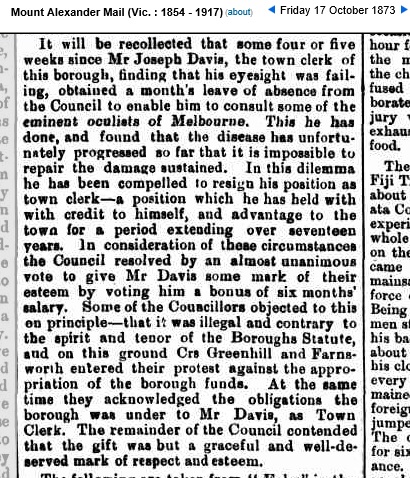 1868-1879 – Town Clerk, Joseph Davis, Bull St, Castlemaine
1856 – Govt Land Sales in Castlemaine area – Davis, Joseph, Sect 9, CA 19, Castlemaine – forfeited
Davis, Joseph & Living, Richard (Secretary), Town Allot A, 1 acre 37
1856 – Elected as a counciller, First Council Election held in Castlemaine. Elections held on 22 Jan 1856. Joseph Davis, Gunsmith
1857 – Castlemaine Rate Book – Allt 14, Section 2, Wood & stone cottage, 90 pounds, pd
1857 – signed affidavit in Castlemaine in probate of Richard Living.
1858 – Castlemaine Rate Book – Allt 9, Section 47, Land, 10 pounds,
1859 – Joseph is the Rate Collector for Castlemaine and has signed his name as such
1859 – Government Land Sales in Castlemaine – Davis, Joseph, Section 5 , CA 3, Newstead, 2 roods, 11 pounds Davis, Joseph, Section 5, CA 1, Newstead
1859 – Castlemaine Rate Book – Allt 9, Section 5, Cottage, 15 pounds, (note future wife S Living living almost next door in Allotment 10 House
1860 – 31 Jan Mt Alexander Mail – Joseph Davis, Town Clerk, Castlemaine
1868-1879 – Post Office Directory Castlemaine, Davis Joseph, Town Clerk, Bull St,
1867 – At second marriage gave address as William St, Melbourne (present) and Nicholson St, Fitzroy (usual) to Sylvia
1873 – Mt Alexander Mail (Castlemaine) Page 3. May 19, 1873 – Joseph Davis, personal notices. Joseph is still Town Clerk and is tendering for tree guards.
1873 – Joseph loses his sight (included in preface) and begins to write a book "Development of the Universe"
1877 March, Castlemaine.  Joseph's book or essay  "Development of the Universe" published
In 8 Jun 1867 he married Sylvia Hodges, sister to his first wife Eliza, at St James Church, Melbourne. Surprising he married down in Melbourne….
The Deceased Wife's Sister's Marriage Act in Australia of 1870 might have had something to do with this situation. Before then it was illegal for a man to marry the sister of his deceased wife. This was unfortunate, as when a woman with young children died (as was often the case in times of poor hygiene and obstetric care), it was natural for one of her unmarried sisters to help with the children, and often a relationship between the widowed father his sister in law would develop.
The couple would then have to either move to an area they were not known, and could therefore marry illegally (as Joseph & Sylvia have done), or live as a family without marrying. The law wasn't changed until 1870 allowing these type of couples to marry.
Joseph and Sylvia appear to have skipped off to St James Church in Melbourne on the 8th June 1867 to marry, perhaps avoiding any questions that they would have faced back home in Bendigo. Joseph gave his occupation as an accountant (he was Town Clerk of Castlemaine at this stage) and his address as William Street, Melbourne, and Sylvia gave hers as Carlton. Obviously no one questioned their made up addresses, and the marriage witnesses were also unknown people (I wonder if they were dragged in off the street to witness the illegal marriage?).
Joseph died on 1 Feb 1884 at Quarry Hill, Sandhurst, in suspicious circumstances at age 76.  He was buried on 2 Feb 1884 at Bendigo Cemetery, VIC, AUSTRALIA.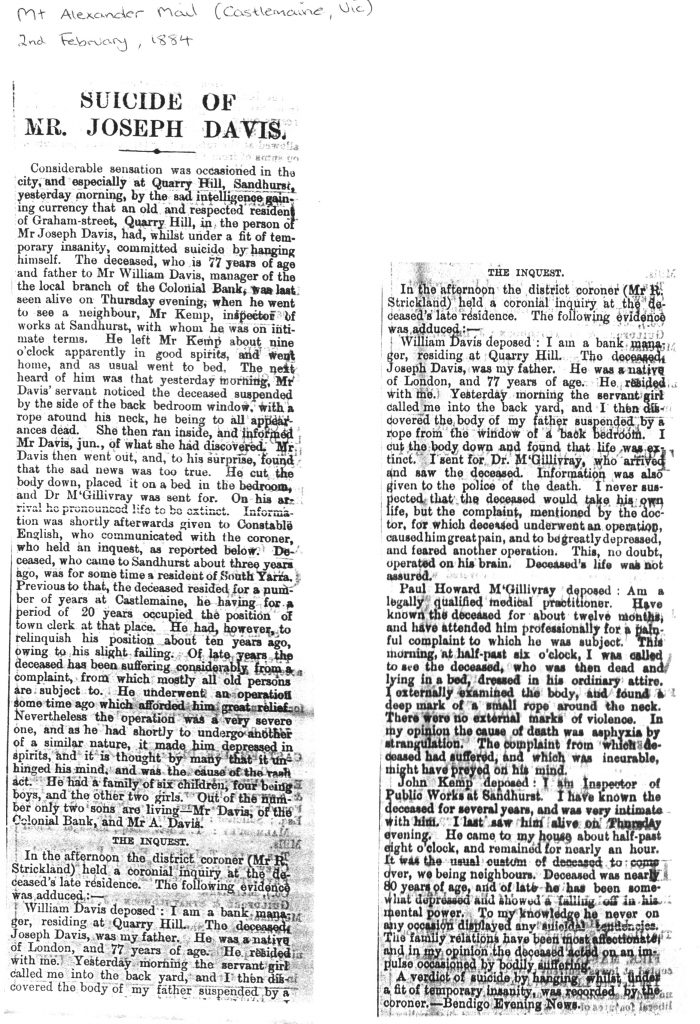 An obituary for Joseph appeared in the book "The Great Majority, Obituaries of the Forest Creek Pioneers from the Mount Alexander Mail Pt 1 1855-1885" by Pauline Myers. His obituary stated that he –
held the position of Town Clerk for about 15 years in Castlemaine
committed suicide at the home of his son William Davis, manager of the Colonial Bank
suffered for many years with blindness and an internal disease
was known to possess a remarkably cheerful disposition
amused himself with gardening and numerous mechanical operations
intensely active in matters that contribute to the welfare of society
a central figure in the Castlemaine municipal system
member of the first town council, laying the foundations of local government
was a Market Inspector and Rate Collector
resigned in 1873 due to blindness
author of essay "Development of the Universe"
established the Castlemaine Botanical gardens
was aged 77 when he died, his blindness a heavy burden to bear
studied astronomy with his friend Dr Bone of Castlemaine
moved from Castlemaine to Sandhurst (Bendigo) in 1881, and was previously a resident of South Yarra. Spent 20 years in Castlemaine.
had a family of six children – four boys and two girls, with only two sons living – William of the Colonial Bank and Mr A Davis (Alfred).
was a native of London