Roger Bramley was born in 1696 in Simonstone, five miles from Mearley, and 1 mile from Padiham.
It is believed he is the son of William Bramley (1670-1743) and Sarah Brocksup who married in Padiham on 14 July 1695.
I have been unable to find a baptism for Roger to confirm this – and I've checked under both his mother and father's surnames.
William and Sarah had five children – Roger (1695-1768), Lawrence (1705-1705), William (1706-1712), Mary (b1706), Bridge (1708-1708). William died in Padiham in 1743.
Roger Bramley of Simonstone, married Mary Stephenson of Simonstone on 29 August 1719 at St Leonard's in Padiham, Lancashire. The marriage was mistakenly registered under "Bramberley".
Roger and Mary had ten children, the first four were baptised at Padiham, and then the last six in Whalley.
Ann b 1719 Hapton,  d 1814 Mitton, marr Thomas Clarkson 1743
Roger b 1722 d 1764 Simonstone, marr Susan Dawson 1743
William b 1724 Simonstone, d 1789 Whalley, marr Jane Laycock 1742
Sarah b 1726 Simonstone, d 1790 Clitheroe, marr Robert Clarkson 1747
Mary b 1727 Read, d 1727 Read
Edmund b 1729 Read d 1753 Pendleton, not married
Mary b 1732 Read, d 1781 Clitheroe, marr Edward Dewhurst 1760
Lawrence b 1734 Read d 1805. Marr Margaret Preston 1774. 7 children.
Alice b 1737 Read d 1789 Whalley, marr Francis Duerden 1750
Elizabeth b 1745 Whalley, d 1821 Whalley not married
Roger and Mary lived on the family farm in Simonstone after their marriage, and their first four children were born there before they decided to move half a mile away to Read where the next six children were born.
Roger died on 19 April 1768 at home at Little Mearley, Lancashire aged 73 years and was buried at St Mary Magdalene, Clitheroe on 22 April.
Mary died only a few weeks later at Clitheroe on 5 June 1768 aged 74 years and was buried in the Clitheroe parish cemetery.
The burial register reads – "
BRAMLEY Mary 5 Jun 1768, 75 years, wife of Roger.
BRAMLEY Roger 19 Apr 1768, 73 years, of Little Mearley, husband of Mary".
The headstone reads –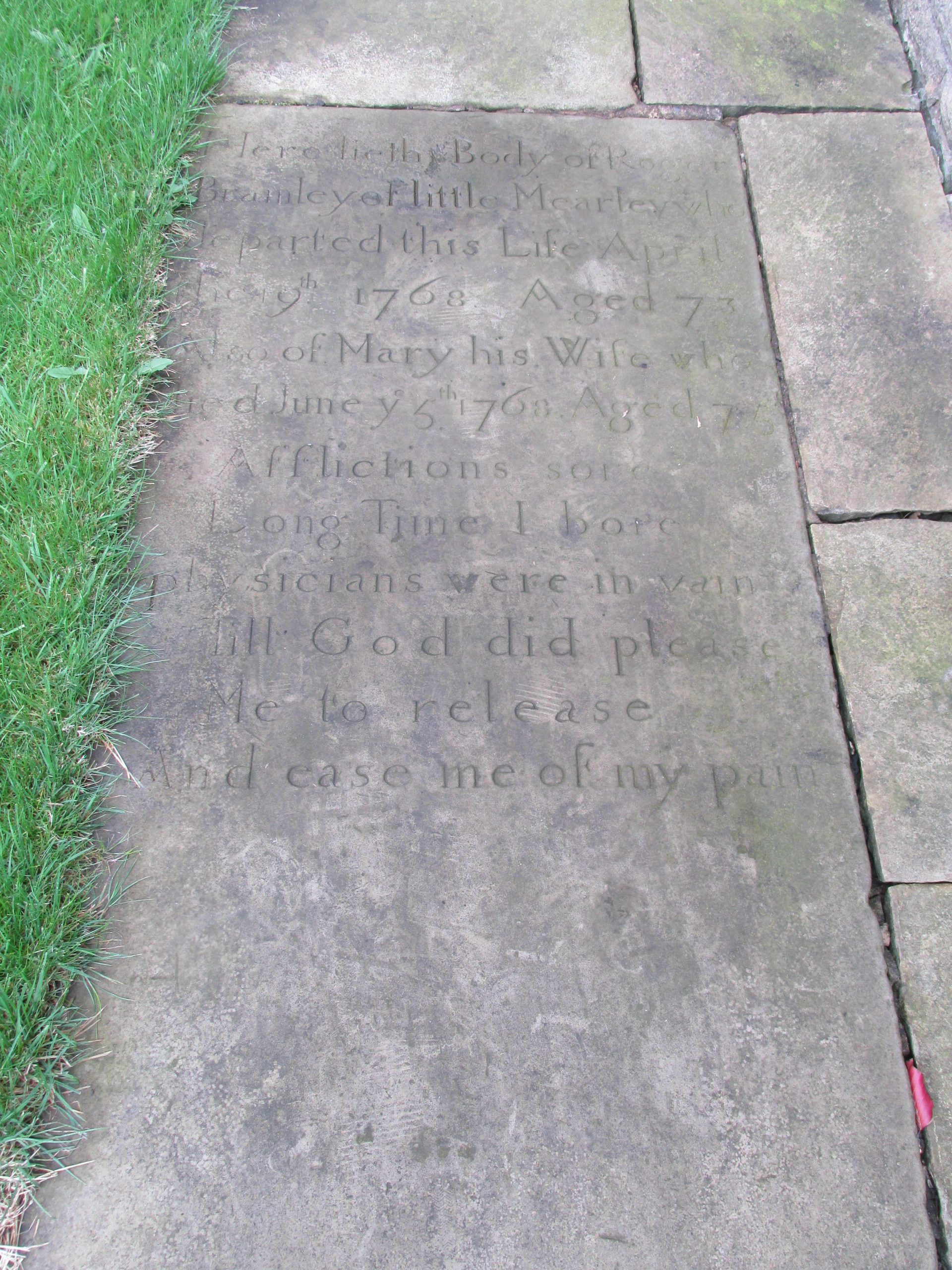 "Here lies the body of
Roger Bramley of Little Mearley,
who departed this life
19 Apr 1768 aged 73
and of Mary his wife
died 5 June 1768 aged 75"
Underneath their names is written a little poem, suggesting poor Roger had a slow painful death.
"Afflictions of a long time I bore,
physicians were in vain,
till God did please,
to release and ease me of my pain".
Roger had written a will on 9 March 1768, which was proven on 23 April 1768 in which he left property, money and cattle to his wife Mary, and then to his three living sons William, Edmund and Lawrence,and three daughters Ann, Alice and Sarah, and to the grandchildren of two of his children (Roger and Ann). His sons William and Edmund were appointed joint executors.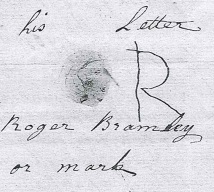 It appears Roger was either too ill to add his signature to the will, or illiterate, instead marking his signature with letter "R".
His son Lawrence lived on at the farm in Little Mearley.