Robert Skilton was born around 1543 in Reigate, Surrey, the son of John Skilton (1490-1554) and Agnes (d 1558).
John was said to be the poet laureate of Henry VIII and appears in British Chancery Records (Vol 2, Page 515, Bundle 69).
A poet laureate is a poet officially appointed by a government or conferring institution, typically expected to compose poems for special events and occasions.
Robert's father John married Agnes in 1539 and had two children – Robert in 1540 and Catherine.
John died in 1554 and his will appears in the Probate Registry in Canterbury, where he is described as John Skelton, labourer, Wingham C. (Canterbury).
Robert married three times at St Mary's Reigate, firstly to Katren (1540-1563) in 1563, with one child Elysabeth born in 1561, and secondly to Anne Savage (1545-1567) in 1566.
Robert married a third time to Eleanor/Elynor Lashemor on 27 April 1568 at St Mary's Reigate.
Reigate is a market town, and parish in Surrey, 22 miles south of London, with a population in 1880 of 3274.
The trade of the place is in agricultural produce, white sand, fullers' earth, freestone, and hearthstone.
Reigate has a medieval castle and has been a market town since the medieval period.
Robert and Eleanor had eight children all born in Reigate, Surrey –
Thomas b 1569 d 1616 Mercer of Reigate, married Rachell Lyse in 1599. Will.
Robert b 1571 Reigate
John b 1573 Reigate
Richard b 1575 Reigate d 1641 Reigate
Israel b 1577 Reigate d 1647 Betchworth, marr Elizabeth Harper and Jane Humphrey. Will held. Yeoman of Brockham
Samuel b 1577 d 1655 Ludgate, London. twin of Israel, marr Katherine Comins 1604, Apothecary of St Martins, Ludgate. Will held.
Alisse (Alice) b 1582 d 1613 Bermondsey
Samothe b 1585 married Thomas Wood in 1604.
On the baptism of his twins Israel and Samuel, Robert was described in the parish register as 'servant of the queen'.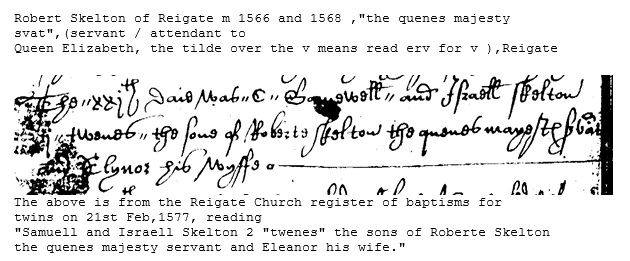 Elynor / Eleanor died in March 1605 and was buried at Reigate on 8 March 1605. The parish register reads "Eleanor, widow of Robert".
According to some online family trees, Robert died in November 1636, and was buried at St Andrews, Holborn in London on 20 November 1636.
Apparently when Robert died he willed the sum of 100 pounds to the poor of his parish. It appears that when King Charles I became aware of this he ordered that the 100 pounds be returned to Robert's family and that the Crown pay the gift to the poor.
11 Jan , 1636 Charles 1st.–Order, made at S. P. held at Westminster, that the churchwardens and overseers of the poor of St. Martin's-in-the-Fields forthwith cause an assessment to be paid amongst the inhabitants of the said parish, for the repayment to Robert Skelton or his assigns the sum of 100£ with interest, which 100£ were in the year 1636 borrowed upon bond of the same Robert Skelton, for the relief of the poor of the said parish, then being visited exceedingly with the plague, by George Hulbert esq., Robert Shaw and Henry Strugnell churchwardens, and by Thomas Snelling then one of the collectors for the relief of the poor of the said parish; the order thus given for repayment of the 100£ with interest, being made by the Justices on information, that the widows of Messrs. Hulbert, Shaw and Strugnell had been arrested in respect of the debt so incurred by their late husbands. S. P. Book.  Collection:   Middlesex: – Rolls, Books and Certificates, Indictments, Recognizances, Coroners' Inquisitions-Post-Mortem, Orders, Memoranda and Certificates, 1625-1667, vol. 3