Adam Pierce was born in 1721 in Exeter, Devon, England to parents Samuel Pierce (1696-1765) and Elizabeth Guswell (1699-1739).
Adam was one of 15 children born to Samuel Pierce who married twice – firstly to Adam's mother Elizabeth Guswell (9 children), and then again to Mary Foster with whom he had another six children.
Samuel was a merchant and Sheriff of the city of Exeter in 1757.
Adam was baptised on 31 January 1722 at Holy Trinity, Exeter, Devon.
Adam had a younger brother born the previous year baptised on 3 October 1721 and who was buried on 27 November 1722.
Adam was a gentleman and merchant in the woollen trade in Exeter, like his father.
At the age of 26 years, Adam Pierce married into the very wealthy, aristocratic Kendall family. On the 16th September 1747 he married Elizabeth Kendall at the parish of Lezant in nearby Cornwall. (last entry below)
Elizabeth was born in 1725 in Exeter to parents Rev Charles Kendall and Elizabeth Northmore. She was baptised on 30 September 1725 at St Stephens, Exeter, Devon, one of six children.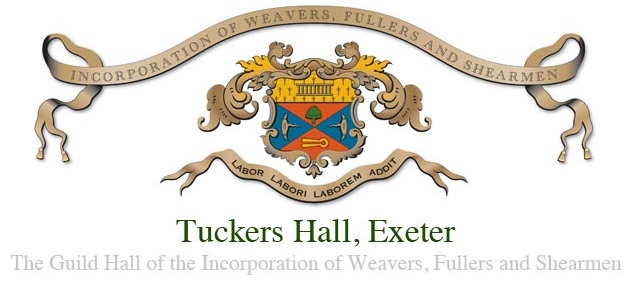 A few years after his marriage on 12 February 1753 Adam Pierce was admitted as a Freeman of Exeter, by succession (by his father Samuel). His father's occupation was described as a gentleman fuller. A fuller cleanses wool so it assume that Adam and his father Samuel were involved in the lucrative woollen trade.
Exeter's woollen cloth trade generated great wealth and prestige for the city, its merchants, and the Guild. Trade output was at its highest during this time – exporting to countries such as Spain, Portugal, France and the Netherlands. From 1700 a quarter of all English cloth traded in Exeter.
Adam was elected to the position of Swordbearer for the city of Exeter on 3 Nov 1760. A swordbearer at this time was defined as a British civic official who carries a sword before a municipal officer on ceremonial occasions.
The more important mayors were treated with great respect, and processed publicly with attendants such as a sword-bearer or mace-bearer; from the 15th cent. those of London and York came to be called lord mayor.
Adam had married well, and Elizabeth Kendall bore him 8 children –
Elizabeth Kendall Pierce b 1748 & d 1807* Exeter. Will 1807 estate bequeathed to brothers Charles and Samuel, and sisters Charlotte and Mary Pierce.
Mary Ann b & d 1749 Exeter
Adam b 1750 & d 1794* Exeter. Will.
Charles b 1752 Exeter d 1823* Heavitree. Illeg. child by Martha Taylor, marr Arabella Neale. Merchant of Exeter. Will 1823. Estate to 3 siblings, son in law and four grandchildren.
Charlotte b 1754 Exeter d 1836 Ipplepen. Not married. Will estate to cousins.
Mary b 1756  & d 1824* Exeter. Not married. Obituary. Will.
Samuel b 1758 d 1827* East Teignmouth. Married Mary Ann Walkey in 1799. Will. Plaque also in Teignmouth church. No children.
John Pierce b 1758 d 1759
*buried in the family vault in the church of the Holy Trinity, Exeter.
In 1785 Adam was mentioned in a property document, called a Lease & Release, in Exeter, parish of Holy Trinity – Adam Pierce of Exeter, gent and Thomas Kennaway, merchant – Premises: drying linhay with three rooms above, Holy Trinity, Exeter. Consideration: £375. (Devon Heritage Centre). It seems both their father's had the same agreement in 1731 (see his father Samuel's bio).
In 1794 Adam Pierce appears in a property document called a Land Deputation registered by the Clerk of the Peace of Cornwall dated 6 June 1794 and held in the Cornwall Record Office. Note it mentions his children Elizabeth (spinster), Charles (merchant), Charlotte (spinster), Mary (spinster), and Samuel (gent).
Adam's wife Elizabeth nee Kendall died on 17th April 1760 aged just 35 leaving behind six young children, the youngest just two years old. A plaque in the church of the Holy Trinity states she was the co-heiress of Charles Kendall of Landew in the county of Cornwall.
Elizabeth's will in 1760 states she is the wife of Adam Pierce of the city of Exeter, gentleman and was in good health of body and of a sound mind, memory and understanding. She made the will on 10 August 1749 two years after her marriage to Adam. It is a very complicated will (available on Ancestry).
It is unknown if Adam married again, but it is likely given he had a large brood of young children to care for.
Adam Pierce lived for another 34 years and died aged 73 on 5 August 1794 in Exeter, and was buried in the family vault with his siblings and parents in the church of the Holy Trinity, Exeter on 7 August 1794.
Holy Trinity church, Exeter –
"Holy Trinity Church, in South street, adjoining the site of the South gate, was rebuilt in 1820, at the cost of £7295. It is a spacious Gothic fabric, with a turret containing a clock and bell. The body is separated from the entrance by a neat screen, and contains several handsome monuments. It has about 1000 sittings, of which nearly 100 are free. The rectory, valued in K.B. at £11. 6s. 4d., and in 1831 at £177, is in the gift of the Dean and Chapter, and is now enjoyed by the Rev. G.H.O. Shield, M.A." [From White's Devonshire Directory (1850)]