Peter Finch was born on 6 October 1663 in Walton on the Hill, Lancashire, England the son of Rev Henry Finch 1633-1704 and Mary Hammond 1644-1694.
Peter was baptised at Warrington, Lancashire on 22 October 1663, 'Peeter Finch, son of Henery Finch, Minister of the Gospel'.
On 3 May 1678 he entered the non-conformist academy and the University of Edinburgh, where he graduated M.A. on 16 July 1680.
His first employment was as chaplain in the family of William Ashhurst. In 1691 he was invited to become colleague at Norwich to Josiah Chorley. Dictionary of National Biography Vol 1-22.
Peter Finch married Elizabeth Mackerell on 23 February 1692 at St Johns, Lakenham, Norwich, Norfolk, England. Lakenham is a mile south of the centre of Norwich.
Elizabeth Mackerell was born in 1671 in Norwich, Norfolk to parents John Mackerell (1643-1723) and Anne Brown (1646-1722).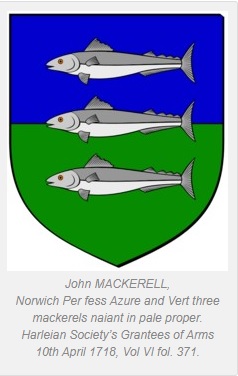 Elizabeth was baptised on 12 August 1671 at St Peter Mancroft, Norwich.
Elizabeth's father John was a wealthy merchant of Norwich, who was granted Arms by letters patent in 1718.
A huge marble memorial  plaque is displayed in St Peter Mancroft in Norwich to John and his wife Ann.
The couple had eight children together with sadly only three living to adulthood –
John b 1693 Norwich d 1750 Norwich, married Sarah Finch, 11 children
Ann b 1695 d 1695 Norwich
Henry b 1696 d 1697 Norwich
Mary b 1698 d 1780 Norwich
Peter b 1700 d 1701 Norwich
Elizabeth b 1702 Norwich, marr David Martineau, 3 children
Hannah b 1704 Norwich d 1790 Norwich,
Nathaniel b 1706 d 1706 Norwich
Peter Finch's daughter Elizabeth married David Martineau, a doctor and surgeon in Norwich. Wikipedia tells us that David was a third generation surgeon, and his son Phillip Martineau was recognised as one of the most distinguished lithotomists (surgeon of kidney and bladder stones) of his day.
David and Elizabeth also happen to be the ancestors of the Duchess of Cambridge, Kate Middleton, wife of Prince William of England. Brendan and Kate are in fact 9th cousins on his mothers side.
Elizabeth Finch, wife of Rev Peter died at the age of 48 years in August 1719 in Norwich. She was buried on 12 August 1719 at St Peter Mancroft in Norwich.
Rev Peter Finch remained at his post for over sixty-two years, and survived Edward Crane and Thomas Dixon the younger, both of whom had been designated as his successor. Himself a strict Calvinist, he contributed much, by his love of peace, to preserve concord when doctrinal differences threatened to divide his flock. From 1733 John Taylor was his colleague.
Peter Finch died on his ninety-third birthday, 6 October 1754 at Norwich, and was buried in the church of St. Peter Mancroft, Norwich with his wife.
A small portrait of him hung in the vestry of the Octagon Chapel. His great-grandson, Peter Finch, was mayor of Norwich in 1827. Wikipedia
His portrait includes the information that he was aged 87 and died in 1750 having been Minister in the City of Norwich, Sixty Years.
It was painted and engraved by John Theordore Heins 1697-1756 of Norwich, Norfolk. A copy of the painting is in the Fitzwilliam Museum in Cambridge.
Rev Peter Finch's will was proved in 1754 and is held at the Norfolk Record Office.
Rev Peter Finch's descendant, Peter Finch Steward, was granted the Royal License to the bear the Finch Arms by proclamation from the Queen in 1861. Peter Finch Steward's line of ascent is as follows –
Rev Henry Finch, Rev Peter Finch & Elizabeth Mackarell, John Finch & Sarah Finch, Peter Finch & Bridget Rolfe, Sarah Finch & John Tuthill, Lucy Tuthill & Timothy Steward, Peter Finch Steward.