Emanuel (Immanuel) Reeves senior was born in 1673 in Oving, Buckinghamshire, England to parents Christopher Reeve/s (b 1635) and Alice (d 1713). Sometimes the surname is Reve. Emanuel was baptised on 19 May 1673 at Oving, Buckinghamshire.
Oving is a village and also a civil parish within Aylesbury Vale district in Buckinghamshire, England. It is located about three and a half miles north east of Waddesdon, four miles south of Winslow.
The parish church of All Saints is in the north-west and a Primitive Methodist chapel, rebuilt in 1809, lies beyond the village to the north. On the south of it is Oving House, a fine building dating from the 18th century. In 1801 the population was 257 in the village.
At the age of 30 Emanuel Reeve appeared in the Easter Session of the Buckinghamshire Quarter Sessions Records in 1703. He was appointed Petty Constable and Tithingman, taking over from his father Christopher Reeve.
The same year on 27 May 1703 Emanuel married Anne Olliff at All Saints, Oving by license.
Anne was stated to be a spinster of Middle Clayton, and Emanuel was living at Oving.
Anne was born in Aylesbury in 1686 to parents John Olliffe (1665-1706) and Elizabeth Morell.
She was baptised at St Mary's in Aylesbury on 28 January 1686.
Emanuel and Anne had five children –
Anne b 1700 Oving d 1728 North Marston, marr John Batchelour, 4 children
Christopher b 1700 Oving d 1755 North Marston, marr Mary Markham, 9 children
Mary b 1704 Oving, marr John Packer
Emanuel b 1705 Oving, d 1757 Dorton, marr Mary Markham, 10 children
John b 1707 Oving d 1727 Grittmore (Great Moor), Grendon Underwood, will
Mary b 1711 Oving
Elizabeth b 1712 & d 1712 Oving, infant
Emanuel Reeve was an Overseer of the Poor at Oving for several years and can be found in a document held at the Buckshire Archives –
Midsummer Session, 15th July, 1714 [Rein of Queen Anne] – Miscellaneous Documents. 18th November, 1713. Indenture. Henry Fowler, a poor child, apprenticed with William Beall of Little Horwood cordwainer, by order of Emanuel Reeves and Thomas Statham, overseers of the poor.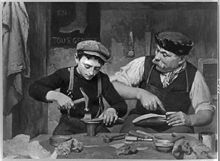 The position of 'Overseer of the Poor' was created by England's Poor Laws around the turn of the seventeenth century. These laws required that each parish elect two overseers.  They were responsible for administering to the needs of the poor.
This included managing a budget by collecting the poor tax from parish members, helping to distribute 'outdoor relief' (usually money or food), and supervising the local parish poorhouse.
Another of Emanuel's duties as an overseer was finding apprenticeships, and possibly persuading local people to take poor children as apprentices so they would not then be a further burden on the parish coffers. It appears in this case he successfully arranged an apprenticeship for a poor child to a local cordwainer, or shoemaker, giving the child a chance of learning a trade, and thus earning himself a living.
It looks like as well as the Tithe Collector and Parish Overseer, Emanuel also served as a surveyor of the highways, as referred to in this document held at the Buckinghamshire Archives –
Epiphany Session, 13th Jan 1714-15 – complaint by the owners, tenants and occupiers of lands within the parish of Oving against Emanuel Reeve, surveyor of highways , for misdemeanours, referred to the justices in the 300s of Aylesbury, Ashendon, Cottesloe.
One wonders what the verdict was of that one, but only the following year, Emanuel died in July 1715 at Oving, aged only 42 years.
He was buried at All Saints, Oving on 15 July 1715.
The Buckinghamshire Burial Index (Bishops Transcript) has him wrongly indexed under Emanuel Reere.
Despite searching the Buckinghamshire Burial Index for Oving and surrounding areas I have been unable to find a burial for his wife Ann Reeve/s, or a remarriage.