Esther Smith had an exciting start to life, given that she was born at sea in J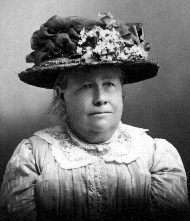 uly 1848, somewhere near Indonesia.
She arrived in Port Phillip, on an immigrant ship called the "Mahomed Shah", carrying her very pregnant 22 year old mother Emma Smith to Australia from England. The ship arrived in Melbourne on 5 Jul 1848. (Victorian Passenger Lists 1839-1923).
Esther's mother Emma Smith was listed as a housemaid from Towersey, Buckinghamshire. The passenger lists state that Emma, also travelling with her brother Alfred (and his wife Jane and two children), a labourer aged 22, were coming out to stay with their brother J Smith in Newtown. Older brother James had immigrated a couple of years earlier.
Esther's birth was registered at Collingwood, and she was baptised at St Peter's Eastern Hill, Melbourne (pictured) the following month in August, 1948.Her abode is given as Collingwood, with no father listed. So who was her biological father?
Also onboard the "Mahomed Shah' was 20 year old Richard White, a labourer from Aston Rowant, Oxfordshire.
It appears romance must have blossomed, because the following year in May 1849, Esther's mother Emma and Richard were married at St Peters, Melbourne, and the witnesses were Emma's brother Alfred and his wife Jane.
Out of the four of them, only Jane could read and write, the other three signed their names with a mark 'x'. Emma and Richard went on to have seven more children together.
So was Richard White, Esther's biological father? Given that her mother Emma left England heavily pregnant, and that she lived only miles away from Richard White in England, perhaps we can speculate that Richard and Emma decided to leave England to start a new life together.
Sometime between 1861 and 1866 Richard moved most of his large family, from Collingwood, where his last child Richard was born, to Violet Town where his next child Emma was born.
Perhaps Esther stayed in the Collingwood / Fitzroy area, because she was married there in 1871 to Charles Wentworth. Esther and Charles had no biological children of their own, but took in and raised Albert John Jackson when as a two year old he was orphaned by his mother, and abandoned by his father in 1885.
Esther and Charles lived in Baddaginnie near the railway line, and she died there, aged 70, on 24 Feb 1919. She is buried in the Violet Town Cemetery with her husband Charles. Charles died in 1929. There is no headstone.
Despite her husband still being alive, Esther left her property in her will to Albert's son Horace Jackson.