William Skelton was born in 1799 in the Yorkshire village of Terrington. He was baptised there in the parish church on 14 April 1799.
He was the son of William Skelton (1759-1835) and Jane Bonwell (1759-1824).
William grew up in a large family, one of 10 children born to William and Jane.
William, aged 25,  married Susannah Craike on 11 June 1827 in Terrington, Yorkshire. The couple had obtained a marriage license, and had been intending to marry at the brides home parish church of St Michael Le Belfrey in York, but they married in Terrington, the groom's home parish. Susannah seems to have been working in York before her marriage.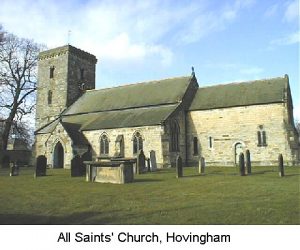 Susannah was the daughter of John Craike (1784-1854) and Susannah Banks (1776-1855).
She was born at Wath Mill, and baptised in the parish church on 26 January 1808 in Hovingham.
Her father John was the miller at the corn mill in Wath.
William and Susannah had nine children –
1827 John b and d 1827 Hovingham
1830 Thomas b Hovingham d 1907 Eccleshill, married Ann Mason and Ann Barker
1833 John b Hovingham, d 1879 Garforth
1835 Ellinor b Hovingham d married Henry Hare
1837 William b Hovingham d 1918 Eston married Mary Ann Cooper
1839 Richard b Hovingham d 1895 York, married Mary Ann Ruston
1842 Robert b Wath d 1923 Hovingham,  married Sarah Young
1846 Susannah b Hovingham d 1907 Sheffield, Yorkshire
1859 Jane b Hovingham
It appears on the marriage of William to Susannah, William moved into the Wath Mill with Susannah's parents and became a miller.
The Wath Mill, was a corn mill, situated on the Nidd River on the outskirts of the village of Hovingham, behind the village pub.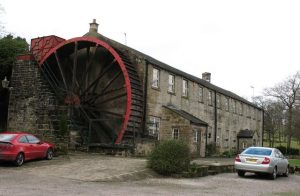 Milling was a skilled job. The miller had to be proficient in a number of skills, such as milling the corn, bagging the flour or meal, delivering it, maintaining the water supply to the mill, and performing maintenance on the milling machinery and equipment.
Much of the millers job was weather dependent, as a bad corn harvest could drive up the price of corn, or a drought may mean no harvest, or a poor one, and therefore no work at all.
Wath Mill was sometimes known as New Bridge Mill, because of the two towns that the Wath Mill supplied. On one side of the river was the town of New Bridge, and the other side Wath.
The Wath Mill also had a kiln to dry oats and other grains before milling.  Grain can only be milled when the water content is below about 14%. Oats were the main diet of farmers and leadminers in the Yorkshire Dales. They ate them ground as porridge, oatcakes, puddings and gruel. Farmers sometimes grew or bought oats and took them to the miller in their own towns to be dried and then ground.
In the 1841 census William and Susannah are living and working in the Wath Mill along with their children Thomas, John, Eleanor, William and Richard. Susannah's parents and family are also living there.
Ten years later in 1851 William and Susannah are still there with seven of their children. The Craike family are no longer in the mill – perhaps there was no room with nine of William's family residing there!
William only lived another three years, passing away at Wath on 19 July 1854.
It appears William diversified and as well as milling transported goods (probably his owned milled goods) as well.
Miller's needed to be good at several different trades to carry out their work such as farming, equipment repairs, delivering their grain, etc.
On his death a newspaper notice described him –
Malton Messenger Newspaper – Wednesday, July 19, at Hovingham, aged 55, Mr. Wm. SKELTON, for nearly for nearly 22 years carrier between York and Hovingham.
He was buried in the Hovingham Cemetery on 22 July 1854 aged 55 years.
Susannah lived for another 26 years, passing away in Hovingham in April 1880, and was also buried at Hovingham on 9 April 1880.