In July 1885 the local Euroa Advertiser Newspaper advised that a meeting was held in Lane's Farmer's Arms Hotel, Violet Town, for the purpose of forming a mounted infantry company.
Violet Town decided they wanted to form a separate company from Euroa. Mr Tuckett thought it may interfere with the new rifle club, now in the course of formation.
Despite this eight men came forward and were sworn in.
A new range was opened up at Boho in August 1913 for the Violet Town Club. The first shot was fired by Mrs Llewelyn, the captain's wife. (Weekly Times 16 Aug 1913 Trove).
Boho resident Robert John Thompson on enlisting for WW1 in November 1915, when asked if he had ever served in the army stated he had experience in the local Rifle Club at Boho.
This was true of quite a few of the members.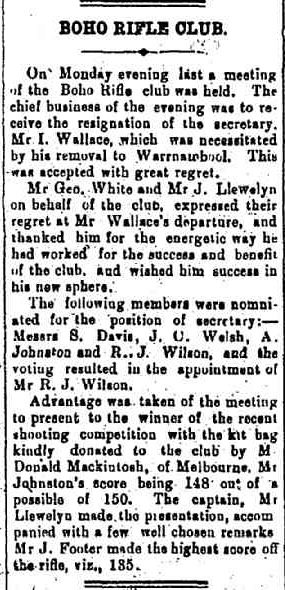 The Rifle Club at Boho was also a social place for the area, and the ladies often attended and were in involved in making afternoon teas.
The ladies often gathered to watch the men shoot, and provided prizes such as a case of oranges or apples etc.
Sometimes the shooting tournaments were fund raisers for a local community item, such as the one held in September 1920 where they were raising money for a new church organ.
My ancestor Samson Davis was secretary of the club for many years.
Many of the rifle club members, for example the Stevenson brothers,  fought in both WW1 and WW2.
The following is a list of soldiers from the Violet Town and Boho district. Click on the link to see WW1 soldiers with either a Boho or Violet Town birthplace or next of kin address, and click on the link to search for a WW2 soldier.
Boho and Violet Town WW1 Soldiers by birthplace
Boho and Violet Town WW1 Soldiers by address
Boho WW2 soldier records