Elias Browne was born in 1605 in Norwich, Norfolk, England, the son of John Browne and Margaret Benson.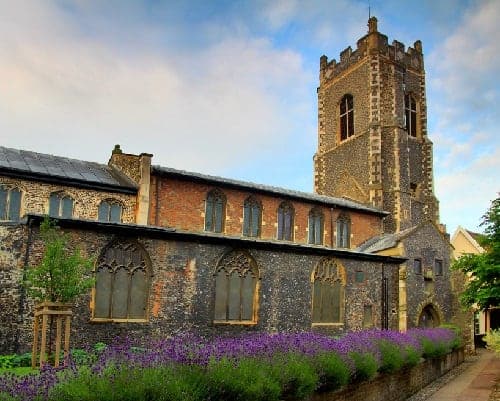 He was baptised at St George Tombland in Norwich on 11 September 1605, one of nine known children of John and Margaret.
His siblings were John b 1600, Olivia 1608-1677, William 1608-1634, Agnes 1609-1609, Thomas 1611-1646, Edward 1613-1617, Mary 1615-1615 and Margaret 1617-1618.
His father remarried after Margaret's death and his three step siblings were born – Titus 1620-1666, Alicia 1623-1702 and Edward b 1624-1628.
John Browne was buried in March 1642 and his wives Margaret on 31 October 1618, and  Alice on 19 April 1636 both at St George Tombland. John's will stated he would like to be buried with his first wife.
Elias was apprenticed to Edward Wright as a clockmaker and then worked as a goldsmith in Norwich from 1633 to 1660.He had two apprentices – Robert Neave and Robert Osborne.
One of his clocks came up for auction in 2006 at Dreweatt Neate Bristol Salerooms.
Elias was admitted on 22 June 1633 as a freeman clockmaker.
On 6 January 1639 the Wardens complained to the Mayor that Elias Browne had refused to let them search his shop. He was found guilty and fined 3 pounds, 4 shillings and 8 pence. As Sheriff in 1660 he was prominent in Civic affairs. The Goldsmiths of Norwich by G N Barrett.
Elias was a clockmaker and a member of the Goldsmiths Company, which was originally founded to regulate the craft or trade of the goldsmith. The Goldsmiths' Company has been responsible since 1300 for testing the quality of gold, silver, from 1975, platinum, and from 2010, Palladium.
Elias firstly married Johanna Chur 1605-1633. They had one child together, John who was baptised on 27 June 1633 and lived for only six months, being buried on 4 January 1634. Sadly Elias's wife Joanna died a couple of days after giving birth to John.
The burial of  Johanna Browne, occurred on 1 Jul 1633, 'the wife of Elias Browne' at St George Tombland
Elias secondly married Anne Vout around 1640 in Norwich.
Anne Vout / Vewte was born in 1619 in Norwich, the daughter of Robert Vowt and Ann Gyles. Robert, a shoemaker/cordwainer, and Ann were married on 10 January 1601 at St Michael at Plea in Norwich.
She was baptised on 14 September 1619 at St Peter Mancroft in Norwich.
Anne had eight  siblings – Anna b1602, Samuell 1604-1678, Robert b1607, Ellen b1609, Margaret b1612, Nicholas b1614, Richard 1616-1622, and John b1618. All the children were baptised at St Peter Mancroft.
Anne's father Robert died in October 1652 and her mother Anne in June 1643. They were both buried at St Peter Mancroft in Norwich.
Elias Browne and Anne had nine children baptised at St Peter Mancroft, Norwich , but only three survived childhood –
Elias b 1641 d 1650
Samuel b 1644 d 1646
Samuel b 1646
Anne b 1646 d 1722
Charles b 1650 – admitted as a freeman draper 1672
Elias b 1650 d 1650
Hannah b 1652 d 1653
Elizabeth b 1654 d 1657
Sarah b 1656 d 1657
Elias b 1658 d 1660
The children were all baptised and buried at St Peter Mancroft in Norwich.
Elias was named a beneficiary in the will of Mary Mingay in 1649, receiving 'To Elias Brown, goldsmith, and Harry Greenwood, millener, each 40s.'
Elias Browne appears in two court case documents in the Court of Chancery held in the National Archives UK –
1650 Voute v Browne. Plaintiffs: Robert Voute. Defendants: Elias Browne. Subject: property in St Peter Mancroft, Norwich, Norfolk.  (Is this Anne's plaintiff father and defendant husband?)
.
1653 Ward v Vewte. Plaintiffs: Edward Ward. Defendants: Anne Vewte, widow, Samuel Vewte, Elizabeth Vewte his wife, Matthew Stoneham, Hannah Stoneham his wife, Elias Browne, Anne Browne his wife and others. Subject: property in St Peter Mancroft, Norwich, Norfolk. (Defendants appear to be Anne Browne's mother Anne Vewte, her brother Samuel and wife Elizabeth, her husband Elias and herself).
Elias made a will dated 1 October 1660 with bequests to his beloved wife Anne, and his two surviving children son Charles and daughter Anne. Also to his brothers in law Aldham and Betts, his sisters Linsey and Blancher, Stoneham and Hall and his brothers Titus and John.
He also left money to the poor of the parish of St Peter Mancroft, and to the poor of the parish of St George Tombland. He also owned land in the parish of Stoke Holy Cross, 4 miles south of Norwich and St Lawrence, Norwich.
He gave specific instructions that his body be buried in St Peter Mancroft. The will was witnessed by his brother Nicholas Browne.
As requested, Elias Browne was buried at St Peters Mancroft on 12 October 1660. He was immortalised on a brass memorial plaque inside the church containing the goldsmiths arms quartered with quarterly in the 1st and 4th a leopard's head, in 2d and 3d a covered cup between two buckles. It states:
Here lyeth the Body of Elias Browne Goldsmith, some Time Sheriff of the City of Norwich, by six of his Children, who departed this Life Oct. 12, 1660, æt. 56.
After Elias' death in 1660, at the age of 41 years, Anne married John Leverington, another goldsmith on 28  May 1661 at St Mary in the Marsh, Norwich.
In 1670 John appeared in the St George Tombland parish records regarding a lease and release of land in the parish from Hamond Eastgate of Norwich, linendraper and John Leverington of Norwich, goldsmith.
John Leverington was elected Sheriff on August 27, 1672 and was one of the Aldermen in 1688 placed in the room of those rejected by James II. 19 of the common council were turned out and 10 alderman.
John appears in an indenture record dated 1673 made at Guildhall, Norwich. It is quite an unusual document, detailing the manufacture of pies to be made for the sovereign. Click on the image to have a read.
In 1677 John appears in a document with Charles Browne, brother of Elias.
Leverington v Browne. Plaintiff John Leverington. Defendant Charles Browne. Subject – property in St Peter Mancroft, Norwich. Document Type – Bill and Answer. 1677.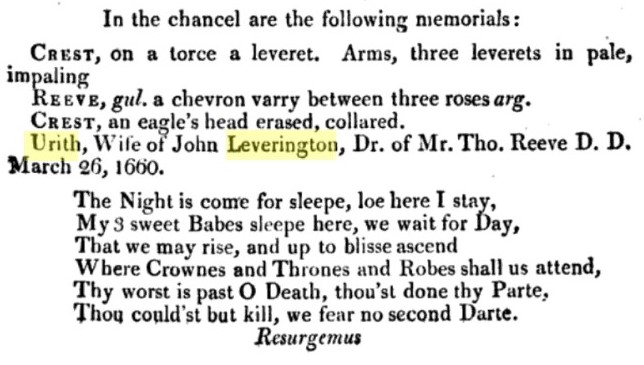 John Leverington died in 1691, his first wife Urith Reeves (daughter of Thomas) being buried in St Simon and St Jude, Norwich some thirty years previously in 1661.
In his will he declared he would like to be buried with his first wife Urith, not his second wife Anne. Their son Thomas was buried with them in 1660. Urith's memorial slab carries a poem dedicated to her three dead babes.
In his will John left his tavern "Black Boys" in St Clements, Norwich to his wife Anne.
In 1695 Anne is mentioned as being widowed again in another document.
Leverington v Dersley. Plaintiffs: Anne Leverington, widow and Charles Browne. Defendants: John Dersley and Thomas Dersley.  Subject: property in St Peter Mancroft, Norwich, Norfolk. Document type: bill and answer.1695.
Anne Leverington, formerly Browne, nee Voute, died in December 1709 in Norwich and was buried at St Mary in the Marsh, Norwich on 23 December 1709.
John Leverington died in 1691 and in his will he directed he be buried with his first wife Urith in St Peter and St Simon, in Norwich.