Lawrence Jackson (junior) was born on 23 November 1784 in Little Mearley, Lancashire, England to parents Lawrence Bramley, senior (1734-1805) and Margaret Preston (1753-1823).
Lawrence was one of seven children born to the couple.
Little Mearley is less than 3 miles from Clitheroe, where Lawrence was baptised on 2 January 1785 at the parish church of St Mary Magdalene.
Lawrence's parents leased a farm known as "Little Mearley"  in Clitheroe, which the owner Mrs Ann Townsend sold in 1786, when Lawrence was just two years old.
Lawrence's father, Lawrence Senior, died when he was 20 years old, leaving his mother Margaret to raise the children.
Unusually for the time, in his father Lawrence's will in 1805, his estate was divided equally between his surviving children – two sons Thomas and Lawrence, and three daughters Mary, Ann and Alice. His wife Margaret was also given a share, with an additional 20 pounds, except if she was to marry again in which case the 20 pounds would be split between the children.
Lawrence was married at the relatively older age of 30 years to Sarah Selina Speight on 4 July 1815 at St Mary and All Saints, Whalley.
Sarah was 28 years old at the time of the marriage. Witnesses were Henry Tomlinson and Lawrence's sister Alice Bramley.
Sarah was born in the village of Bailden, to parents Henry Speight (1756-1828) and Hannah Emmott (b 1757), some 30 miles east of Clitheroe. She was baptised in Bingley, 3 miles from her home. She was one of six children.
Lawrence and Sarah had five children –
Mary b 1815 Whalley d 1899 Clitheroe, marr Thomas Lawfield 1839. 3 children.
Margaret Anne b 1817 Whalley, d 1887 Whalley, marr Edward Brewer. 6 children.
Thomas b 1820 Whalley, d 1895 Lowegate Clitheroe, marr Mary Noble. 4 children
Sarah b 1822 Whalley, d 1879 Waterside, marr John Jackson. 11 children.
Alice b 1826 Whalley, d Lower Clerk Hill Whalley, not married.
Lawrence and Sarah lived at Easterly Farm, 1 miles south east of Whalley, Lancashire.
In the 1841 census Laurence is living at Easterly House farm at Lower Clerk Hill, Whalley with his son Thomas aged 20, his daughters Sarah aged 15,  and Alice aged 14, a servant named Robert Clarkson ("blind Robert" a man that his father Lawrence mentioned in his 1805 will and asked the family to take care of), and grandson Lawrence Lawfield, his daughter Mary's 2 year old child.
Strangely his wife Sarah was not mentioned, and I can't find her by herself anywhere else. Perhaps the census enumerator just missed writing her name in. Richard Hartley, cotton weaver, aged 61 and Lettice Hartley aged 8, are also living on the farm.
In 1850 Lawrence appears in the Blackburn Standard Newspaper showing his sheep at the Clitheroe Cattle Show on Tuesday 22nd October at Back Lane, Clitheroe.
He received an award for "best Teeswater tup lamb".
10 years later in the 1851 census, Laurence is still living at Easterly House, farming 60 acres and employing three labourers. With him is his wife Sarah aged 61, and children Thomas 30, Alice 24, grandson Lawrence Lawfield, 11 and servant Thomas Hartley. A small family of handloom cotton weavers are also living on the farm (Charlotte Dawson, a 29 year old widow) and Lettice Hartley (Charlotte's stepsister, aged 18).
Lawrence appears in the Electoral Registers for the parliamentary borough of Clitheroe, township of Whalley at Easterly from 1847-1858.
In February 1857 there was an advertisement placed in the Blackburn Standard Newspaper advising of an auction for timber for sale at Easterly Farm, occupied by Lawrence Bramley.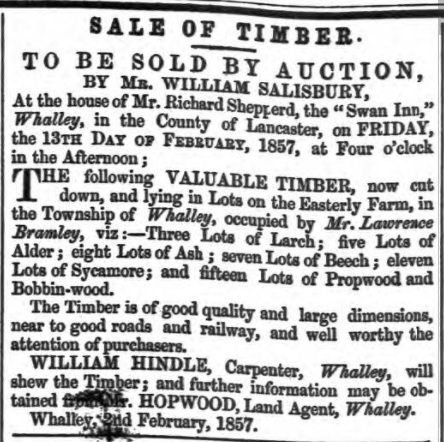 Lawrence passed away on 14 January 1860 at Easterly Farm aged 75 years, and was buried at St Mary and All Saints Whalley on 19 January.
His death notice in the local newspaper advises that the family had been tenants on the same estate for over 100 years.
His will was proved on 16 February 1860 at the Lancaster Probate Registery.
Sarah lived for another 6 years, and passed away on 12 February 1866 at Easterly, aged 78 years, and was also buried at Whalley.
Sarah left a will which was proved on 28 April 1866.
It appears after their parents had died daughter Alice Bramley stayed on as a tenant, and a notice appeared in the newspaper in 11 October 1871 in the Preston Herald saying that Easterly Farm, in the township of Whalley, in the occupation of Alice Bramley as tenant containing 117 acres was to be let by tender.
Earlier that year Alice, now aged 45, a spinster, appeared living as the farmer (head of family) at Easterly Farm and still living with her was her nephew Lawrence Layfield aged 31, and Thomas Hartley the family servant. Also a cousin James Topper, a retired school teacher aged 52.
By the 1881 census both Alice, an annuitant (receiving beneficiary payments)  and her faithful servant Thomas Hartley were living at Clerk Hill, Whalley. Alice died at Lower Clerk Hill in 1890. Mr Thomas Wilson was occupying Easterly farm by 1881.