William Parrott was born in 1687 in Wotton Underwood, Buckinghamshire, England to parents William Parrott (1658-1755) and Elizabeth Battye (b 1666-1743).
William was baptised on 7 Nov 1687 in Wotton Underwood. He was one of seven children born to the couple.
Wotton Underwood is a village and civil parish in the Aylesbury Vale District of Buckinghamshire.
In 1851 it contained just  253 inhabitants. The greater part of the land is in grass, and there are about 800 acres of wood.  In old records the parish is called indifferently Ottone, Woothong, and Wooton.
The village is small and consists chiefly of cottages, to each of which a little plot of garden-ground is attached, built about 1817, by George, Marquis of Buckingham. It is distant 7 miles north of Thame, 10 miles north west of Aylesbury, and 3 miles from Brill.
William was a carpenter by trade, in the village of Wotton Underwood, according to his son Michael's baptism record.
At the age of 23 years William married Sarah Eggleton at Bicester, Oxfordshire on 5 November 1711.
Sarah Eggleton was born in 1691 in Wotton Underwood, and was baptised there at All Saints on 22 November 1691.
Sarah was one of four daughters of Michael Eggleton 3,  a taylor, (1661-1714) and Mary (b 1661). Michael was baptised on 19 January 1660, with his father named as Michael Egleton 2 (baptised 26 May 1633 at All Saints, also the son of Michael Egleton 1).
The younger two Michael Eggleton/Egelton's, both tailors of Wotton Underwood, had wills proved in Buckinghamshire.
Will written 6 June 1672, proved 13 July 1672, Mikill Egleton, tailor
Will written 9 April 1713, proved 10 Sept 1714, Michael Egleton, tailor
On the marriage record William Parrott was stated to be of the parish of Bicester, and Sarah was of Wotton. The couple were married by license and appear in the Oxfordshire Marriage Bonds 1634-1849 index.
William and Sarah had ten children in Wotton Underwood –
William (twin) b 1712 & d 1752 Wotton, married Mary Smith, 8 children
John (twin) b 1712 & d 1720 Wotton, died aged 7 years
Battey b 1715
Sarah b 1716
Peter b 1720 & d 1774 Wotton, married Lettice Willett, 5 children
John b 1721
Michael b 1723 & d 1779 Wotton. Married Ann White, 9 children
Ruth b 1724 & d 1724 Wotton
Joseph b 1725 & d 1727 Wotton
James b 1728 & d 1797 Wotton. Married Martha Wall, 3 children
Sadly William and Sarah lost at least three children, if not more in childhood.  I could only find record of four of the ten surviving to adulthood and marrying.
William wrote a will when he was aged 65 on 15 October 1753 (Buckinghamshire Will Index) and it was proved on 13 December 1766. William's occupation was given as a yeoman farmer.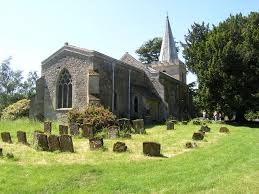 William died in November 1766 and was buried at All Saints, Wotton Underwood on 29 November 1766. The burial register states he was "William Parrott senior".
Sarah also wrote a will, sometime after her husband's death on 28 May 1774 at the age of 84. It was proved on 24 June 1780.
Sarah died aged 89 years in December 1779 and was buried at All Saints, Wotton Underwood on 11 December 1779.