John Croxford was born in 1677 in Lewknor, Oxfordshire, England to parents Robert Croxford (1642-1724) and Mabel Filbee (1646-1687).
John was baptised on 28 March 1677 at St Margarets, Lewknor, Oxfordshire. The church was originally dedicated to Saint Mary but at some date was rededicated to Saint Margaret.
John was one of nine children born to the couple.
Lewknor, is a village and a parish in Oxfordshire. The village is 2¼ miles north east of Watlington, and 1 mile west of Aston Rowant. In 1871 the population was 2667.
At the centre of the village is the remnant of Town Pond which at one time was used for watercress growing. The cress was sent to London by train. Some scenes from the popular TV series Midsomer Murders have been filmed in the village of Lewknor.
http://midsomermurders.org/lewknorloc.htm
John Croxford was a blacksmith in the village of Lewknor and Aston Rowant.
At the age of 23 John married Dorothy Weller, on 2 June 1700 at Bix, Oxfordshire, 10 miles south of Aston Rowant. (This marriage is according to online trees, but I haven't been able to find the parish register entry to confirm it)
Dorothy was born in Nettlebed in 1679, and baptised there on 18 January 1679. She was the daughter of Paul and Margaret Weller. Dorothy had three siblings – Paul b 1682, Margaret b 1684 and Richard b 1686 – all born in Nettlebed.
John and Dorothy had possibly eleven children –
John b 1701 & d 1701 Aston Rowant
William b 1702 d 1703 unconfirmed
Robert b 1704 Aston Rowant d 1757 Lewknor, marr Ann North, 4 children
John b 1706 & d 1706 Aston Rowant
Richard b 1708 & d 1772 Aston Rowant, marr Elizabeth House, 7 children.
William b 1709 unconfirmed
John b 1711 & d 1792 Aston Rowant, marr Ann King, 5 children
Margaret b 1713 Aston Rowant d 1721 Lewknor "buried in woolen only" (see note)
Mabel b 1715 & d 1738 Aston Rowant
James b 1718 & Aston Rowant d 1719
James b 1720 Aston Rowant
Margaret's Note – The Burying in Woollen Acts 1666–80 were parliamentary acts which required the dead, except plague victims and the destitute, to be buried in pure English woollen shrouds to the exclusion of any foreign textiles.
It was a requirement that an affidavit be sworn in front of a Justice of the Peace (usually by a relative of the deceased), confirming burial in wool, with the punishment of a £5 fee for noncompliance. Burial entries in parish registers were marked with the word "affidavit" or its equivalent to confirm that affidavit had been sworn; it would be marked "naked" for those too poor to afford the woollen shroud. The legislation was in force until 1814, but was generally ignored after 1770, and the act was repealed in 1863.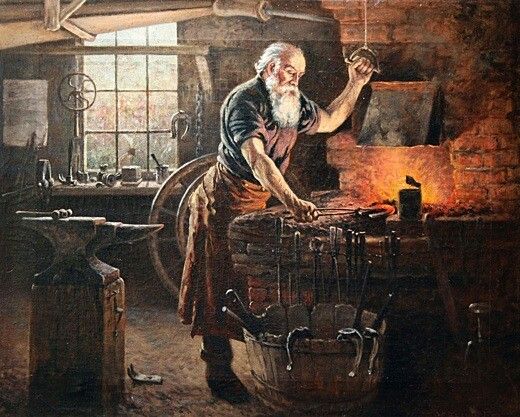 In his will John Croxford is described as a blacksmith of Aston Rowant.
A detailed inventory of his goods, chattels and cattle include his wearing apparel and money, household furniture, linens, wheelbarrow, grindstone, wood, two pigs, oats, kettles and skillets, blacksmith shop furniture including anvills, hammer, back irons, tongs, tools, iron weights, etc. It also mentioned a cottage and tenement at Postcombe in the parish of Lewknor, two miles from Aston Rowant.
His son William signed a will obligation bond.
John and Dorothy Croxford died just a few months apart, and their burials are recorded near each other in the Lewknor parish register.
Dorothy died first and was buried on 7 September 1735, and then John was buried on 17 January 1736. They were both buried "in woollen only, by affidavid".