Thomas Rawbone senior was born in 1721 in Drayton, Oxfordshire, England to parents John Rawbone (b 1690) and Elizabeth White (d 1744).
Thomas was baptised on 2 March 1719 at St Peters, Drayton. It looks like the clerk had missed writing in his baptism on the day, and it was added to the last page of the baptism register after the end of 1725.

He was one of six children born to the couple.
I have been unable to confirm the name of Thomas's wife but there are a couple of possibilities at a place called Wormleighton in Warwickshire, which is nine miles from Drayton including –
Thomas Rawbone aged 35 from Over Ettington (11 miles from Drayton), to Mary Usher aged 34 from Radway (7 miles Drayton) by licence on  12 June 1750. His will of 1808 leaves his estate to cousin Rev John Rawbone.
Thomas Rawbone aged 27 to Mary England aged 21 both from Flecknoe (19m Drayton) 16 Oct 1750 by licence.
The ages don't quite add up for Thomas though, if they were given correctly. I am unable to find any other Rawbone marriages for Drayton, apart from Thomas's parents in 1711. I've searched the Drayton registers for 20 years each side of 1750. Or was he married by his Reverend Uncle someplace else?
Anyway, Thomas Rawbone married someone around 1750, most likely near Drayton, perhaps at his wife's parish church. He then had at least two children –
John b ca 1750 Drayton or Winslow d 1807. John was a schoolmaster in Winslow, Buckinghamshire and at Aylesbury. He was buried at Aylesbury. John married Hannah Maiden in 1711 and had eleven children in Aylesbury. His will proved in 1808 states he was a schoolmaster, and he leaves his estate to wife Hannah, 7 surviving children, and his cousin the Rev John Rawbone 1743-1825 (who was curate of St Marys, Aylesbury in 1797 and received a stipend £30 and also licensed to Fleet Marston).His eldest son Rev John Rawbone was also a Clerk Curate at Aylesbury from 1806 to 1817. John Rawbone junior left bequests to his mother Hannah, brother William and his children in his will of 1816.
.
Thomas b 1751 Drayton or Winslow d 1836 Winslow. Married Hannah Taylor in 1779 at Winslow. Schoolmaster of Roger's Free School in Winslow for over 60 years. Two children. Beneficiary in the will of his uncle, the Rev John Rawbone (1717-1775). Chief Constable of Winslow 1798.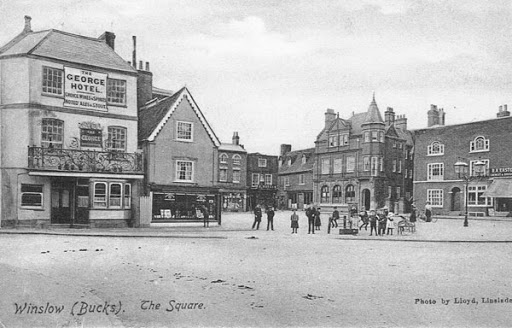 The Winslow History website has some wonderful information about the school and the village.
I haven't been able to find either a will or the deaths of Thomas and his wife, and am unsure if they are buried at Drayton or Winslow.