Peter Finch was born in 1601 in Standish, Lancashire, England to parents Peter Finch  and Elizabeth.
Peter was baptised at St Wilfrid's parish church in Standish on 14 September 1601.
St Wilfrid Standish Parish church was built  in 1584, and restored in 1859; and has a fine east window, and a tower and spire.  The population in 1861 was 2,655  with 579 houses. There were extensive coal mines, a large paper-mill, and barytes (barium sulphate) works in the area.
Peter Finch married Katherine Prescott at the rather young age of 17 (unless he was a few years old when he was baptised) on 18 May 1618 at All Saints, Wigan, Katherine's home parish.
Katherine Prescott was born in 1596 in nearby Wigan to parents Robert Prescott (b 1568) and Johanna Hollins. She was baptised at All Saints, Wigan on 2 May 1596. The Prescotts were a wealthy, important family in the village of Standish and nearby Chevington for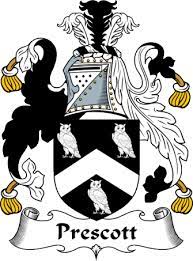 hundreds of years. Their line has been traced back to the 1100s and there was arms registered to the family in 1564.
Prescott – The surname was first recorded in the latter part of the 12th Century and other early recordings include: Richard de Prestecote (Lancashire, 1192); Heredes de Prestecote (Oxfordshire, 1273); and Robert Prescott, of Standish, "yeoman", who was recorded in the Wills Records at Chester, dated 1596. Surname Database.
Notably our 13 x great grandfather James Prescott (son of Sir William Prescott and Lady Alice Molineaux) married Alice Standish in 1528 in Standish.
For his bravery and military prowess and achievements he was created lord of the manor of Dryby in Lincolnshire, and had new arms granted to him, and was afterward known as Sir James Prescott.
(An order of Her Majesty, dated August, 1564, directs him to keep in readiness horsemen and armor"). He died March 1, 1583, after having 13 children. There has been much written about the family online. Sir James' had a son Robert 1534-1595, who in turn had a son Robert b 1568, the father of Katherine.
Standish – The family held the unbroken Lordship of the Manor of Standish over the following seven centuries (1220-1920).  The country seat of the family is at Standish Hall, which was first built on its present site in 1574 by Edward Standish.
Peter and Katherine Finch had a large family of at least 10 children –
John b 1620
William b 1622
Laurence b 1626
Margaret b 1628
Grace b 1631
Henry b 1633 d 1704 Manchester. Married Mary Hammond. 5 children.
Edward b 1636
Margery b 1638
Robert b 1640
Jane b 1642
All the children were baptised at St Wilfred's church in Standish, Lancashire.
Peter Finch died in January 1664 at Shevington, two miles from Wigan. He was buried at St Wilfrid's in Standish on 24 January 1664.
Peter's wife Katherine Finch died in November 1670 in Shevington and was buried at St Wilfrid's in Standish with her husband on 3 November 1670.