Ella May Jackson was born in October 1909 in Violet Town, and baptised in the local Anglican church, St Dunstan's when she was 2 weeks old.
She was the middle child, and only daughter of Albert Jackson and Katie Miles. The first four years of her life were spent living near the Railway line with her parents in Baddaginnie. Her father Albert was working at the Baddaginnie Butter factory at the time.  Then they shifted over to nearby Boho to "Brookville".
From an early age, Ella helped her parents milk the cows (pictured) before she walked to the Burkes Hill Primary School. At the age of 8 she and brother Horace appeared in the local paper winning a prize in the Anzac Day school contest in 1917.
In 1923 Ella was confirmed at St Dunstan's and was attending Boho Primary School (School Merit certificate). Life at home was hard, trying to make ends meet.
Saturdays were rabbit days, when the whole family went rabbit shooting, then grandma Jackson would cook or salt the meat to eat du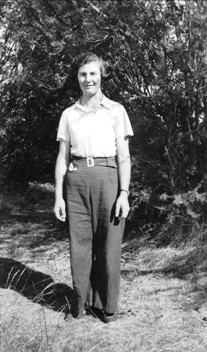 ring the week. During the depression about 1932, this and a few vegetables they grew was the only food they had to eat.
In April 1934 Ella married her friend, and tennis partner Alan Edward Davis. Ella recalled her wedding day (pictured) in which she prepared all the food herself with her mother for the wedding breakfast which was held at home after the ceremony at St Dunstan's in Violet Town.
The house at "Thirlmere" on Boho Church Road, was where Alan and Ella first lived. In 1949, the house was shifted to Euroa when Samson Davis (Alan's father) retired to Euroa to live. Ella and Alan then moved into Alan's parents house and lived there for 11 years before building the cream brick house at "Woodvale", on Davis Rd off Boho Church Road, Boho.
Before electricity Ella used to push a wheelbarrow from "Woodvale" about a kilometre down her driveway to Boho Church Rd to collect the ice twice a week – the only way they had of keeping the food cold. Electricity was not connected to the farm until 1956.
Alan and Ella had four children – all born in the Violet Town bush nursing hospital, where her maternal aunt was the local midwife – Brian, Reg, Gwyn and Kerry.
In 1949 with four small children, Ella and her husband Alan suffered heart damage after a particularly bad flu epidemic swept through the area. The oldest son Brian left school at the age of 12 to help his parents manage the farm.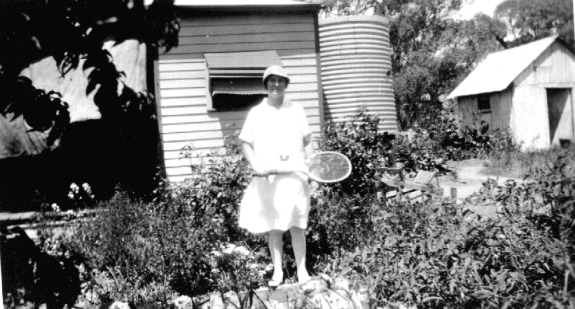 Ella at home at "Brookeville" 1927 dressed ready for tennis.
Ella lived a hard life, milking house cows until she was elderly to provide the family with butter, milk and cream, and tending the vegetable and flower garden.
Ella enjoyed her flower garden and every year would enter in the Violet Town CWA Flower Show, winning many prizes over the years, especially for her beautiful dahlias. (1951 Benalla Ensign). She passed her love of gardening on to her children, and quite a few of her grandchildren.
She also enjoyed her lawn bowls, and played for many years at Violet Town with husband Alan. She volunteered for the Red Cross, helping wrap bandages and knitting socks, etc for the war effort.
On the 50th anniversary of the end of World War II she was presented with a Certificate of Appreciation (signed by Prime Minister Keating) for contributing to the war effort.
She was a dedicated Christian, and attended St Dunstan's in Violet Town with her parents, Boho Rd Methodist Church and was part of firstly the Presbyterian Church, and then the Uniting Church in Violet Town. She belonged to the Church Guild and supplied the flowers for the chapel.
In 1984 Ella and Alan shared their Golden Wedding anniversary at Violet Town with all their children and grandchildren.
Ella will be always be remembered for welcoming all her family (children and grandchildren) into her home every Sunday afternoon, for scones and copious amounts of tea. For many years she supplied all her children and their families with weekly milk and cream, and other farm produce when she could such as walnuts, mulberries and eggs.
Ella's husband Alan passed away in 1987 at home on the farm, where Ella continued to live for another twelve years alone, with her son Kerry and family residing next door.
Ella suffered with osteoporosis for many years, but stubbornly refused to leave her beloved "Woodvale" farm, and at the age of 89, she passed away at home on 13 March 1999.
She is buried at the Violet Town Cemetery with her husband Alan.
Ella was a much loved grandmother, mother, sister and friend.