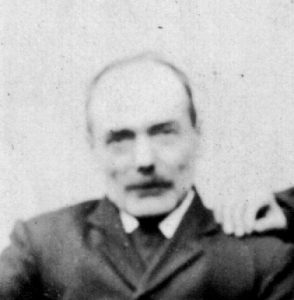 Henry Gray was born on 29 June 1848 at East Hetton, near Coxhoe, Durham.
He was baptised on 15 July 1848 at Kelloe, Durham. Henry was the son of William Gray (1816-1896) and Jane Newton (1816-1867).
In the 1851 census, 4 year old Henry was living with his parents William, a coal miner, mother Jane, and siblings William, John, and Job at 92 East Kelloe, Coxhoe.
Ten years later in 1861 the family had moved to Pond Row, Cassop. Henry was now 13 and
working in the coal mine with his brothers William 20, John 15,  and Job 9 was at school.
His mother Jane is listed as the household head, perhaps his father was at work when the census was taken because he was still alive then.
In 1867 Henry's mother Jane Ann passed away when he was aged 19.
Two years later Henry married Jane Ann Brown, daughter of George Thomas Brown (1823-1884) and Mary Ann Cuthbertson (1828-1911). They married in the Registry Office at Houghton le Spring on 24 March 1869.
Henry and Jane were actually first half-cousins. In England it was (and still is) perfectly legal to marry your first cousin. Their common link was their paternal grandmother who was Jane Wind (1796-1854), but they had different grandfathers. Jane had her illegimate son William Wind Gray in 1816 and Job Gray (b 1794) was named as the father on the baptism record, and then after the birth of William the following year she married Henry Brown in 1817 in All Saints, Newcastle Upon Tyne. William Wind Gray, gives Job Gray as his father on his marriage certificate in 1839.
Given they were Primitive Methodists, Henry Gray and Jane Brown probably married in their local chapel, but English law still required them to marry in a registry office as well, because the Methodists were not the official church of England. Henry and Jane both signed with their mark 'x' as they could not sign their names.
Jane Ann Brown was the daughter of coal miner George Brown (1823-1884) and Mary Ann Cuthbertson.
She was born at Shiney Row, Penshaw, Durham on 14 August 1848, and most likely baptised in the local Primitive Methodist chapel. She was one of nine children.
Henry and Jane Ann had five children –
1871 Jane Ann b Thornley, d 1936 South Shields, married Anthony Smith
1873 George William b and d 1874 West Herrington, Durham
1875 Margaret b and d 1876 West Herrington, Durham
1876 Andrew b and d 1876 West Herrington, Durham
1878 George Thomas b New Herrington d Balwyn, Australia marr Isabella Luke
1882 Elizabeth b and d 1882 New Herrington, Durham
In the 1871 Census, Henry is living with his wife Jane Ann and his brother Job in Thornley, Durham.  He is mistakenly indexed under Henry Brown (his wife's maiden name).
In the 1881 census, the family is at 18 Fenton Terrace, New Herrington. Henry, a coal miner is listed with wife Jane Ann and their nine year old daughter Jane Ann who was listed as a scholar (at school) and two year old George. The other four children had all died as babies.
After losing four children, sadly Henry's wife Jane Ann died in November 1882 aged only 34, possibly from complications after the birth of her daughter Elizabeth who was born 2 months previous.
She wass buried at West Herrington on 10 November 1882.
The family were staunch Primitive Methodists belonging to the Philadelphia chapel (New Herrington), which was in the Sunderland Methodist Circuit along with Shiney Row, New Penshaw, Newbottle, and New Lambton with a membership of the circuit over 1300 people.
These cards of Jane Ann Gray were found in the family bible that I have from the family.
The New Herrington chapel was previously named Philadelphia. The Primitives (as they were called) bought the chapel from the Bible Christians when they finally gave up their northern mission, and a school room was added and other alterations made. (Northern Primitive Methodism ; record of the rise and progress of the circuits in the Old Sunderland District).
Henry remarried two years later in 1884 to 33 year old Jane Elizabeth Smith (1851-1902). Jane was the daughter of Thomas Smith, a railway labourer/miner (1821-1876) and Ann Mawman (b 1829).
Jane was the widow of John Brown (1845-1882)  and brought her own three children to the household (another Jane b 1870, William 1876-1904 and Job 1880-1907).
So in the 1891 census the family are still living at Fenton Terrace, and Henry is with his second wife Jane, and living with them are only three children – 12 year old George and his two step brothers William 15 and Job 11. One wonders how the two blended families got on together?
Ten years later in March 1901, still at 18 Fenton Terrace, Henry and Jane Elizabeth are living with 22 year old George, and Jane's two children William and George, but things must have been a little better financially, as they now have a 16 year old domestic servant Mary Escott helping out in the household.
Henry, George, William and Job are all working in the coal mine.
Henry's 19 year old daughter is out working as a domestic servant in Sunderland, 3 miles away. She was living and working in a German gold jeweller's household at 4 Nelson Street, Sunderland.
His name was Jacob Sallewski. Jane married coalminer Anthony Smith in 1892 in West Herrington and went on to have five children of her own, living in South Shields, Durham. She died there in 1936.
Henry's two stepsons William (1876-1904) and Job (1880-1907) both died as young men.
Unfortunately Henry's second wife Jane Elizabeth died in 1902 at New Herrington aged 51.
In 1903 Henry married for the third time to another Jane – this time he married 49 year old Jane Ann Cooke (1857-1911) at Houghton le Spring, Durham.
By 1911 the couple are living at in the same street, but have moved from number 18 to number 2 Fenton Terrace in New Herrington.
Henry's latest wife Jane gives her age as 54 and her birthplace as Eston, Yorkshire.
Henry is now 62, and states he has been married for 8 years to Jane. His occupation is now an engine man underground.
They also add that they are living in a three roomed cottage, not including the bathroom/toilet.
Henry died at home on 18 December 1913 aged 65, probably not a bad age for a man that spent all his life working underground in the coal mines of Durham. He is buried in St Aidan's Churchyard in Herrington Road, West Herrington. His broken headstone reads –
In loving memory of Henry, the dearly beloved husband of Jane Ann Gray who died December 1913 aged 65 years.
It is unknown when his third wife Jane Ann Gray (nee Cooke) died.