John Wyatt was born in Witney Oxfordshire around 1765 (from his age at his burial) to parents Joseph Wyatt (b1742) and Mary Reeves (b 1742).
John's parents were married on 31 May 1761 at St Mary, Witney.
He had an older sister Sarah who was baptised on 10 December 1763 at Witney.
I have been unable to find John's baptism under either Wyatt or Reeves, despite searching through the original registers.
There was a settlement order made for John's parents – Joseph Wyatt and his wife Mary on 28 December 1762. The order was made by the parish of Bampton wishing to have the family removed back to their home parish of Witney.
In the event of the parish authorities discovering that a person was likely to become a financial burden and become chargeable to the parish such as illegitimacy cases, those taken ill, suspected illegal immigrants or vagrants, the parish authorities undertook a Settlement Examination. The examination took place by the Overseer of the Poor and a Justice of the Peace and was carried out to determine whether the person had a legitimate right to residency in the parish.
Following the findings, a guilty person would be served a Removal Order and then, forcibly if necessary, removed from the parish. These procedures were part of what is known as the Old Poor Law. The record is held in the Oxfordshire History Centre, and I am attempting to get a copy of it.
John worked as a labourer and a gardener.
At the age of 26 John married Rachael Cockbill on 17 July 1791 at St Mary, Witney by banns. They were both of the parish of Witney, and were both illiterate, making their mark 'x' as their signature to the marriage. Their witnesses were Edward Cook and Edmund Wright.
Rachael Cockbill was born in Clanfield, Oxfordshire in 1775, just 8 miles south of Witney. She was the daughter of Phillip Cockbill (1733-1813) and Mary Warner (b 1736-1785). Her parents were married on 29 May 1758 at Clanfield. She was one of 9 children.
John and Rachael had six children –
John b 1793 Witney, Oxfordshire d 1873 Streatham, Surrey. 3 Marriages to
1 – Mary Moss 1812, 2 – Sarah Fisher 1820 – 5 children.  3 – Elizabeth Miles 1854 – 2 children. Gardener of East Dulwich.
Joseph b 1797 Witney d 1867 Queens, Prince Edward Island, Canada. Marr Elizabeth Robinson. 1 children.
Ann Maria b 1798 Witney.
Edward b 1802 Bampton near Witney
Thomas b 1804 Bampton, d 1861 Minster Lovell. Marr Mary Peerce 1827. 3 children, 1 step daughter.
James b 1807 Bampton, d 1875 Bampton. Marr Ann Tooley 1827. 5 children.
I haven't been able to find the death of a Rachel Wyatt. Did she remarry?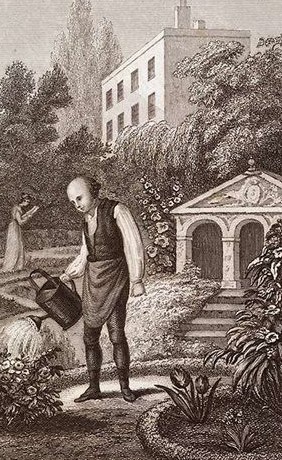 There is a John Wyatt living in Kennington Place, Lambeth, Surrey in the 1804 Surrey Tax Records, but I'm not sure if this is him, or whether he stayed in the Witney area of Oxfordshire. His son John is later living near this address.
A John Wyatt died in March 1837 at Hailey, 2 miles from Witney, Oxfordshire, aged 72 years. He was buried at St Mary, Witney on 7 March 1837.  This may or may not be the correct John Wyatt.
It appears Rachel remarried to Mr Thomas Shaylor, and had a child with him (Thomas in 1812, born 31 December). Thomas was baptised on 10 January 1813 in Clanfield. His father Thomas Shaylor was a labourer of Clanfield. Thomas junior died in December 1841 aged 27 years. Thomas senior died in 1824 in Clanfield, aged 48 years.
So did her husband John Wyatt die earlier between 1807 (their last child) and 1812 (her next marriage?) Or did he desert her and she married bigamously, or is it another Rachel? Were their two Rachel Cockbills living in the Witney/Clanfield area? I can only find evidence of one.
In the 1841 census Rachel Shaylor is living with her older brother Phillip Cockbill, aged 70, in her home parish of Clanfield, Oxfordshire aged 66.
Rachel appears in her father Phillip's will written in 1811, in which it refers to a bequest to his daughter Rachel Shaylor and her son John Cockbill.  An illegitimate child, Johnathan Cockbill, was born to a Rachel Cockbill in 1796 and baptised at Clanfield on Christmas Day 1796.
Rachel Shaylor died in August 1847 at Clanfield, and was buried on 25 August 1847 at Clanfield aged 72 years. Her brother Phillip Cockbill actually added a codicil to his will saying Rachel's share, as she was deceased, should now go to her sister Dinah.
The question is – are Rachel Shaylor and Rachel Wyatt the same person? Some other notes –
the only baptism found  for a Rachel Cockbill in Oxfordshire in the 1770s is 1775 to parents Phillip Cockbill and Mary Warner in Clanfield, Oxfordshire.
This Rachel Cockbill appears in her father's will dated 1811, stating she is Rachel Shaylor, with illegitimate son John Cockbill.
The 1808 marriage is for  Rachel Cockbill (not Wyatt as it should be) to Thomas Shaylor.
The illegitimate child John Cockbill was born in 1796 between two children of John Wyatt's John in 1793 and Joseph in 1797.
There is no burial record for a Rachel Wyatt in Oxfordshire or Surrey of the right age
There is a 1857 burial for a Rachel Waite in Bampton aged 73 years (birth 1784) – too young, as our Rachel married in 1791.
I'd love to hear from you if you can help me out with this puzzle.  See my contacts page.