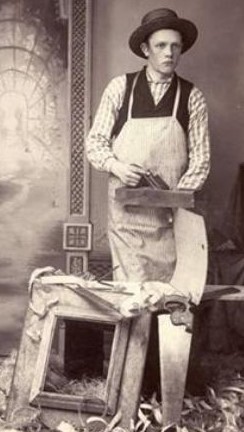 John Stow was born around 1772 (according to his age at death) in Kent, England. I have been unable to find his baptism.
John married his wife Mary Beaver in Kent and they had nine children together all born in Greenwich, Kent and baptised there in the church of St Alphage.
Mary was born in 1780 and baptised on 6 Feb 1780 in nearby Ash, Kent. She was one of 10 children born to John William Beaver (1746-1807), a britches maker of Greenwich and Ann Pilcher (1735-1823).
The family lived at Royal Hill, a street in Greenwich, south east of London. Greenwich is notable for its maritime history and for giving its name to the Greenwich meridian – Greenwich Mean Time.
Early cabinet makers, like John Stow, made chests, household furniture such as tables with solid oak legs and top, panelled chests, more graceful chairs, four-poster beds and a variety of settles (benches and storage chests with backs), and sideboards etc. with much decorative carving. An upholsterer fitted padding, springs and coverings to furniture and chairs, and repaired furniture. Sometimes they would also sell second hand furniture and goods.
John and Mary had nine children all baptised at St Alphage, Greenwich.
1798 – Citizen d 1800 Greenwich
1800 – George d Greenwich
1802 – William d 1853 Greenwich
1804 – Mary Ann d 1856 London
1806 – John d 1807 Greenwich
1808 – Eliza d 1814 Greenwich
1810 – Catherine d 1852 Greenwich
1812 – Frances d 1883 Kew, Victoria, Australia
1815 – Alexander d 1862 Carlton, Melbourne, Australia
It seems John's cabinetmaking and upholstering business in London Street was doing well enough to take in apprentices, which is what he did in 1805. John Stow, Master Cabinetmaker, paid duty (tax) for his apprentice indenture James Gathercole on the 3rd of August that year.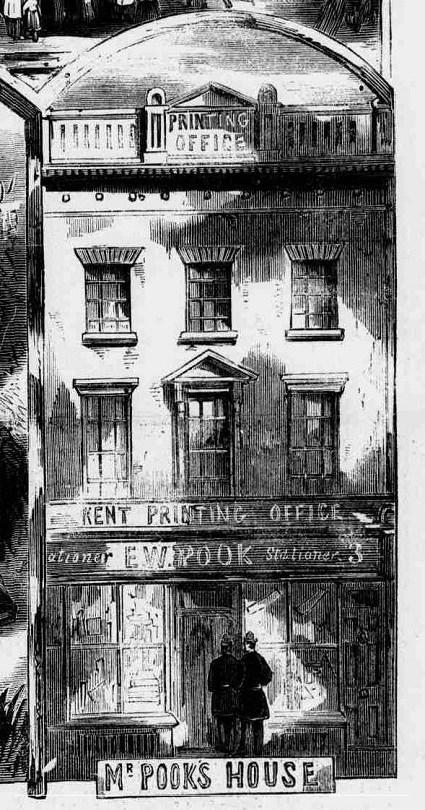 Amazingly we have a picture of the house and premises John Stow and his family lived in as a sketch of 3 London Street, was made of the property later on which appeared in the papers regarding a murder there in 1871.
London Street, Greenwich, no longer exists – it has become Greenwich High Street. The house no longer exists but was opposite St Alphege church.
John was well known in the community, and served on the St Alphege committee to manage the Jubilee Almshouses, charity housing project. He was appointed in 1884 under the guiding hand of the Rev J S Masters with five other gentleman to manage the painting, fixing the iron railings and other such duties. (Vestry Minutes, St Alphage).
Times must have been tough though, as on 2 Feb 1816 John filed for bankruptcy and on 23 March 1816 a bankruptcy certificate was issued to him, and broadcast in the newspapers for all to see.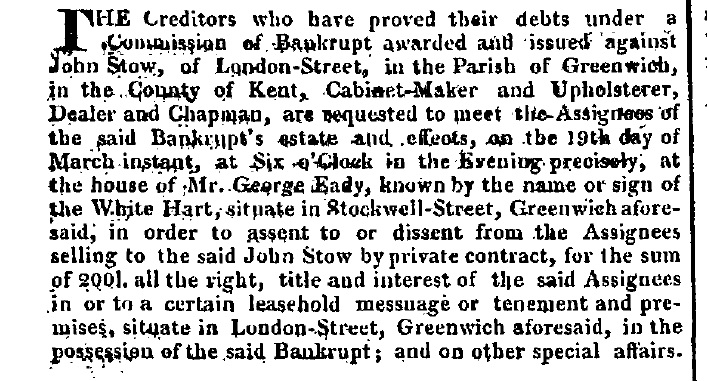 In 1820 his lease for the property and house at London Street, Greenwich was taken over by his son William Stow, with Rebecca and Richard Rayley being the owners.
In 1823, John is back working as a cabinet maker and auctioneer and is listed in the local Pigots Trade Directory, but things must have taken a bad turn, because on 12 July 1823 John took his own life in his premises by means of a pistol. His son William found the body. A coroners inquest was held, and it was reported in the local papers.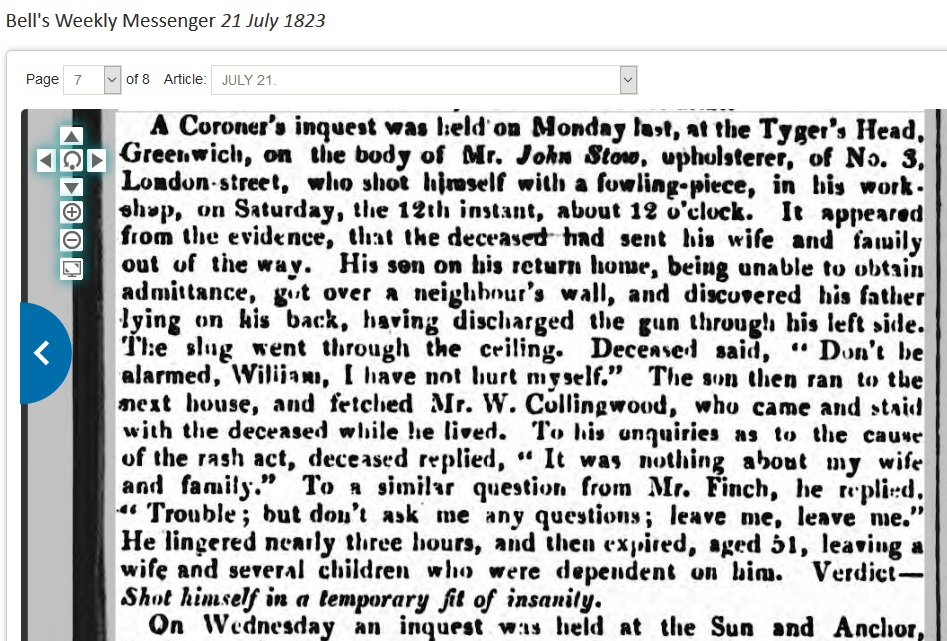 John was buried on 13 July 1823, aged 51, at St Alphage, Greenwich, the burial being allowed in a churchyard as the verdict gave a reason of temporary insanity. His son William appeared to carry on his father's business.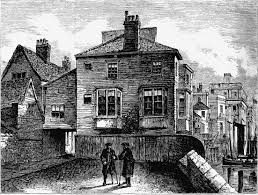 Mary was living with her daughter milliner Mary Ann in 1841 in Luton Place, Greenwich, until Mary Ann was arrested and imprisoned for larceny in 1844. In December mother Mary, no longer able to support herself, was admitted into the Jubilee Almshouses on the charity of St Alphage parish.
The Jubilee Almshouses Trust is still running today, taking in women over the age of 50 years who need housing and assistance. They were founded in 1809 after a subscription was raised among the townspeople in commemoration of the King George III reigning for 50 years.
Mary Stow died only two years after her admission, on 26 June 1846, aged 66. She was buried at St Alphage with her husband John, some 23 years later.
Amazingly, her will (letters of administration) wasn't granted until some 30 years later, where her 'effects under 50 pounds' were given to her daughter Frances Poulton residing in Geelong, Australia.