Charles Pierce (Pearce) was born in 1752 in Exeter, Devon, England to parents Adam Pierce (1724-1794) and Elizabeth Kendall (1725-1760).
Charles was baptised on 24 March 1752 in the parish church of St Stephen, Exeter.
Both the Pierce and Kendall families were wealthy, aristocratic families whose linage can be traced for many generations.
At the age of 24 Charles, a merchant by apprenticeship was admitted to the Exeter Freemen.
At the age of 33 he had a liasion with Martha Taylour Rowe, a widow with four children, and had a child – Maria Pierce Rowe.  (Maria married Benjamin Charles Hutton in 1811).
Maria Pierce was baptised on 6 February 1785 at nearby Upton Pyne, Devon, and was described as the base (illegitimate) daughter of Martha Row and Charles Pearce of Exeter.
Maria's mother Martha was born as Martha Taylour in 1745 in Sowton, Devon and baptised there on 29 Jan 1745 to parents George and Sarah Taylour. Martha Taylour had three partners – firstly her marriage to William Rowe (1742-1781) on 24 Apr 1764 in Sowton by license.
Martha had six legitimate children with William Rowe – William b 1769, Elizabeth b 1770, George b 1773, John b 1774, Mary b 1778 and Charles b 1778. Her husband William Rowe died in 1781, and it seems just four years later Martha had another child, illegimately with Charles Pierce in 1785 – Maria.  It appears Charles and Martha never married, as the widowed Martha Row later married Charles Please in 1790 at the age of 45 years.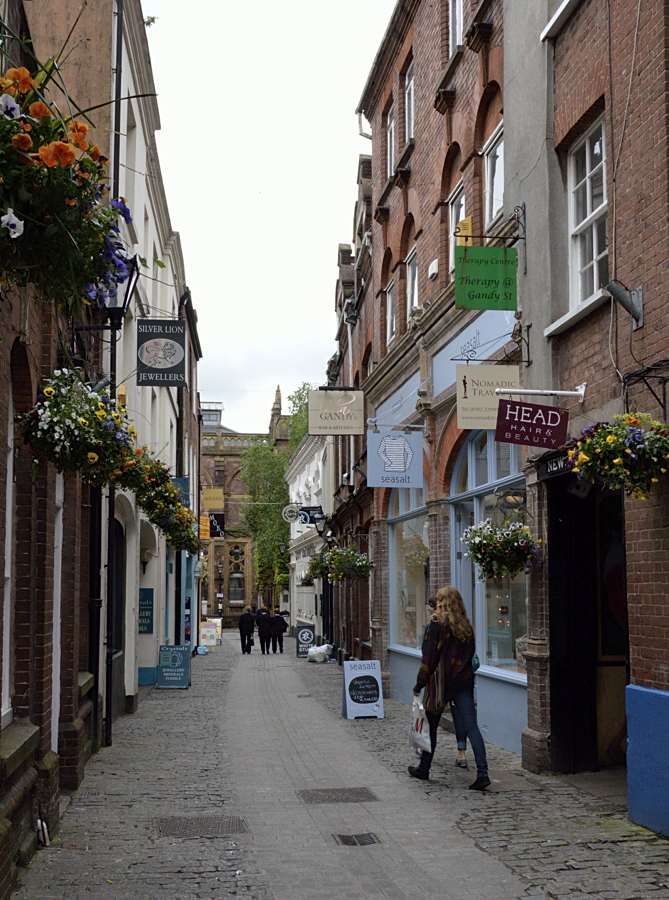 Charles being a wealthy merchant in Exeter, appears in several documents –
1794 – Nomination by order of lords of manors as gamekeepers, recorded at quarter sessions – Deputation of Gamekeepers – 17 May 1794; Lord of manor(s) and Manor: Adam Pierce, gent.; Eliz. Kendall Pierce, spinster; Charles Pierce, merchant; Charlotte Pierce, spr; Mary Pierce, spr; Samuel Pierce, gent., & Humphry Lawrence, esq. Prideaux in Lanlivery; Gamekeeper: Charles Rashleigh of St Austell, esq. (National Archives Ref QS/1/6/599).
1796 – Re-assignment of lease for the residue of a term of 31 years, in redemption of an undischarged mortgage: Exeter [Bradninch], 31st December 1796. Elizabeth Kendall Pierce, spinster, and Charles Pierce, merchant, of Exeter,etc
1801 Friars, Exeter – Leases – Assignment of tenter racks (drying frames), Close next to the Friars, 1801 1. Charles Pierce of Exeter, merchant and 2. Anthony Holman of Exeter, gent. (South West Heritage Trust Devon Archives 1926B/B/L/2/8 )
1802 – Poll book for Exeter Devon Charles Pierce, Merchant
1803 – Militia List For 1803 Parish of Holy Trinity Exeter. Charles Pierce, Gentleman, 4th Class, aged between 17 and 55.
1816 – Register of Freeholders 1816 Wonford, Heavitree, Devon – name Charles Pierce occupation gent, age 63.
1817 – Richard Bragg, aged 10, apprenticed to Charles Pierce, Gentleman. Devon Archives.
1819 – proclamation of resolution to defend their Holy Religion and King and unrivalled constitution – list of members of parish of Heavitree including Charles Pierce (Exeter Flying Post 18 Nov 1819).
At the age of 44, I believe Charles Pierce married Miss Arabella Neale, daughter of the Rev J Neale, late vicar of Ipplepen, Devon at the Exeter Cathedral in October 1796.
Arabella sadly died the following year in November 1798 and was buried where she was married a short time before on 4 November 1798. Perhaps she died in childbirth soon after the marriage? The interesting thing is that Charles' sister Charlotte Pierce also lived (and died in Oct 1836 aged 82 years) in Ipplepen, which was perhaps how Charles and Arabella met.
As far as I can tell Charles never married again, and didn't have any other children. This was confirmed by his will which was proved on 20 February 1823 in which he left his estate to his three siblings, son in law and four grandchildren.
Charles died aged 71 years at his home in Heavitree, Exeter. His death notice was reported in the Exeter Flying Post on 9 Jan 1823 and an estate notice followed –
Charles was buried in the family vault at the church of the Holy Trinity, Exeter with his parents and siblings. A tablet has been erected in the church by Charlotte Pierce (Charles' sister) as it states to perpetuate the memory of her parents, brother and sisters.
There are a lot of documents in the Cornwall Record Office (copy held) including deeds and papers of the Lawrence and Connected Families – Pierce: bills paid under trusts of Chas. Pierce and B. C. Hutton held at Cornwall Record Office LR/128 1825-27. (TNA catalogue)