Andrew Richey was born around 1780 in County Down, Northern Ireland (most likely in Newry) to father Alexander Richey. His mother may have been Catharine, mentioned in a Court of Equity bill record in Ireland as the wife of a Alexander Richey in 1770.
Two records confirm his birthplace – in later years Andrew's brother James cites his birthplace as County Down, Ireland on his Trinity College Records. His father's 1799 will also states he is of Newry, Down.
Andrew was the third of four sons of Alexander Richey (ca 1750-1799) who drowned in Newry, Down, Northern Ireland.
Alexander b 1770, Robert b 1779, Andrew b 1780 and James b 1799. There may have been other children in between.
Alexander, a merchant, was most likely involved in the flax and linen industry in Newry.
Andrew was working with his older brothers by the age of 17 in their Linen Drapery business at 22 Dame Street in Dublin. They appear in the Dublin trade directory as part of a partnership business "Richey and Gill", having two establishments at 22 Dame Street and 7 Bride Street, Dublin. The two businesses are about 700 metres apart.
Linen is a yarn or fabric made from the cultivated flax plant. The fibre strands are normally released from the stem by a process called retting (controlled rotting). In Ireland this was traditionally done in water, rivers, ponds or retting dams. The linen trade, that of buying and selling the cloth and garments made from it, was big business in Dublin.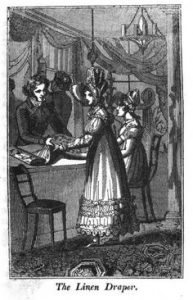 A linen draper, like the Richey brothers were cloth merchants and purveyors of goods of all kinds including silk, table linens, cloths, laces and other haberdashery items.
The retail linen draper actually draped selected fabrics across his doorway so they could be seen and felt. Since ready-to-wear clothes were not readily available until the mid-19th century drapers were in great demand by seamstresses and tailors.
The Book of English Trades (1818) states "The Linen-Draper sells cloths which are made of flax and hemp; as Irish linens, Russia towelling, Cambrics, and also, shawls, printed calicoes, muslin, etc."
By the age of 21 Andrew appears at the Dame Street linen drapery on his own, and is noted in the Dublin directory for the same address from 1801-1824.

On 31 August 1807 Andrew Richey married Sarah Ridgely. Their marriage announcement appeared in both the Hibernian Magazine of Dublin (a general interest magazine published monthly in Dublin), and in the Dublin Evening Post on 8 September 1807.
Sarah Ridgely was born in 1783 in Dunleary, Dublin, Ireland, the daughter of Thomas and Sarah Ridgely.
She was baptised on 17 August 1783 at Monkstown, Dublin. She was one of at least three children born to the couple including an older sister Honour b 1782 and a younger brother Thomas b 1786.
Andrew continued his trade as a linen draper at 22 Dame Street for at least 33 years, trading from there between 1797 and 1830, where he appears in directories and newspaper advertisements. The business was still in the family in 1847, owned by his wife Sarah.
He appears in many trade directories including Wilson's Directory of Dublin, Commercial Directory of Scotland and Ireland, and local Dublin newspapers.
Andrew and Sarah had a large family of eight children –
Thomas McAuley b 1809 Dublin, d 1878 Birmingham. He married Ellen Owen/Olben in 1836 in Southampton and had eight children. He was a Cloak and Shawlmaker in London, and spent some time in Debtors prison in 1841 after his insolvency. In 1863 he served a year in Holloway prison for stealing 8 yards of silk from his master. He later became an artist, picture frame maker and photographer in Stoke Newington, London. Thomas died in Birmingham, a widower aged 67, in 1878.
.
Andrew William b 1812 Trinity, Dublin d 1853 at sea. Worked for the East India Company, lived in Surrey and in Islington, London. He never married. Andrew accompanied brothers Edward and Henry to Australia aboard the "Hanover" in 1853, but died on the voyage out, aged only 41.
.
Rev Richard John Cockburn b 1813 Trinity, Dublin d 1877 Dublin. Attended Trinity College,  aged 19 in 1833. Studied part-time, gained BV.A. in 1845 and M.A in 1857. In 1850 he was Assistant Chaplain at Baggotrath Chapel. He was then Curate of Inishlougaght in 1860,  Vicar of Kilcash in 1866, Assistant Chaplain at Asylum for Penitent Females, Upper Baggot St, Dublin in 1858. Richard married Frances White in Lismore, Waterford in 1843. He had only one child – daughter Alicia b 1845 Limerick, Ireland. His wife Frances died in 1859, and he remarried in 1876 in Dublin to Sarah Sadleir (1855-1925). He died at Upper Baggot St, Dublin aged 64.
.
Dr Arthur John Coburn b 1814 Dublin d 1842 Holborn, London. Attended Trinity College, Dublin. Surgeon's apprentice in Christchurch, Surrey, England in 1841, died  aged 28 St Andrews, Holborn, London. Arthur did not marry or have children.
.
Dr George Robert b 1815 Dublin d 1849 London. George married Ann Southerwood in 1843 in Lambeth, London and had five children. He was a surgeon, and died in 1849 at St George Hanover Square aged 34.
.
Henry b 1817 Dublin d 1871 Gobur, Vic, Australia. Married Jane Chapman in Dublin in 1837 and had nine children. In 1849 Henry had a criminal conviction in Dublin, for stealing his master's music box. He served 1 year in Holloway Prison. Henry immigrated to Melbourne, Australia in 1853 aboard the "Hanover" with his family and brothers Andrew and Edward. He had various occupations as a wine merchant, commercial traveller (sales), newspaperman and newsagent. He died in Gobur, Victoria in 1871 aged 54.
.
Sarah Jane b 1819 Dublin d 1876 Ardmore, Waterford, Ireland. Sarah never married or had children, and died a wealthy woman. She inherited her fathers property at 22 Dame Street, Dublin. She also owned property at 16 Baggotrath East, King St, Grafton St, 57 Waterloo Rd and Upper Baggot Street – all in Dublin. She died in 1876 at Cliff Cottage, Ardmore, Waterford, Ireland aged 57 at the residence of her brother Richard.
There was a legal dispute over her will many years later in 1924 after she bequeathed her properties to her brother Richard and his heirs. A codicil to the will included her other brother Thomas McAuley and heirs, and surviving heirs of her late brother Henry who died in Australia. It seems the will was contested after Richard died in 1877.
Richard as executor had distributed the will unequally, or at least not to the liking of some of the other beneficiaries. The whole procedure was conducted at the Court of Probate in Waterford, Ireland. It is a set of long and complicated legal documents, please contact me if you would like a copy.
.
8. Rev Edward b 1821 Trinity, Dublin d 1853 Melbourne, Australia. Edward attended Trinity College in Dublin with his brothers Arthur and Richard, appearing in the Trinity College Registers in at the age of 17 in 1838. He took Holy Orders on 13th July 1845 at the Cathedral of St Mary, Tuarm in Killaloe, County Clare, Ireland. In 1846 he served as a curate in Kilrush, Kildare, and at Athboy, Meath Ireland.
At the age of 32 he immigrated to Melbourne, Australia with his brothers Henry (and his family) and Andrew aboard the "Hanover". Arriving on October 2nd 1853, he sadly died the following day of phthisis (tuberculosis)  in the Melbourne Hospital and he is buried in an unmarked grave in the General Melbourne Cemetery, which was at the time under the now Queen Victoria Market. His death certificate sadly reports his time in the Australian Colonies as one day. His death notice in the Morning Chronicle, London states he went to Australia 'for the benefit of his health'.
Back to Andrew and Sarah….
On 28 August 1821, Andrew appears in the Freeman's Journal of Dublin, on the committee of his Church of Ireland parish church of St Andrew's Dublin.
His church is seeking to raise subscriptions for erecting a National Building to commemorate the visit to Ireland of King George IV, and invite parishioners to attend a meeting the following Thursday to discuss the most ambitious plan.
Notably, one of his fellow parish committee members is a Mr James McAuley. Andrew and Sarah's first son Thomas has McAuley as his middle name.
The controversial memorial to the King was erected in the suburb of Dunleary (renamed Kingstown after the Kings visit) and you can read about it here.
Dunleary was the suburb of Dublin where Sarah Richey nee Ridgely and her siblings were baptised.
In 1825 several advertisements appear in the Dublin newspapers stating that Andrew Richey, now aged 45, is retiring from his business in Dame Street.
Andrew was obviously ill, as he died on 15 December 1825 in Dublin. His death notice in Saunder's Newsletter (newspaper) on 17 December, states he died at his home in Dame Street, after a tedious illness (perhaps tuberculosis like his son Edward).
He was described as "a man who was universally esteemed and regarded. He left a numerous family to deplore his irreparable loss". I believe he was buried at his home parish of St Andrews, Dublin.
He appears in the Ireland Diocesan and Prerogative Wills Index, as Andrew Richey of Dame St, Dublin, but unfortunately the original will was destroyed in the Great Fire in the Public Record Office in Dublin in 1922.
The year after her husband's death, Sarah gave a generous donation to St Andrews parish church (Dublin Evening Mail 12 February 1826).
The business stock at Dame Street, corner George Street, was not advertised for sale until 1830, along with all its large array of contents in the local newspapers.
It seems as well as selling a variety of linens, muslins, damask, blankets, quilts and cloths, Andrew was also a poplin (cotton) manufacturer.
Perhaps his children, or Sarah herself kept the business going for five years until they decided to sell it.
The business was sold, and it appeared in the newspapers again when it opened as the New London Cloth House, selling woollens, etc. In 1843 it was owned by John Richard Andrews, Tea Importer and Dealer (a tenant of Sarah's) and operating as a Tea House selling imported chinese teas and Jamaican coffees.
On 6 July 1830 a court case held at the Kings Bench, between Mr Richard Whaley and Elizabeth Richey, linen draper of Dame Street appeared in the Freeman's Journal newspaper of Dublin. Thomas Richey, son of Elizabeth also appeared and made a statement regarding his mother. The plaintiff, Mr Whaley, was a clerk to Elizabeth. I haven't yet figured out how Elizabeth fits into the family, but its likely she is a widowed relative.
After Andrew's death it appears Sarah kept the business going as she is the owner of the property in 1832 where we find Richey & Deykies, Linen Drapers and Silk Mercers, 91 Grafton Street, Dublin.
Wife Sarah inherited this property and is listed as the owner in the 1846 Griffiths Valuation of Ireland.
Sarah appears in a court case in June 1832, and the case was presented at Parliament. It mentions the case "Bank of Ireland vs Charles Tisdall – re Sarah Richey's stocks", and gave her addresses as Upper Baggot St until Sept 1830, and before that Dame St, Dublin.
By 1838 Sarah, Andrew's widow, was living at 57 Waterloo Road, Dublin (from her son's entry in the Trinity College Registers).
She had moved to her property at 16 Baggotrath Rd East, Dublin by the time of the 1847 Griffiths Valuation of Ireland, and again to 16 Waterloo Rd in 1853 (Dublin Almanac).
In 1853 she still owns many properties around Dublin (Griffiths Valuation) including 16 Waterloo Rd, 22 Dame St, 48 King St, 16 Baggotrath Rd, and 14 Upper Baggot St.
In the 1858 Dublin Directory she does not appear to be living in Waterloo Rd, so I suspect may have died by then (she would be 70 years of age in 1853 when we can find evidence of her in the street directory).
I've been unable to find Sarah's death in either the newspapers, Irish Civil Deaths register, parish records, obituaries, cemetery registers, will index or anywhere else, so if you have any clues, please let me know!