Gawan Pickering was born near Lockton, North Yorkshire in 1769 to parents Thomas Pickering (1726-1787) and Hannah Wood (d 1785).
Gawan was one of six children born to the couple. Gawan was probably baptised at St Giles Church in Lockton.
Thomas Pickering was a farmer at the Hole of Horcum, near Saltergate Moor, about two miles from Lockton. He married his wife Hannah Wood on 6 Dec 1757 at St Giles, Lockton.
Goathland 'Aidensfield' (where they filmed 'Heartbeat') is at the top of the map
Lockton is a tiny village of about 300 people today, and St Giles church dates back to the 13th century, with a 15th century tower.
Thomas was a farmer at the Hole of Horcum, a section of the valley of the Levisham Bank in the Tabular Hills of the North Yorkshire Moors National Park. The hollow is 400 feet (120 m) deep and approximately 3⁄4 mile (1.2 km) across.
The Hole was created by a process called spring-sapping, where water welling up from the hillside gradually undermined the slopes above, eating the rocks away grain by grain, so that, over thousands of years, a once narrow valley widened and deepened into an enormous cauldron.
Gawan's father Thomas farmed this land, and in his last will and testament dated 1787 he bequeaths his copyhold land in Horcum to his brother Gawin Pickering.
Copyhold tenure was a form of customary tenure of land common in England from the Middle Ages. A tenant who held land in this way was legally known as a copyholder. The privileges granted to each tenant, and the exact services he was to render to the lord of the manor in return for them, were described in the roll or book kept by the steward, who gave a copy of the relevant entry to the tenant. Consequently, these tenants were afterwards called copyholders, in contrast to freeholders.
The specific rights and duties of copyholders varied greatly from one manor to another and many were established by custom. Initially, some works and services to the lord were required of copyholders (four days' work per year for example), but these were commuted later to a rent equivalent. Each manor custom laid out rights to use various resources of the land such as wood and pasture, and numbers of animals allowed on the common.
Thomas also leaves bequests to his 'eldest son Jeremiah Pickering' 100 pounds, his utensils of husbandry and 40 pounds to his 'eldest daughter Margaret Huggit', 20 pounds to his 'youngest son Thomas', 40 pounds to 'daughter Mary Metcalf', and to his 'second youngest son Gawin', 100 pounds.
An inventory appears with the will listing his household goods as two tables, two beds and bedding, chairs, pots and pans, 150 sheep, five cows and two oxen, two horses, corn and hay.
It appears Thomas made his will on his deathbed, as he was unable to sign, leaving his mark only on it.
He signed the will on 16 November 1787 and was buried three days later on 19 November in Lockton, aged 64, when Gawan was 18, three years shy of being of a legal age to receive his inheritance.
Gawan's mother Hannah had died two years previously in 1785 when Gawan was 16.
Gawan continued farming in the area and twelve years later 28 year old Gawan married 21 year old Jane Allanson in 1797 at Middleton by Pickering (6 miles from Lockton).
Jane was baptised on 26 November 1776 at Pickering, to parents Thomas Allanson and Elizabeth Coates. Thomas and Elizabeth married on 20 November 1774 in Pickering.
Gawan and Jane had three children together –
Hannah born 1798 and baptised Lockton and died in 1874 at Scarborough. She married George Marshall  in 1826 at Scarborough. George was a Merchant Seaman fisherman who died at sea 1861, possible suicide. See newspaper clipping.

They had 7 children, two sons George and Thomas was also a Merchant Seaman fisherman. Thomas was lost at sea aboard the ship "Wild Wave" in May 1888 when out fishing. A steamer hit their ship while the crew were taking crabs out of pots, leaving Hannah a widow.

John b 1804 Saltersgate, baptised Pickering, d 1892 Newton Upon Rawcliff aged 89.  Married Elizabeth Wilkes in 1826 at Levisham. 8 children. Butcher at Levisham, Whitby in 1829, Norton, Middleton, Pickering and then in Sleights near Eskdaleside, Yorkshire between  1844-71.

In 1873 John sold his butcher's shop in which he had been working for 30 years and retired.

In 1881 he is aged 88, retired, and living with his son John in Hutton Bushell, and then ten years later in 1891 he is living as a retired butcher aged 88 with his daughter Mary Braim. He died the following year in Newton Upon Rawcliff.

Thomas b 1807 Saltersgate, baptised Middleton in Pickering, d 1889 Washington, Indiana, USA married Elizabeth Robinson by license at Harwoodale in 1831.

Immigrated to Canada in 1831 and settled in Clinton, Indiana, USA by 1838, farmer.  7 children.

Thomas lived to the age of 82, and his obituary appeared in the local paper, the Frankfort Times.

---
It seems after their marriage Gawan and Jane moved around a bit, probably Gawan was labouring on different farms in the area.  From Lockton in 1798 where their first child was born, three miles west to Newton Upon Rawcliffe for the birth of John six years later and then 5 miles north east to Saltergate Moor by 1807 for the birth of Thomas.
Unfortunately Jane died in 1809 at Lockton, leaving Gawan with three young children under 11 to raise, the youngest child just two years old.
She was buried on 5 December 1809 at Lockton, aged just 33.
Gawan continued to live at Lockton, on a farm until something happened that would change the lives of himself and his children forever.
For whatever reason, a few years later he was arrested and charged with sheep stealing on 29 May 1813.
The Crown Calendar for the York Summer Assizes says –
No. 21 Gawan Pickering aged 45 of the township of  Lockton, in the North Riding, farmer, committed on the 29th May 1813.  Charged with feloniously stealing one ewe sheep, the property of John Estill and two wether sheep, the property of George  Todd, from off Saltersgate Moor in the North Riding.   
The trial was held at the Castle of York on 30th July 1813, and Gawan was found guilty.
The following appear in the  Yorkshire Newspapers (British Newspaper Archive)
York Courant Newpaper 12 August 1813-
YORKSHIRE SUMMER ASSIZES IN THE CASTLE
On the opening of the court on Tuesday morning last, August 10th.  The following prisoners capitally convicted were placed at the bar and received sentence of death –
Gawan Pickering for sheep stealing.
The usual interrogatories having been put to them what they had to offer why sentence of death should not be passed.    Barron Wood addressed them in the following terms  (here followed a few paragraphs of lecture about the purpose of justices….)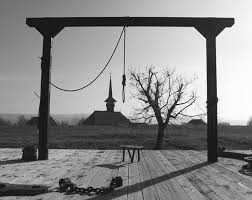 His Lordship, after a few remarks to Defendant and concluded with – "I earnestly recommend you all by fervent prayer and sincere repentance to implore the mercy of God for the crimes and transgressions of your past lives.  
There now remains nothing further for me to do than to pass upon  you the awful sentence of the law, which is, that you be taken from hence to the prison wherefore you came, and from thence to a place of execution and that you there severally be hanged by the neck until you are dead, and may the Lord have mercy upon your souls."
YORK HERALD – AUGUST 14th 1813.   Report of End of Trial of Gawan Pickering :-
"You, Gawan Pickering have been convicted of sheep stealing, a species of property which, being particularly posted to depredation, requires more especially the protection of the law.  It is manifest that you have taken advantage of your lonely situation to steal sheep off the prosecutor, who stated that he had, within the present year up to the time of your apprehension, lost twelve sheep and there is great cause to believe that you have stolen most, if not all, of them.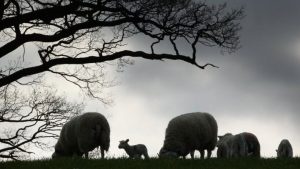 Nine sheep skins were found in your possession and none of them had your mark.  There is little reason to doubt that they were skins of sheep which you had stolen from your neighbours.  It is evident therefore that you are an old and dangerous offender.
The jury who tried you have, however, thought it proper to recommend you to mercy, on account of the good character some witnesses gave you and which I hope you may have deserved.  This recommendation will be hereafter taken into consideration".
On the 11 November 1813 a letter was written to the Justices of the Assizes of the Northern Circuit asking for clemency regarding their sentences of death on behalf of Gawin Pickering, George Sewell, Robert Cross, Robert Taylor and Joseph Furness, who were convicted of burglary and sheep stealing.  (National Archives UK HO 13/24 p 395-398).
The sentence was reduced from death to transportation for life.
On 23 December 1813, Gawin was moved from the gaol at York Castle to a Convict Prison Hulk at Portsmouth, aptly named "Captivity", to await transportation to the colonies (Australia) for the term of his natural life.
Prison hulks were decommissioned warships, stripped of their masts, rigging and sails.
Hulks were moored up along the Thames and Medway estuaries, as well as at Portsmouth, Bermuda and Gibraltar. In these locations, the work of convicts increased the efficiency of dockyards.  Convicts provided a cheap and efficient workforce, and rather than build new barracks to house men, prison hulks could be acquired at little cost and towed from site to site.
Captivity was a former 64-gun Third-rate launched in 1772 as HMS Monmouth. She became a prison hulk and was renamed Captivity in 1796. She was in such poor condition she was broken up in 1816.
On 1 January 1814 Gawin appeared in a Captivity Book for the Year 1814 Prison Register. In the convict clothing issuing book he received a pair of stockings. Other items given out were a jacket, waistcoat, breeches, shoes, shirt, stockings, handkerchief, hat, bed, blanket, and irons. (National Archives Series T38 315).
He also appears in the 1814 UK Prison and Hulk Captivity Register and Letter Book (National Archives UK HO 9/8), as aged 45, crime of sheep stealing, sentenced to life, trial at York Assizes with his fellow burglars George Sewell, Robert Taylor, Robert Cross, Edward Patterson and Joseph Furness.
In May 1814 Gawan left England's shores aboard the convict transport ship the "Somersetshire" bound for Botany Bay, Sydney, Australia. He arrived in Port Jackson, Sydney on 16 October 1814 after a journey of over four months (159 days).
The "Somersetshire" was built on the Thames River, London in 1810 and carried 200 men to Australia. It was a relatively healthy ship, with only one death on the voyage.
The Somersetshire departed Spithead on 10th May 1814, called at Madeira and arrived at Rio De Janeiro on 13th July 1814 where she remained for 10 days. One convict, James Brown (alias White) was presumed drowned in a rash attempt of escape while they were at Rio.
The Military Guard was a detachment of 30 men under command of Capt. Nairn to join the 16th regiment. On the voyage out Private Andrew Johnson died from fever before reaching Rio. The wife of Private Quinten Owen gave birth to a healthy daughter on the 30th September 1814.
The Somersetshire arrived in Port Jackson on Sunday 16 October 1814. She was one of seven convict ships arriving in New South Wales in 1814, the others being the Wanstead, General Hewitt, Catherine, Three Bees, Broxbornbury and Surry.
The Somersetshire brought the news of the fall of Napoleon Bonaparte and on the 17th October, in honour of the news, a Royal Salute was fired from Dawes Battery by command of Lieut- Governor Molle. In the evening a general illumination took place.
They were not disembarked until 26th October 1814. The men would have been mustered on board by the Colonial Secretary John Thomas Campbell.
After disembarking the prisoners may have been addressed by Governor Macquarie, a duty he rarely missed.
Supplies brought out by the "Somersetshire" to Sydney included about thirty pipes of fine Madeira, twenty five chests of souchong tea, Palna Carpets, China paper Ginghams, Bengal Prints, Calico, Longcloths, Lines and Twines, Bengal Soap, mens hats and coloured skins.
Gawan's convict indent papers include some wonderful physical information about him such as – he was tried at York Assizes on 31 Jul 1813, sentence life, age 46, labourer from Yorkshire, he was five foot 6, sallow complexion, dark hair, hazel eyes.
He clearly stayed with his fellow Yorkshire burglar friends, as they are all listed together again on the convict indent papers.
On arrival in convicts were usually assigned to a free settler, around the Sydney area or outskirts to serve out their sentence.
Gawan was first assigned with other convicts to Liverpool, which was then a small settlement 30 km SW of Sydney on the Georges River.  He would have been put to work or assigned to a 'master'. (Colonial Secretary Correspondence Reel 6004; 4/3493 p.347).
Convicts were a source of labour to build roads, bridges, courthouses, hospitals and other public buildings, or to work on government farms, while educated convicts may have been  given jobs such as record-keeping for the government administration.
The easiest way for a convict to reduce their sentence was to work hard and stay out of trouble, so they could then apply for a ticket-of-leave, or pardon. Any further misbehaviour could result in the ticket being taken away from them.
Gawan received a Ticket of Leave dated 31 January 1819 No 255/1854, which enabled  him
to work for a wage, and support himself but he must be of good behaviour and stay in that area.
In 1818 Gawan is again mentioned in the Colonial Secretaries correspondence as being a servant of Thomas Galvin of Cowpastures, Camden.  He applies for a Petition for mitigation of his life sentence (Colonial Secretaries Correspondence Fiche 3189; 4/1856 p.212).
Convicts could only be married by banns being read out in a church on three successive Sundays, after they had first obtained official permission to marry from the Governor. A bann allowed parish members to object to the marriage, which was often the case, resulting in a declined application. There being no objections, Gawan's application was granted.
The next time we hear about Gawan is seven years later on 1 January 1821 when he applies to the Governor for permission to marry Miss Mary Toft at Parramatta. (NSW Registers of Convict Applications to Marry 1826-1851, Col Sec Correspondence Reel 6007; 4/3503 p.6).
Marriage was encouraged by early governors and clergy due to its 'presumed reformatory and moral advantages'. Land grants were also offered to married convicts, with additional land granted for each child born.
So now, with the church and governments permission, Gawan married Mary Toft on 29th January 1821 at St John's church Anglican church of Parramatta, Sydney.
The witnesses were William Mannix and Ann Jones.
St John's Cathedral is located near Parramatta railway station and is the oldest church site in Australia in continuous use. The foundation stone of St John's, the first brick church in Australia, was laid on 5 April 1797. The labour on the church and the later towers, which were completed in 1819, was the result of convict labour.
Mary Toft was born in 1799 in London, England to parents James Toft (1768-1813) and Elizabeth Mobbs (1771-1850). Mary was one of five children born to the couple.
Mary's father James Toft, was a convict, convicted in 1813 for embezzlement. He was sent to Australia on the "General Hewitt", but died of dysentery on the voyage.
Unfortunately Mary, and her mother didn't know this, and came out to Australia as free settlers to meet James  on board the "Broxbornebury" in 1814.  Mary was one of four  sisters who accompanied their mother Elizabeth Toft (nee Mobbs) to NSW, expecting to meet him.
Mary's widowed mother Elizabeth found employment with William Mannix and she had two daughters to him (Jane 1814-1850) and Elizabeth (b 1820).  The couple married some years later on 8 April 1835 at Scots Presbyterian Church, Sydney.
William Mannix was a witness to the marriage of Gawan and Mary's wedding and he was a significant land holder in the Minto district.
Gawan and Mary had five children together –
James b 1822 Cooks River d 1892 Parramatta, marr Eliza Cowell & Sarah Green
George b 1824 Cooks River d 1900 Woolhara, marr Mary Ann Ibbotson
Henry James b 1827 Cooks River d 1893,Marrickville marr Mary Jane Meredith
Mary Ann b 1829 Cobbitty, NSW d 1908 Stroud, marr Jonathon Bennett
Jane b 1832 Cobbitty NSW d 1900 Hurstville, NSW
Gawan then appears in several NSW Muster (census) records –
1817 NSW Settler and Convict List – 'Going', 'Somersetshire', from Yorkshire
1822 Muster Liverpool – farmer from Yorkshire, employed by Mr Mannix of Liverpool with his wife.
1823 NSW Population Book, Residence Liverpool, NSW
1825 Muster at Minto – Gowen, his wife , James 3, George 1.
1828 Muster in Liverpool – Gawan, Mary, James 6, George 4 and Henry 14 months, protestant living n George Turret's farm
1841 Census at Green Cottage Farm, St. George, Sydney, 2 adults and 4 children. A
1827 Gawan was granted a replaced Ticket of Leave on 3 Oct 1827 No 7/723, in which it states he was aged 50, and he must remain in the vicinity of Cooks River, NSW. At this time he was described as a labourer, born 1775, 5'7" tall, ruddy complexion, brown hair – balding, with hazel eyes.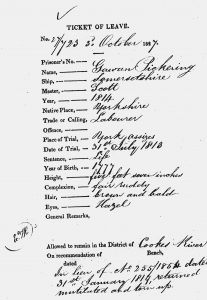 Gawan and Mary were tenants of George Tyrell at Nobbs Flat, Cooks River. Nobbs Flat was a 60 acre market garden bounded on three sides by the Cooks River. In the late 1820s, 'Pickering's Punt', at the site of today's Lang Road footbridge, became one of the main crossing places of the river. (according to a plaque unveiled in 2004 erected by Canterbury City Council – Nobbs Flat, Beaman Park, Wardell Road entrance, Earlwood).
In 1824 Gawin received a land grant at Salt Pan Creek, Peakhurst, 10kms south west from Cooks River.
Free settlers and ex-convicts who were 'of good conduct and disposition to industry' were entitled to a land grant. Each male was entitled to 30 acres, an additional 20 acres if married, and 10 acres for each child with him in the settlement at the time of the grant.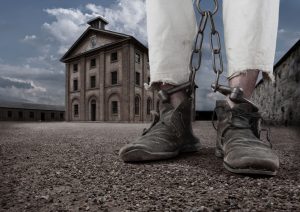 On 1829 20 Apr 1829, Gawan solicits an absolute pardon from the Governor. Conditional pardons meant that a convict was free as long as they stayed within the colony, known as "Government limits".
The majority of  convicts in Australia received a conditional pardon. Absolute pardons meant that a convict's sentence was completely remitted, and they could return to England if they wished. A conditional pardon was granted.
By 1841 Gawan is living and working at Green Cottage Farm, in the parish of St George, Sydney, with his wife Mary Ann and his four children. Also living on the farm is Henry Collis and family.
There is a Pickering Park in Isaac Street, Peakhurst named after this Pickering family.
A fig tree in the park has a strong link with the past, being a gift from Mrs Macquarie, wife of the Governor to the Pickerings who planted it in 1820s. You can read more about the family's residence in Peakhurst in this article – (Reference – Sutherland Shire Historical Society Quarterly Bulletin, No 14, October 1975).
Gawan's wife Mary Ann died on 26 January 1844 at Salt Pan Creek, Georges River, Peakhurst, Sydney. She was aged 45 years.
They had been married for 22 years. She is buried at St Peters, Cooks River, NSW.
Gawan died on 2 October 1857, at the age of 88 years also at Salt Pan Creek, Peakhurst.
He is buried at St Thomas, Enfield, Cumberland, NSW.
I believe Gawan (burial register has "Going") was buried at St Thomas Enfield, in the registration district of Cooks River, Petersham.
The burial register page for Gawan clearly has St Thomas written in the top right corner, but it is possible he was buried at St Peter's Cooks River.
Some other facts about his burial –
St Thomas was closer to Gawan's home (11km) compared to 16km to St Peters.

St Thomas was built in 1847, St Peters in 1839.
St Thomas is in the registration district of Cooks River (Find My Past burial entry)
The officiating minister at Gawan's burial was Rev Thomas Steele. He was the incumbent at St Peters from 1838 to 1857.
Gawan does not appear in the book "St Thomas Enfield,  A Matter of Grave Importance" which lists all the known convict graves.
The investigation continues.