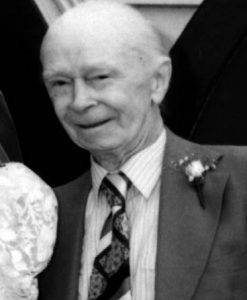 Charles Nicholas Pickering was born on 23 December 1914 at 21 Joel Terrace, Mount Lawley, Perth.
His parents were Charles Milverton Pickering (1883-1963), a storekeeper and grocer, and Isabel Mary Bolle (1890-1976).
His father was born in Sydney, but after the death of his own father, the family moved over to West Australia around 1900.
Charlie's father operated a general store out of Joel Terrace, where the family lived.
Charles was one of four children born to the couple. He had two brothers – Cyril and Kevin, and a sister Veronica. Click on the pics below to enlarge them.
Charles worked as a farm hand for a few years, and then at the age of 25 in 1939 he was listed on the Australian Electoral Roll as living with his parents in James Street, Pinjarra with his occupation given as a survey hand.
In October 1940 Charles obtained his driving license in Pinjarra.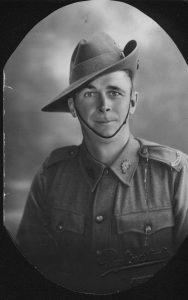 On 4 December 1940 he enlisted in the Australian Imperial Force in Perth, and was sent for training. He was sent to the Training Battalion in Northam on December 6th.
His service number was WX9442 and he was described as dark brown hair and green eyes.
In May 1941 he took a train to Melbourne and then attended Guerrilla Warfare School on Wilson's Promontory in Victoria. and then in July he was assigned to the 2nd Independent Company.
Wilson's Prom was the training ground for Australia and New Zealand's elite training force during WW2. The Commandos were superbly fit, and trained for months in all forms of guerilla warfare preparing them for perilous and audacious missions across the South-West Pacific.
The 2/2nd Commando Squadron was one of 12 independent companies or commando squadrons raised by the Australian Army for service during World War II. The 2/2nd served in Timor, New Guinea and New Britain during World War II, taking part in the Battle of Timor in June 1942 as part of Sparrow Force. Following the capture of the island, the company was withdrawn in December 1942 and returned to Australia, later taking part in operations in New Guinea in 1943–1944 and then on New Britain in 1945.
On 18th July 1941 he was promoted to Lance Corporal, and in September he was given leave in Melbourne, before being sent overseas.
Charlie was staying in Melbourne on brief leave when he met his future wife Doris Pickering, a sewing machinist, at a dance in the city. After a short courtship of a couple of weeks, the couple were engaged, and Charlie was put on a train and arrived in Darwin in late September 1941.
On 7th December 1941 he left Australian shores aboard the "Zealandia" for Timor and disembarked at Koepang, Timor on 12th December. He was sent behind enemy lines with the 2nd/2nd Commando Squadron, also known as 2nd Independent Company).
Upon arriving at Dili on 17 December 1941, most of the 2nd Independent Company moved to protect Dili airfield in east Timor, whilst other elements took up positions in the nearby mountains. The Japanese invaded Timor on 20 February 1942, attacking both east and west Timor at the same time, quickly overwhelming the small force of Australian and Dutch defenders. Hopelessly outnumbered the 2nd Independent Company was unable to hold the airfield and was forced to retreat into the mountains, from where they would wage a guerrilla campaign against the Japanese for over a year.
After the fall of the island, it was believed that the 2nd Independent Company had been captured along with the 2/40th Battalion, and for almost 3 months the unit was officially listed as missing by the Australian Army.
On 22nd February 1942 he was reported missing in action, but turned up in December 1942 and was evacuated to Darwin hospital suffering from malaria for a week.
On 19/20 April 1942, members of the unit were able to make contact with Darwin, using a wireless transmitter nicknamed Winnie the War Winner."Winnie", reputedly named after Winston Churchill was cobbled together by Signaller Max (Joe) Loveless, a Tasmanian member of the unit who had a background as an amateur radio station operator. The set was built on the back of a four-gallon kerosene tin, using parts from several failed radio sets. Some parts were obtained via night raids into occupied enemy territory.
After this, the Royal Australian Navy was able to bring in supplies for the company on the south coast of east Timor in late May, allowing the guerrilla campaign to continue. During August, the Japanese launched a major offensive against the guerrillas and carried out a series of reprisals against the civilian population of east Timor in order to reduce their support for the Australians. Charlie was finally able to go home to Australia in January 1943.
(His wife Doris, at the time his fiancee,  told us that when he was listed as missing in action, they prepared for the worst thinking he may have died behind enemy lines, but one day 10 months later, with no warning he just turned up at her parents house in Camberwell, and knocked on the door giving her the surprise of her life. A moment neither of them forgot no doubt!)
He was then able to visit Melbourne and have some leave before being sent to the Jungle Warfare Centre in Cunungra, Queensland on 1st April 1943. He was repeatedly sick and sent to camp hospital with malaria and dysentery from May to July in 1943. In August he was sent back down to Melbourne  for some brief leave.
With only a few days notice, Doris quickly organised their wedding, and they were married on 21 August 1943 at St Dominic's Roman Catholic Church, by Father Vincent Ryan, in East Camberwell.
Witnesses at the wedding were Doris's father John Gallagher, and her friend Alma Wiseman.
By September 30th he was back up in Queensland for further training.
On 22nd November 1943 he embarked Townsville per the ship "Katoomba" for operations in New Guinea. He was reported sick once again with malaria from 9th May to 14 June 1944.
He disembarked at Townsville from Lae, New Guinea on the ship "Taroona" on 8th September 1944, and made his way down to Melbourne for some brief leave.
They continued to conduct operations in New Guinea until October 1944 when, after being away from Australia for more than a year, the 2/2nd were withdrawn from the fighting for a period of leave in Australia. After three months leave, the 2/2nd Commando Squadron reformed at Strathpine, Queensland and began a period of training and re-organisation in preparation for their next campaign.
He was hospitalised again this time for appendicitis from 24th January to 2nd March 1945.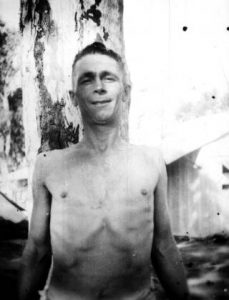 In April he took a train to Brisbane, and embarked aboard the "Taroona" with the 2nd/2nd Cavalry Commando Squadron for Jacquinot Bay and operations in New Britain, New Guinea, and was then sent to the 4th Survey Battery.
On December 6th he left Rabaul, New Guinea on the "Katoomba" for Townsville.
During its service during the war, the 2/2nd lost 22 men killed in action or died on active service. Members of the squadron received the following decorations: two Distinguished Service Orders, three Military Crosses, one Distinguished Conduct Medal, one Military Medal, 35 Mentions in Dispatches and two foreign awards.
While he was away overseas his first daughter Jennifer Pickering was born in August 1945, at Camberwell. Doris had been living with parents at their home at 20 Golding Street. Daughter Jennifer, a dental nurse met and married Michael and has five children.
Charles was finally discharged from the army on 10th January 1946 at Royal Park Depot in Melbourne, Victoria.
After the war, some of the unit's members became advocates for the rights of the Timorese people, recognising the contribution that they had made to Australia's war effort. One member, John Patrick "Paddy" Kenneally, who died in March 2009 at the age of 93, said that the Australians would "…not have lasted a week had the Timorese not protected them".  Charles had very strong views about the plight of the Timorese and often used to talk about them to us.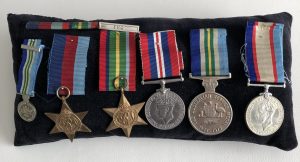 He was awarded the 1939/45 Star, Pacific Star, War Medal and the Australian Service Medal.
After his discharge, Charles and Doris continued to live at 20 Golding Street, Camberwell and in 1949 they appear on the Victorian electoral roll with the occupations of Charles, a conductor and Doris a machinist.
In 1948 their second daughter Anne Pickering was born in Camberwell She was baptised in November at East Camberwell.
Anne married Trevor Harris in 1980, and had two children Georgia and Amanda. Anne passed away in January 2019.
In 1949 Charles and Doris had saved up enough to buy timber and materials to build a home, after they were granted a WW2 soldier settlement block at 28 Kildare Street.
In December 1943 the Land Settlement (Acquisition) Act was passed in Victoria, providing for the setting apart of Crown land and the acquisition of privately owned land for ex-servicemen.
Charlie was granted a block of land in Kildare Street under this scheme, and built a home.
(click on the pictures to enlarge them)
Charlie was employed by the City of Box Hill, Victoria from 15 May 1950 until his retirement on 21st December 1979 after 29 years service. He worked as a meter reader, and then as a tram conductor from 1954-1979.
Sadly in 1952 they received the news that Charles' brother Kevin had been killed as a result of a motorcycle accident in Rockingham, Western Australia aged only 24. A truck driver had veered onto the wrong side of the road causing a head on collision.
In the newspaper clipping from the South Western Advertiser, sympathies were extended to his parents, of 57 Murray Rd, Riverdale, late of Pinjarra and sister Veronica, Matron at the Murray District Hospital.
Kevin had been educated at the Catholic Boarding school in New Norcia, Western Australia, a monastic community.
(click on any picture to enlarge).
Charles' other brother Cyril Pickering also fought in World War 2, in the 2nd Australian Imperial Force. After the war he resumed his life as a carpenter in Perth.
He married Jean Fotheringham and two daughters Cynthia and Margaret. He died in 1983 in Bateman, WA.
His sister Veronica Pickering was born in 1917 and married Harry Hayes. They had one daughter Dawn Hayes.
Veronica died in 2001 in Felixstowe, Adelaide, South Australia.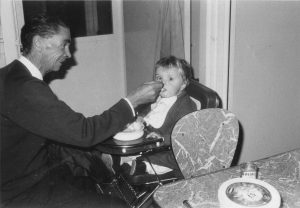 Charlie feeding grandson Brendan as a baby.Charlie retired from Box Hill Council in 1979, and then enjoyed his retirement at home in Burwood with Doris. He and Doris have seven grandchildren.
He always enjoyed a chat and was always pleased to have his children and grandchildren pay him a visit.
Charles died on 18 October 1995 from heart failure, and is buried in the Springvale Cemetery. His wife Doris continued to live at Kildare Street until her death two years later in June 1997. She is also buried in the Springvale Cemetery.