Richard Parrott / Parrat junior was born in 1627 in Castlethorpe, Buckinghamshire, England, the son of Richard Parrat senior (b 1601).
Richard junior was baptised at St Simon and St Jude in Castlethorpe (Castle Thorpe) on 1 July 1627. His siblings include John 1624, Ann 1630 and Mary 1638.
Castlethorpe (Castle Thorpe, Castle Thrupp) in the hundred and deanery of Newport, lies about three miles to the north of Stony-Stratford, on the borders of Northamptonshire.  It lies on the northern edge of the Tove River Valley.
Read more about the village of Castlethorpe here.
There is a wonderful website for the village of Castlethorpe which includes baptisms, marriages and burials, bishops transcripts, transcribed wills, and so much more here on the Milton Keynes Heritage website.
This website contains so much information about the Parrot / Parrat family, it is difficult to untangle the many families all using the same names. Keeping this in mind I believe that Richard Parrat senior may be the son of John Parrat and Elizabeth Benson who were married at Castlethorpe on 19 April 1599. They had Richard 1601-1672 (baptised 27 Oct 1601), Amy 1602, John 1603-1603, William 1604-1604, May 1605 and John 1606-1606.
There are several Parrat wills of interest, but I don't think any of these relate to my direct line (a transcription of all of these Castlethorpe wills can be found here).
Richard, yeoman 1633 – to wife Mary, sons Richard and John
Richard, 1728 – siblings – William, Thomas, Alice Marriot, Francis (and son John).
Richard the elder 1651, blacksmith – wife Alice, children – Richard, Ann Leech (wife of Richard Leech), Bartholomew (wife Ann), John, Alice
John 1614, yeoman – children – John, Thomas, Richard, Jane Reynolds, Isabel Caves
John 1650, maltster – wife Ann, children John, Richard, Mary, Ann, Sarah
John 1670, children – Elizabeth, Ann Nichols, Katherine, John
John 1681, yeoman – mother Alice, sister Susanna, sibling Thomas & Elizabeth Tempe
John Perrott, 1688, daus Elizabeth, Katherine, Markes, wife Markes, bro John Nichols
Here are some other Parrat family groups I've put together from the Castlethorpe baptisms and burials.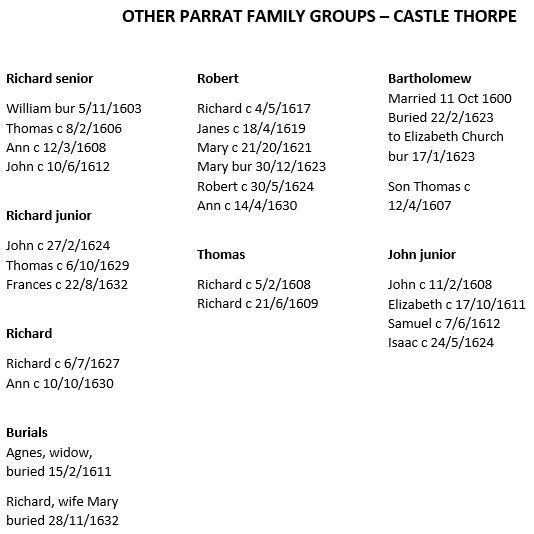 At the age of 23, my Richard born 1627, married Prudence Silverside on 16 May 1650 at Bletchingdon, 28 miles away from Castlethorpe.
Prudence Silverside was the daughter of Martin Silverside (1600-1638) and Alice Armesbye (1600). She was baptised on 13 May 1632 at Bletchingdon.
Prudence was only six years old when her father died in 1638, and in his will was left 'a great brass pot, a little pot, a brewing kettle, the joined bedstead, table in the further chamber and three platters'.
Richard and Prudence lived in Bletchingdon, were Richard worked as a gardener, according to mortgage and marriage settlement documents. They had eight children –
Alice b 1653 married Mr Perkins
Richard b 1655 & d 1754 Bletchingdon, married Hannah Wise
Elizabeth b 1656, married William Townsend in 1677 (settlement)
William b 1658 & d 1755 Bletchingdon, marr Elizabeth Battye, 9 children
Mary b 1665 & d after 17o5, marr Mr Middleton
Dorothy b 1668 & d after 1705
Thomas b 1670 Bletchingdon & d 1700 Castlethorpe
John b 1674 & d before 1705, married Mary
The village of Bletchingdon is in the district of Bicester, Oxford. The population in 1871 was 659 in 142 houses. Bletchingdon Park is the seat of Viscount Valentia; was partly rebuilt near the end of last century; and occupies the site of a house which was held for the king, and surrendered to the parliament, in the civil war.
Legal documents survive in Oxfordshire archives relating to the family –
1677 Marriage Settlement for Richard's daughter Elizabeth provides a house and garden in Bletchingdon given to her, and mentions the following parties –
1. Elizabeth, daughter of Richard (gardener) and Prudence of Bletchingdon
2. William Townsend, St Giles, Oxford, husband of Elizabeth
3. Elizabeth's brother Richard, the younger and heir apparrent, and
4. Elizabeth's brother William, husbandman of Elsfield.
1683 Mortgage document for Richard's wife –
Mortgage doc – Prudence Parrott of Blechington, Widow of Richard Parrott, and one of the 2 daughters of Alice Silverside (later Spindler), and son Richard. Close of pasture called Furfeild (described) in Blechington. CONSIDERATION: £40 and £6.
1713 Bargain and Sale document mentioning two of Richard's children –Bargain & Sale doc – William Townsend and wife Elizabeth and Richard Parratt of Bletchington Gardener, dwelling house. dated 26 March 1713
1731 Lease for a year mentioning Richard's son Richard and son in law William Townsend–
Parties – Richard Parrott of Bletch, only son and heir of Rchd Parrott, William Townsend of Oxf, Wheelwright, Thomas Tagg of Ox, gardener. 3 tenements, house and gardens.
1731 Marr Settlement Lease & Release –
property given to them Richard Parrott and Hannah Wise.
I've been unable to find the death and burial, or a will of Richard Parrott, but assume that he died sometime between the birth of his last child John in 1674, and when Prudence was called a widow in a mortgage document above in 1683.
The will of Prudence Parrat dated 1705 is also held in the Oxfordshire Archives and appears online here.  She leaves the following main bequests –
son William Parrat of Wotton Underwood £5
son Thomas Parratt of London £5 and my gold ring
daughter Allice Perkins £5
daughter Mary Middleton the bed in the farther chamber, one flock bolster, the coverlet that lies on my bed, my best hat and one pewter platter.
daughter Dorothy Parratt £5, also my feather bed, two feather pillows, one flock bolster, my holland sheet and pillowware, the great brewing kettle, a new barrel and the still it stands on, a round table, the stool her trunk stands on, one frying-pan, one brass pan, one iron dripping-pan, one spit, one mincing knife, one pair of andirons, one hanging link in the chimney, two skillets, one brass ladle, one great pewter salt-cellar, all my glass bottles and my great chest.
daughter-in-law Mary Parratt, wife of John Parratt ,one warming-pan, my second best black petticoat and two of my best shifts.
grandson Benjamin Bales £1,
 grandson and godson Thomas Parratt and my granddaughter and goddaughter Mary Townsend 10s each, to be paid at the same time as Benjamn Bales's.
granddaughter Prudence Golder £5,
granddaughter Sarah Parratt my bedstead, curtains and valance a
grandson Richard Parrat my brass scales and the wooden mortar and pestle.
Richard Parratt all the rest of my goods, and appoint him my Executor, desiring him to place two stones at the head of my husband's grave and my own, for which I leave him 20s.
The witnesses were Thomas Langhorn, Willam James, and Richard Bathe. The will was probated on 9 Oct 1708 her son Richard Perrott the sole executor.
Prudence died in August 1705 in Bletchingdon, and was buried there on 12 August 1705.