Matthew Dewhurst was born in 1759 in Dunnyshop, near Church Kirk, in Lancashire to parents Ottiwell Dewhurst (1727-1797) and Jane Hartley (1731-1795).
He was baptised at Church Kirk on 21 October 1759, and was one of 8 children born to the couple. His parents were married in the same church.
Matthew, like his siblings was baptised under the surname Hindle, as his father Ottiwell was baptised under Hindle alias Dewhurst due to his father being illegimate.
Church, as it is often abbreviated to,  and its close neighbour Oswaldtwistle, lie between Blackburn and Accrington. Church is 1 mile north north west of Accrington.
In 1841 Accrington had a population of about 8500 people and 1500 houses. Church Kirk had a population of about 4000, and 870 houses. Matthew's family lived in the tiny hamlet of Dunnyshop in Accrington.
The main trades before the Industrial Revolution in the area were weaving and agriculture, but by the mid-19th Century the textile industry dominated the town with spinning and weaving mills, print and chemical works. There were also mines and quarries. I believe Matthew's father Ottiwell had a small farm in the Bowland Forest area.
In 1792 a Matthew Dewhurst was paying land tax at nearby Grindleton, Yorkshire. The property owners name was Mr Slayter (his heirs).
In 1793 at the age of 34 he was residing in the village of Waddington, 12 miles north of Church Kirk, and only 2 miles north west of Clitheroe.
Clitheroe's first cotton spinning factory was built at nearby Low Moor in 1782 and it housed 1000 looms.
.
The Low Moor cotton mill was only one mile away from where Matthew was living at Waddington. You can read a history of the Low Moor Cotton Mill and village here.
Life was very hard for the mill workers, and children were expected to work in the mill from a very young age, dodging below moving equipment. A high number of accidents inevitably followed.
You can read more about the unimaginable squalor and poverty experienced at this time in the Lancashire mill towns in the book "The Condition of the Working Class in England" by Frederick Engels, published in 1845. He made a report of his visit to Bolton, nearby to where Matthew and his family were living and commented thus :
"Among the worst of these towns after Preston and Oldham is Bolton, eleven miles north-west of Manchester. Here, as everywhere, the older part of the town is especially ruinous and miserable. A dark-coloured body of water, which leaves the beholder in doubt whether it is a brook or a long string of stagnant puddles, flows through the town and contributes its share to the total pollution of the air, by no means pure without it."
Lancashire had the best conditions for growing cotton. A climate that stopped the splitting of the cotton fibres, mills powered by water sources, coal to supply the factories as technology improved, and most readily at hand, a willing workforce.
Raw cotton was imported, mainly from America. Factories in the south of Lancashire spun the threads and the weaving of vast cloths occurred in the towns to the north (with Blackburn at the forefront). Lancashire became known as the "Workshop of the World".
It seems Matthew made the change from being a cotton weaver to a farmer (yeoman) sometime after his marriage in 1793.
Matthew married Miss Ann 'Nanny' Hindle on 29 June 1793 at Ann's parish church in Slaidburn, Yorkshire.
Matthew gave his occupation as a cotton weaver of Waddington, and Ann 'Nany' Hindle was of the parish of Slaidburn.
Witnesses to the marriage were John Dewhurst and William Carr. Ann was illiterate and made her mark 'x' as a signature, as did their witness John.
Ann was the daughter of James Hindle and was baptised at nearby Lanho on 18 March 1764. Her father James was also a cotton weaver, so perhaps they worked together in the cotton mill.
James was living at Dinkley near Lanho at the time of his daughter's baptism. Lanho was only 8 miles from Matthew's residence of Waddington.
Matthew and Ann had six children together –
Jane b 1794 Grindleton d 1876 Haslingden. Marr George Kendal. 1 child.
Grace b 1796 Black Moss  d 1865 Accrington. Married Richard Jackson. 8 children.
John b 1798 Black Moss, d ? Married Anne, 5 children. Occupation fuller (cotton mill).
Ann b 1799 Black Moss, d 1801 Black Moss
Alice b 1802 Black Moss, d ?
William b 1807 Black Moss, d 1892 Fulwood, Lancashire. Buried Church Kirk 18 Jan 1892. Married Margaret Booth 1828, 1 child Ann. 2nd married Nancy Halstead 1835, 8 children. William was a churchwarden at St James, Church Kirk, and superintendant of the Sunday School. He owned Bank Brewery, and was an innkeeper in Accrington "Black Bull". He also had interests in the cotton trade. (Accrington Through the 19th Century).
Black Moss was a farming area just north of Slaidburn. All five children were born at Black Moss, given as their abode on each of their baptisms. It appears Matthew had left his job as a cotton weaver and was farming, or perhaps he was still working as a cotton weaver as he was at the time of his marriage and just living in a farming area.
By 1802 Matthew was paying tax on a residence in the township of Grindleton (2 miles from Waddington), along with John Dewhurst, probably his brother. He continued paying the tax every year in Grindleton  until 1809.
In 1812 Matthew appears in a document (Lancashire Archives) where he receives property from a bankrupt merchant. He is described as a farmer of Old Accrington. I'm not sure if he purchased it, or it came to him in another way, for example in a will.
Manor of Slaidburn surrender by John Room,
surviving assignee of estates of James Aspinall of Birmingham merchant (a bankrupt), and Thomas Baldwin, assignee of Alexander Aspinall of Birmingham merchant,
to Matthew Dewhurst of Old Accrington, yeoman.
The following year in 1813 he was paying the land tax on it, which I assume is the property named above in  Slaidburn, in which he is listed as both owner and occupier. (West Yorkshire Select Land Tax Records 1704-1932).
In 1820 Matthew's name appears again in documents, this time in a legal document called a Bill of Complaint. A bill sets out the details of a dispute by the plaintiff against the defendant, and the answer is given in the form of the defendant's response to the points raised in the bill of complain. 
The plaintiff, was a Mr Peter Kempson, and the defendants, Matthew and John Dewhurst (brothers), Cable Ainsworth and Lawrence Hindle. Perhaps it was a land dispute? I haven't been able to find out any more without seeing the document held in the Lancashire Archives. Note Hindle is Matthew's wife's maiden name, so perhaps Lawrence was her brother?
Matthew is still paying land tax in 1822 for his residence in Slaidburn.
The people of Accrington and Oswaldtwistle were involved in the power loom riots of 1826. The mechanisation of the textile industry (with the introduction of looms powered by steam engines from the 1820s onwards) resulted in redundancies, low wages, and starvation.
On 26 April 1822, a large number of cotton workers attacked the factory in White Ash (Brookside Mill) in Oswaldtwistle, about a mile from Hargreaves' workshop, destroying looms and other equipment. The riots went on for three days, extending to all cotton towns in central Lancashire. (Oswaldtwistle Wikipedia).
This explains why Matthew left his trade of cotton weaving, and went farming instead.
Matthew's wife Ann died in December 1828 in Accrington.
She was buried at St James, Church Kirk on 18 December 1828.
The same year in 1828 Matthew Dewhurst, of Old Accrington, co. Lancaster, yeoman, conveys his property to Leonard Wilkinson of Slaidburn gentleman. In the archives is a Deed of Covenant on the surrender of his premises by way of a mortgage for £700 and interest with a power of sale. ¾ of Lower Edge farm. (Index of Surrenders, Manor of Slaidburn, Lancashire Archives).
On the 3rd of January 1829 there is another document concerning Matthew –
Surrenderor (person conveying the property)- Jane Drinkwater and devisees in trust with Matthew Dewhurst.
Surrenderees (person receiving the property) – Robert Bleazard in trust for John Wilkinson, gentleman.
Location of property – Champion (a tiny farming area near Slaidburn).
Court Session – Michaelmas 1829.
There are letters and other documents relating to these properties in the Lancaster Archives Office. (see Lancat catalogue for more details).
In 1832 he held land in Lowerfold, Old Accrington. This was Halstead Farm. His son William was also mentioned as the occupier of a house and owner of the Black Bull Public House.  (Electoral Registers, Borough of Liverpool 1832).
It seems Matthew and his family are also living on the five acre property with William. William, the youngest child of Matthew and Ann is now aged 25 years. The same entry appears for 1835.
In 1836 another document in the Lancashire Archives has Matthew selling his house in Church Street, Accrington. It was purchased by the Trustees of the National School in Accrington for the use of the master of the said school.
Matthew appears in the 1841 census, now aged 80 years, still living at the Black Bull in Accrington, with his son William and wife Nancy, and their children Ann, William Halstead, Winifred and baby Mary Jane.
Also living with them is Ann and John Jackson both aged 20 listed as servants, who are his daughter Grace's children (Grace married Richard Jackson in 1815).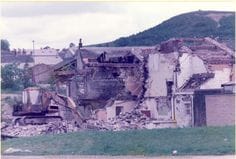 John Jackson is my 3 x great grandfather.
Sadly the pub was demolished in the 1980s.
Matthew Dewhurst died in January 1843 aged 85 years at his home in Accrington. He was buried at St James, Church Kirk, Lancashire on 31 January 1843.
His will was probated on 24 June 1843, with the testators name given as Matthew Dewhurst, occupation yeoman, place Accrington. (Archdeaconary of Chester).
The Death Duty Register records – Dewhurst, Matthew, Accrington, Lancaster, to William Dewhurst of same place. Court of Chester.